Company Flow's 'Funcrusher Plus' was an epochal, inimitable debut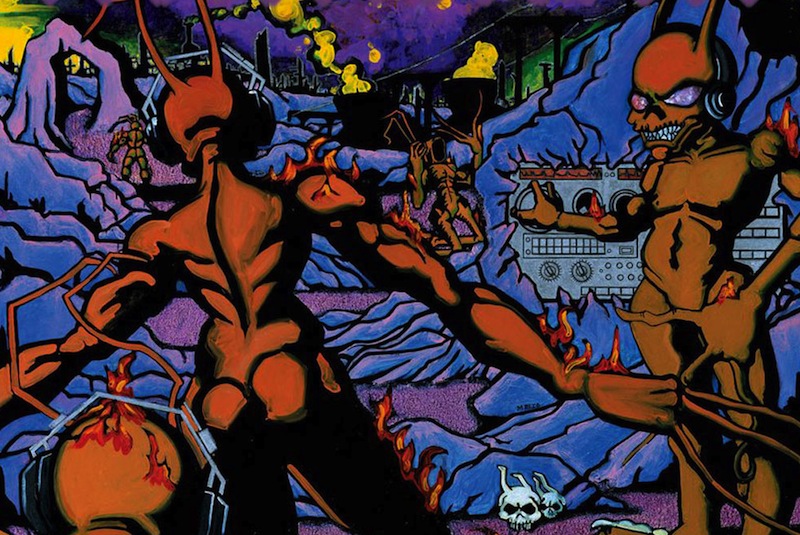 Considering where hip-hop is now, it's impossible to think of Funcrusher Plus, the first full-length LP that Brooklyn trio Company Flow released, as anything less than epochal. The most obvious descendant, of course, is Run The Jewels, co-headlined by Flow's rapper-producer El-P, and before that the Definitive Jux roster including Aesop Rock, Cage, Mr. Lif, Cannibal Ox, Del tha Funky Homosapien and others. But any modern-day MC who juggles shit-talking, social consciousness, menace and personal introspection, from Danny Brown and Kendrick Lamar to Pusha T in his recent solo work and even Young Thug in his most surreal material, owe it no small debt. The same is true of producers in various genres, from Flying Lotus and Clams Casino to Mike Will and Metro Boomin.
Its reception was more mixed than is so often true of cult-classic albums, many of which are either critically adored and low-selling or widely disliked and much later reappraised and properly appreciated. The oft-hostile beats were either loved or hated, but the lyrics received almost universal praise from critics and hardcore, underground and mainstream rap luminaries, as well as the dedicated fans who actually managed to hear the fucking thing (indie rap wasn't easily found at one's nearby Sam Goody in 1997). On the other hand, while Company Flow inspired no small amount of major-label interest due to the Funcrusher EP (all of which is on Plus, in somewhat different order), that didn't translate into sales-juking hype once the trio signed to Rawkus Records and dropped the full album.
Enough contextualizing: If you've read this far, you're wondering, "What the hell was this album actually like?" Well, uh, it's an album that begins, on "Bad Touch Example," with samples from an instructional record about how to avoid child molestation (which, divorced from context, probably sounds extremely vile and in poor taste; in execution, it works). It then segues into Bigg Jus, El-P's partner in rhyme, going the hell in on Company Flow's competition over minor-key piano, and then El comes in after a chorus full of eerie horn blasts. Rich bass, tough boom-bap drums and the turntable dexterity of Mr. Len tying everything together. Incredibly bizarre vocal samples, from sources ranging from the animated adaptation of The Hobbit to Alejandro Jodorowsky's avant-garde epic The Holy Mountain, recur throughout the album, proposing secret evil plans ranging from forcing factory workers into on-premises settlements to murdering the poor en masse.
Not all tracks are quite that jarring—singles and would-be singles like "Blind," "8 Steps to Perfection," "Vital Nerve" and "Krazy Kings" anchor the record in enjoyable head-nodding and battle rhymes amid more chaotic or emotionally lacerating deep cuts. But this record's creators cared fuck-all for listeners' comfort. El, Jus and Mr. Len had plenty of welled-up frustration with the mid-'90s rap landscape, which was just starting to move into the bling-over-everything period of 1997-2001. This period, as we now know, catalyzed so much growth in hip-hop's underground (much of which, as Talib Kweli's career arc shows, didn't amount to a lot), but Company Flow weren't particularly interested in simply critiquing materialism and dropping dollops of Five Percent Nation rhetoric over Ummah or Ummah-adjacent beats (google it), and all that vitriol sprays the eardrums like a vomiting xenomorph whose acidic ejecta somehow scorches and regenerates the skull. (I think such a metaphor is one that El, with his frequently acknowledged yen for dark science fiction—especially the paranoia-drenched work of Philip K. Dick—would appreciate.)
It's almost funny to listen to Funcrusher Plus now and note how little El-P's flows and cadences have changed in two decades. They're more accomplished now and also closer to traditional MCing now, as any Run The Jewels fan can attest; as half of Company Flow's rhyming contingent, he vacillated wildly between hallucinatory streams of consciousness and fairly open aping of now-classic '90s rappers from Nas to Guru of Gang Starr. Then as now, though, he is never boring. And lest you think this album and group was the El show, Bigg Jus is no slouch—not even close. He's as adept as his partner's best work, and in some instances sounds considerably more natural over these strange beats than the man who made them. Lyrically, the predominant subject matter is battle-worthy shit talking (again, not much different than the Jamie Meline we know now as half of RTJ) but the erudition on the part of El and Jus and the anti-conspiratorial vibe constitute an angry closing of ranks—Company Flow vs. the world. This differentiates it considerably from any basic punchline shit, even the best basic punchline shit. And when the fellas get real—like El overhearing his mother being beaten or Jus recounting his rowdy adolescence—the music becomes no less harsh but considerably more emotional.
Unlike more than a few rap classics of the 1990s and early 2000s, especially those categorized as "underground" or "abstract" hip-hop, Funcrusher Plus doesn't sound dated 20 years after its release. These beats could've been made today and wouldn't be heard as particularly retro, if retro at all—honestly, with half the producers out there still trying to ape Lex Luger or Mike Will, it'd likely sound entirely novel. The career revitalization that El-P experienced as producer of R.A.P. Music, his RTJ partner Killer Mike's modern classic, his own therapeutic return to form Cancer 4 Cure and the massive popularity of the group they formed is nothing short of wonderful given the shit that he and Mike wandered through to get here. But the inability of Bigg Jus, an excellent MC in his own right, to break through despite his obvious talent (Poor People's Day is well worth your time) is just as much of a tragedy as El's story is a success. The bottom line being: We shall not see Company Flow's like again, not in today's incredibly apportioned rap landscape, and Funcrusher Plus shall remain a sui generis album.