Killer Mike : R.A.P. Music
When asked by the Village Voice about being a political rapper in 2008, Atlanta emcee Killer Mike offered a more concise way of describing his M.O.: "I just lack the ability to bullshit my audience." He doesn't offer endorsements or play partisan games. He isn't a pundit. And on his new album R.A.P. Music, he's quick to spread his mistrust of institutions far and wide, from law enforcement to religion and the federal government. Killer Mike isn't one to filter or censor himself, but he delivers his indictments and observations in a lean 45 minutes — if there's one thing you certainly aren't going to find on R.A.P. Music, it's bullshit.
With R.A.P. Music, Killer Mike sharpens his focus, and in contrast to the multiple-producer approach he took with the Pledge series, the production duties this time around are handled entirely by El-P. This pairing of a bombastic New York producer with a Southern emcee has already been compared repeatedly to the East-meets-West partnership between Ice Cube and the Bomb Squad on AmeriKKKa's Most Wanted, which is an apt parallel, just set to some different compass coordinates. The duo come off as natural collaborators, however, El-P's explosive, subwoofer-destroying beats providing the appropriately bombastic backdrop to Mike's sometimes venomous but always memorable verses.
From the opening declaration, "Hardcore G shit, homie I don't play around," Mike and El set their hip-hop sensory annihilation in motion, laying down auditory napalm with an absolute minimum of outside interruption. T.I. and Bun B contribute their own incredible verses in the aptly-titled opening steamroller "Big Beast" (key line: "When you step out on the ave, make sure they wanna see ya/ Cause being trill is an onomatopoeia"), but as Mike notes at the beginning of "Jojo's Chillin'," "this entire album was created entirely by Jamie and Mike." Too many cooks would only spoil the stew that the duo have cooking, and their chemistry is as potent as it is fluid. Over skeletal, dark tones in "Untitled," Mike highlights the women in his life, pondering, "Will my woman be Coretta, take my name and cherish it?/ Or will she Jackie O, drop the Kennedy, remarry it?/ My sister say it's necessary on some Cleopatra shit/ My grandmama said nope, never, that it's sacrilege." "Reagan," meanwhile, is a sobering look at the former president, set to some big, gothic piano samples, escalating from critiques of the "war on drugs" to Reaganomics, interventionist foreign policy and, eventually, a final stinging dagger: "I'm glad Reagan dead." He takes this theme to a more personal level with "Don't Die," an indictment of racial profiling and police brutality that Mike later dedicated to slain teenager Trayvon Martin.
As heavy-handed as some of Killer Mike's social commentary can be, he never comes off as preachy, just some serious food for thought from an honest storyteller with a lot on his mind. That said, R.A.P. Music is a party, not a wake. Just when the mood gets too heavy, El-P lays down some thunder on "Go!" for Mike to unpack some eye-popping rhymes like, "homicide, maniac/ brainiac sittin' on a Pontiac/ killer Cadillac." Some thick layers of organ back Mike as he endearingly, unconventionally puts his wife on a pedestal while surrounded by strippers in "Southern Fried," and raises his hands in the church of hip-hop on the title track, ending his opening sermon by stating, "Rap music is my religion. Amen."
R.A.P. Music is concise, but its economy is one of its greatest assets rather than a liability. Killer Mike ensures every phrase that leaves his mouth is pure fire, and El-P, as his right hand man, does his part by building trunk rattling, unfuckwithable beat structures. It's a celebration of hip-hop and a condemnation of society's failures, a harsh recital of unpleasant truths sandwiched between some Godzilla jams that could only make a party go bigger. It sounds like a monster and feels like a classic, completely bullshit free. Amen.
Similar Albums:
Public Enemy – Fear of a Black Planet
El-P – I'll Sleep When You're Dead
Big K.R.I.T. – Return of 4eva
Stream: Killer Mike – "Untitled" (feat. Scar)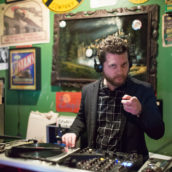 Jeff Terich
Jeff Terich is the founder and editor of Treble. He's been writing about music for 20 years and has been published at American Songwriter, Bandcamp Daily, Reverb, Spin, Stereogum, uDiscoverMusic, VinylMePlease and some others that he's forgetting right now. He's still not tired of it.