Cursive : Mama, I'm Swollen
Cursive has impeccable timing. Without fail, the Omaha rockers have released an album every three years since 2000's Domestica. Three years after that gut wrenching divorce mini-drama came 2003's The Ugly Organ, a theatrical (and kick ass) musing on songwriting and the public airing of grievances. Then, three years after that, the group unleashed 2006's Happy Hollow, yet another thematically tight album revolving around small town values and preachers with busy hands. So here we are, three years later, and right on schedule, Cursive ushers in another new album, Mama, I'm Swollen, this time a little less high-concept, but still crafting some great three and four-minute punk tunes full of wit and cynicism.
Less expansive than Happy Hollow, Mama, I'm Swollen finds Cursive simplifying somewhat. Tim Kasher's still got a lot on his mind, primarily the idea of hell and living a pointless existence, but given that it's a bit more wide open than an idea as specific as that of their previous album's narratives, it's easier to separate the individual songs from the overlying concept (not that Happy Hollow's tracks aren't enjoyable on their own). Over ten tracks, Cursive does what they do best, namely pound out (or caress) some hard rocking pop tunes that sear both lyrically and melodically.
Straight from the top, Cursive wastes no time in surging into blistering riffage in "In the Now," a loud and most certainly catchy opener with repeatable lines like "we're wearing out our heels/ on the road to hell." Granted, it is a bit ominous lyrically, but given that it rocks so hard while delivering such a fatalist message, that darkness comes in a palatable package. First single "From the Hips" builds up from a quieter and more melodic start, almost a power ballad of sorts. Over gentle chords, Kasher dispenses more dark lines like "I'm at my worst when I'm at my best" before the upswing in tempo brings a celebration of man's most animalistic instincts—sex, dancing, probably both. From the initial, grinding wind-up sounds of "Donkeys" comes a music box melody reminiscent of the introduction of Failure's Fantastic Planet, though guitars soon come to replace the twinkling, metal sounds.
The twang-inflected "Caveman" is one of the album's best tracks, layering slide guitar, Hammond organ and a horn section into one big de-evolutionary dance party. Kasher's phrasing is a bit awkward at parts ("this is a manifesto destiny"), but the incredible arrangement more than makes up for it. "We're Going to Hell" starts off with mechanical beats that seem to promise a robot slow jam, though those soon disappear in favor of a bit more straight ballad fare. Closer "What Have I Done" is a stunning epic that depicts a man writing lyrics on paper plates in a motel, finding Kasher escalating the song's titular refrain in volume and intensity as the song progresses.
In some ways, it's refreshing to hear Cursive playing a fairly straight and narrow path on Mama, I'm Swollen. It's a simpler album, and a solidly enjoyable listen. But then again, some of the group's best material has come out of periods during which their ambition was seemingly limitless. Still, even a band that constantly evolves and pursues progressively loftier goals, such as Cursive, can prove to be more than capable when tackling a humbler goal. In the case of Mama, I'm Swollen, they do just that, and remarkably well.
Similar Albums:
Desaparecidos – Read Music, Speak Spanish
Archers of Loaf – White Trash Heroes
The Colour Revolt – Plunder, Beg and Curse
Video: "From the Hips"
Download at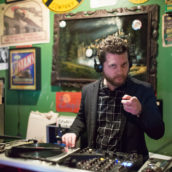 Jeff Terich
Jeff Terich is the founder and editor of Treble. He's been writing about music for 20 years and has been published at American Songwriter, Bandcamp Daily, Reverb, Spin, Stereogum, uDiscoverMusic, VinylMePlease and some others that he's forgetting right now. He's still not tired of it.