David Bowie : Diamond Dogs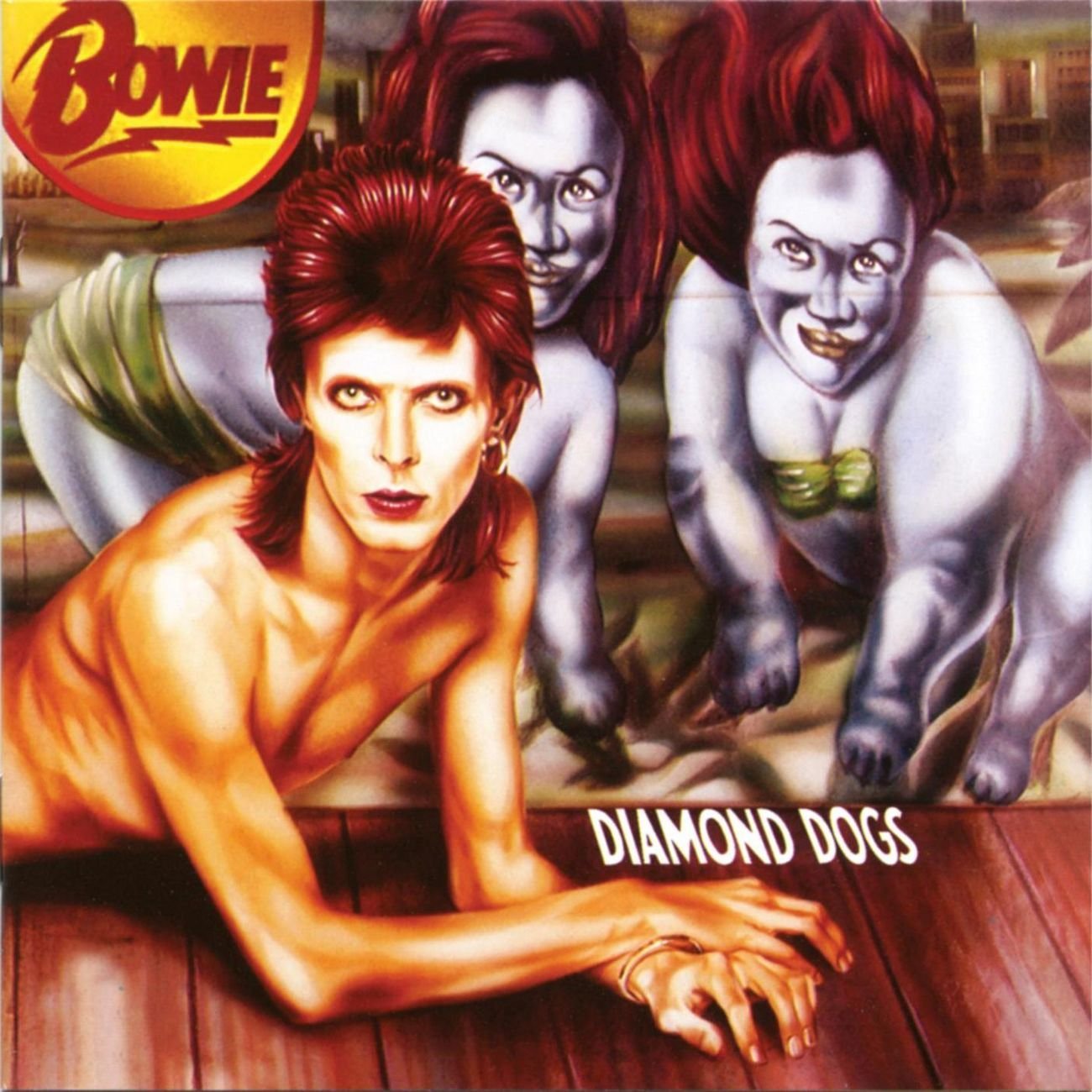 Before he would trade in the glam rock makeup for silk shirts, suspenders and hoop bracelets, meaning before Ziggy eschewed real fame for singing about it with John Lennon, David Bowie had one more dramatic conceit up his poofy sleeve. He wanted to make a stage musical based on George Orwell's 1984, and nearly did with his album Diamond Dogs. Orwell's widow nixed the plan, winning the battle but not the war, as Bowie created a fictional world parallel to Winston Smith's, centering it around Hunger City. Echoes of Orwell's world still resound within the text, but instead of making a narrative cycle, Bowie created a group of songs loosely based around certain themes, much like Radiohead's OK Computer. "I don't like a lot of my albums…I like bits and pieces. A bit of it works exceedingly well and a lot of it only works. Diamond Dogs was…a collection of things," is something Bowie has said about this mosaic of an album and nothing could be more accurate. Diamond Dogs changes in style from one track to the next more than any other album he would record. Yet although disjointed, it remains one of his best due to the strength of the individual tracks.
Only a few tracks on the album really had to do with the George Orwell book, mainly the setup, "Future Legend," in which Bowie narrates an exposition of Hunger City, the "peoploids," and stray dogs about. In the background, while the band plays a twisted version of "Bewitched, Bothered and Bewildered" in the background. His voice is adequately distorted to set the mood. This introductory story conceit is something he would only try once again, less successfully, with "The Glass Spider" from his Never Let Me Down album. The title track and the last four songs share the loose affiliation with the original concept. One of the coolest and most famous intros on the album comes with the onset of "Diamond Dogs" as Bowie screams "This ain't rock 'n' roll…this is genocide!!" Bowie then goes into his T. Rex meets Mick Jagger impression. "We are the Dead," itself taken from a line from the book, sounds like it could be the place where REO Speedwagon took some of their riffs for "Keep On Loving You." Considering the variance in lyric constitution, that might seem weird, but you can kind of hear it.
On the other hand, then you have the actual song, "1984." The track is a dead on homage to Isaac Hayes' "Shaft" theme from 1971. A funk odyssey complete with dramatic strings, wak-a-chik-a guitar, and operatic backup singing complements Bowie's nod to the book that would have become his musical. Can you imagine it? A post-apocalyptic rock musical that would vault Bowie into Andrew Lloyd Webber territory? I think David Bowie's version of Cats would have been a hell of a lot better. "Big Brother" and "Chant of the Ever Circling Skeletal Family" are the remaining two theme-based songs. One really gets the sense with "Big Brother" that this thing could really have been pulled off. It's like a combination of a song from the Who's Tommy and the musical Rent. The chorus of "Someone to claim us, someone to follow / Someone to shame us, some brave Apollo / Someone to fool us, someone like you" are some of Bowie's most anthemic, making us want to sing along, like most good musical numbers. There is even a coda with repeated "Big Brother"s and "Ooo-oo"s in "Chant," essentially the second part of "Big Brother," that makes for a good dance number. We can picture the giant televlsion screens scattered around the stage as the drones shake off their drab uniforms and dance like it's two-thousand zero-zero party over, whoops, out of time. Stevie Wonder had released a similar song on his Talking Book two years earlier, called, oddly enough, "Big Brother."
The "interruptions" of the theme end up to be some of the best songs on the album in the trilogy of "Sweet Thing / Candidate / Sweet Thing (Reprise)," the Dylan with the Band-esque "Rock 'n' Roll With Me" and the big hit "Rebel, Rebel." The latter song would go on to become one of Bowie's biggest single successes, as he returns to a well worn glam theme, the androgyne. The riff came from session player Alan Parker, former guitarist for crooner Scott Walker, although many believe it to be Bowie's creation. Regardless, the song becomes one of Bowie's best Velvet Underground inspired rave-ups, and the "hot tramp, I love you so," line becomes as famous as the "wham bam thank you ma'am," from "Suffragette City." Fans would get a double dose of Lou Reed hero worship with the single, which would be paired with another homage, "Queen Bitch." Mike Garson's Hammond organ riffs on "Rock 'n' Roll With Me" evoke Al Kooper at his best as Bowie sings about the need to stop trying to escape from real life, saying he feels his best when his fans share in his music.
Diamond Dogs was the second album to feature just his distinctive assumed last name on the cover, the first being the preceding covers album, Pin-Ups. Bowie had become so cultishly famous at this time that the last name was all that was necessary. Always looking to expand his horizons, Bowie had given himself enough time to create a musical by issuing the easy to record covers album, only to find that his dreams were dashed by legal troubles. The album cover was also the second in another infamous category, it was the second to be banned or censored. The first was Bowie in a dress on the sleeve of The Man Who Sold the World, replaced by a crude cartoon of a man with a shotgun. (Oh, that's better). The issue in question on Diamond Dogs was the genitalia of the dog on the inside sleeve, jumping straight up while on the reclining Bowie's leash, and those of the half-dog part of the drawing of Bowie himself. Thankfully, both have been restored in current pressings, setting things right after more than three decades.

Similar Albums/Albums Influenced:


Destroyer – Your Blues


Roxy Music – Siren

David Bowie – Aladdin Sane