Dead Can Dance : Anastasis
"Can you really plan the future when you no longer have a past?" So asks Brendan Perry deep within the folds of Anastasis, the new album from his ethno-pop outfit Dead Can Dance. It's a question relevant to musicians and fans of all stripes, and the answer out of necessity seems to be "yes." We all see increasingly desperate concert bookers looking for that OMFG name on the festival poster, the shorter and shorter cycles of reissued content, and continuing questions about music sales in a download- and torrent-filled world.
Bands long vanished from the rear-view mirrors of our minds are back planning their future. Run-DMC, The Jacksons, The Stone Roses and more are on the reunion circuit. Public Image Ltd. just released their first studio album in 20 years; The Beach Boys, their first in 16; and yes, this Dead Can Dance album is 16 years in the making as well. For some of these artists, you appreciate the legacy but wonder if they can still hack it or are just, you know, hacks. Dead Can Dance, whether by virtue of their catalog or the kind of music they make (where diehards might find nary a bad album), don't just hack it. They command it.
Whittled down now to the core of Perry and world-renowned maestra di glossolalia Lisa Gerrard, DCD have long produced a rich weave of ethnic and world musics, rhythms and drones, and devotional melodies from sources both organic and synthesized. On Anastasis — Greek for "resurrection," because 16 years is one long-ass hiatus — you can hear the duo trace sonic and historical arcs from Perry's home and recording base of Ireland, through Gerrard's terra firma Australia, then into South America. Within that journey, there's a significant grasp of and focus on sounds that seem to be gathered from Eastern Europe and various lands of Islam.
Eight new songs are evenly divided between Perry's dark poetics and Gerrard's refined caterwaul. Production information on this album was hard to track down; I can't tell you how much of Anastasis was generated by DCD themselves or by other guest musicians, nor can I pinpoint how many sounds were generated by plug-and-play electronics vs. the real thing. Surveying their catalog it seems like there's much more overdubbing and synth work on Anastasis than on something like Aion. You may like that, you may not. On first listen the album suggested to me the earliest motorik music in Kraftwerk's catalog — a set of persistent noises that manage to be molded and shifted to capture the imagination. I think that's a good thing.
This release is gypsy-like in its ability to adapt and migrate. "Opium" might have fit on the soundtrack to a drug-trade drama not yet written, with Perry singing the part of a more world-weary and conflicted version of Tony Montana. "Children of the Sun" zooms off into science fiction, hinting at how evolution might take us (back) beyond the stars, while "Kiko" features more than a little bit of post-rock posturing. Gerrard's one-two punch of "Anabasis" and "Agape" is just stupid good; the former track, built on brittle synthetics and despairing, breathy background vocals, deserves to stand among DCD's finest.
Keen observers will note that Dead Can Dance here rethread the image of the carnival into this album, once again at a notable point in their history. "Carnival of Light" was pivotal and pulsating on their first album in 1984. "The Carnival is Over" was a sad number on Into the Labyrinth, its lyrics of departure presaging the oncoming split of Brendan Perry and Lisa Gerrard as performers and lovers, leaving DCD in the relative purgatory of compilations and live albums. About three minutes into Anastasis, Perry proclaims, "Our carnival's begun / our songs will fill the air." That sounds like resurrection; that sounds like a plan for the future.
Similar Albums:
Leonard Cohen – The Miracle
Sigur Ros – Með suð í eyrum við spilum endalaust
Peter Gabriel – Passion: Music for the Last Temptation of Christ
Stream: Dead Can Dance – "Amnesia"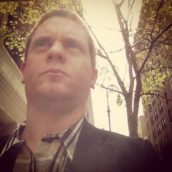 Adam Blyweiss
Adam Blyweiss is associate editor of Treble. A graphic designer and design teacher by trade, Adam has written about music since his 1990s college days and been published at MXDWN and e|i magazine. Based in Philadelphia, Adam has also DJ'd for terrestrial and streaming radio from WXPN and WKDU.