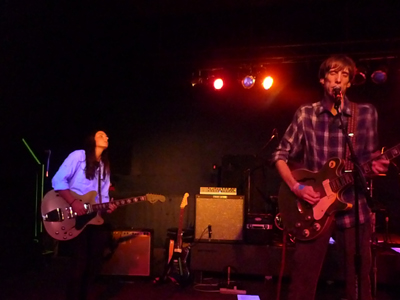 My only hope to achieve `creepy fan-boy' status with new Deerhunter guitarist Whitney Petty slipped just out of reach Saturday night at Portland's Hawthorne Theater, destined to remain firmly rooted in the realm of fantasy, when I failed to notice her standing behind me in line.
I had plenty of time to lament my missed opportunity waiting to use the cramped facilities. Some weird, young delinquents passed around a rag just outside the bathroom door. Huffing ether no doubt. Animals.
Strange vibes surrounded us. I dared Christian to buy a drink for Whitney, who we'd spotted milling around at the bar as the openers warmed the audience for Deerhunter. We both chickened out.
We left the sanctity of the bar to mingle with the young ones. Puzzling emanations from the crowd. I tried to ignore the kid wearing a t-shirt with a bowtie at my left. Christian posited his theory on Portland being the hub for some new acid wave. Vacuous stares from dilated pupils all around seemed to confirm it.
Deerhunter composed themselves with preternatural focus. Front man Bradford Cox lured the crowd into "Cryptograms" (from the band's acclaimed release of the same name) with an extended ambient intro. A gentle persuasion of elbows led Christian and I to the front during the shredded pop of "Never Stops," after which the band soft-stepped into a funked-out version of "Dr. Glass" from the Fluorescent Grey EP. The crowd responded by forming a widening dance pit I was not to shy to join.
On stage the three guitar assault of Cox, Petty and Lockett Pundt washed over all the confusion in cleansing waves of lambent sound.
Cox dedicated the chugging "Nothing Ever Happened" to Wipers guitarist Greg Sage. "Since we are in Portland," Cox explained, referring to the song as the band's "Wipers' jam." "Octet," with swirling vocal effects and persistent hypnotic undertones, followed immediately afterward, making for a particularly epic two-song block. Drummer Moses Archuleta hammered his set with a robotic precision borne of righteous zeal, while bassist Josh Fauver helped hold back the surging tide of all those guitars.
The initial slow-simmer of "Microcastle" morphed into a swaying, cymbal-crashing crescendo, far outlasting its recorded version. Highlight "Like New" flashed frayed guitars with lighter-than-air reverb, criminally short at two minutes. I stood transfixed as Whitney hung down her long black hair in stoic concentration.
Cox generally kept things light by tossing a used bandage at the audience, telling one lucky fan to "Keep it. I'll sign it later."
Deerhunter finished their set proper with a woozy, droning, flame-incarnated "Calvary Scars II/Aux Out," constructing distorted guitars like towering edifices the likes of which were an affront to God Himself. The three-guitar wallop rivaled the feedback squall of My Bloody Valentine's now legendary live renditions of "You Made Me Realise." Electronics were left humming as the band gracefully exited.
Cox descended like a falcon for the band's encore, leaping from the top of a ladder backstage before hurtling into the buzzing no-wave hustle " Lake Somerset."
"What have we learned tonight?" he then asked playfully.
I thought about the question for a minute. Had I actually learned anything? Recreational drug use was alive and well in Portland. That was something. Deerhunter certainly put on one of the best damn rock shows you'll ever see. That was something else. The addition of new guitarist Whitney Petty, a godsend. I guessed I had learned quite a bit.
Before I knew it, "Agoraphobia" bled ragged from the Hawthorne's system, a garage-rock rendering of an otherwise melancholic tune. "This last one is a `grunge waltz'" Cox quipped as the band eased into "Twilight At Carbon Lake," whose subtle tones soon erupted glorious through viscous walls of massive guitar noise. We didn't think it truly possible, but we had been, unquestionably, saved by old times.