25 Great Rock Songs with saxophone from the past decade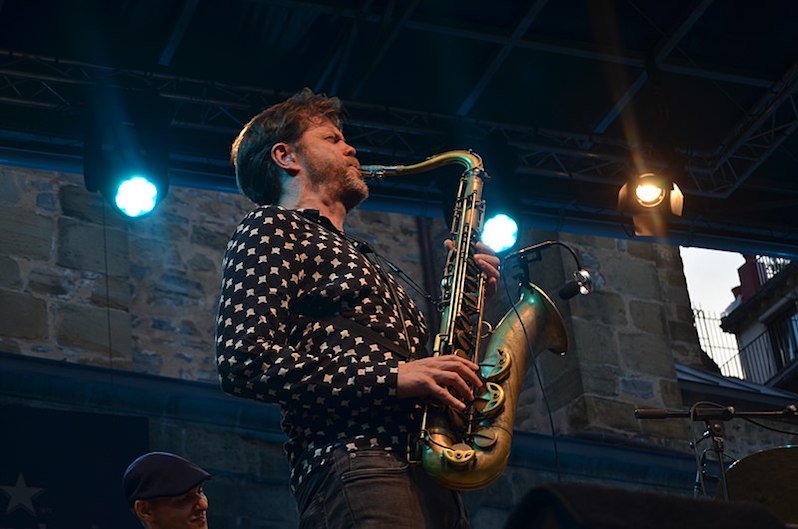 Elena Saenz / Creative Commons
As an appendix to our recent feature on the complicated history of the saxophone in rock music, I've decided to go ahead and compile 25 examples of the best rock songs with saxophone from the past decade. It's not an exhaustive list; there are no doubt lots of great saxophone moments in rock music that aren't mentioned here but deserve to be. But starting with 25 is still a lot of sax—I certainly hope you see that as a good thing. (I do!)
For the purposes of this exercise, metal is included in the definition "rock." I also did not include "Midnight City"—everybody already knows and loves "Midnight City." It was one of our favorite songs of the past decade. I don't necessarily need to remind anyone of that fact. Instead you'll find a cross section of high-profile indie, experimental outfits, metal weirdos, post-punk groups and more, all of which have found unique ways to bring the sax back.
---
Deerhunter – "Coronado"
By the time Deerhunter released 2010's Halcyon Digest, they had begun to shift away from the more explicit shoegaze and noise rock textures of their first couple of records, instead favoring a more eclectic approach (save for transcendent moments like guitarist Lockett Pundt's "Desire Lines," which took the influence of Sonic Youth's Daydream Nation to hazy new heights). But what made that record one of their most interesting was its embrace of classic pop, like on "Coronado," a four-chord jangle-pop tune defined by Bill Oglesby's saxophone solo, which is one part old-school '50s rock 'n' roll and one part squealing freakout.
---
Destroyer – "Kaputt"
It's harder than it looks to make smooth sound cool, though if anyone is able to pull it off, it's Destroyer's Dan Bejar, the closest thing that popular music has to a method actor. The recording sessions for 2011's Kaputt are now the stuff of legend, Bejar reportedly recording his vocals while reclining on a couch. The title track, in particular, radiates luxury, be it in the backing vocals, the pristine guitar tone or the horns that rise up between Bejar's voices. The trumpet makes the song seem stately, but the saxophone—performed by Joseph Shabason—makes it feel like an act of indulgence.
---
Parquet Courts – "Pretty Machines"
Parquet Courts have the kind of sound that lends itself well to a bright and punchy addition of post-punk saxophone, they just choose not to most of the time. On 2014's Content Nausea (as Parkay Quarts), they made an exception, inviting Jef Brown to touch up their scrappy Fall-like jangle with some soulful horn arrangements. It's used sparingly and tastefully, but when the saxophone finally shows up on standout "Pretty Machines," it's an earned climax to a tuneful showcase of everything the band does best.
---
St. Vincent – "Digital Witness"
Annie Clark deserves some credit for standardizing use of saxophone in art rock in the 21st century. On earlier albums like 2009's Actor, those saxophones (played by Hideaki Aomori) took on a distorted, amorphous sound, mimicking the strangely alien effect of her own guitar, which only occasionally sounded like a guitar as we know it. On her 2014 self-titled album, however, she enlisted legendary saxophonist/multi-instrumentalist Ralph Carney, a longtime collaborator of Tom Waits, to provide a woodwind section on her technology-skeptical second single. The harmonized blasts of sax give a brighter, beefier backing to Clark's dreamily upbeat standout, a sort of grounded counterpoint to her intoxicatingly intricate pop songwriting.
---
The War on Drugs – "Under the Pressure"
Given that the heartland rock of Bruce Springsteen runs through The War on Drugs' veins, it's a wonder that they haven't doubled down on Clarence Clemons-style saxophone more often in their catalog. The band's 2014 album Lost in the Dream finally made good on that suggestion, if somewhat sparingly—on tracks like barn-burning standout "An Ocean Between the Waves" David Fishkin's saxophone blends in with the shoegazey textures that Adam Granduciel so meticulously layers together. On leadoff track "Under the Pressure," however, John Natchez's baritone saxophone harmonizes brilliantly with the song's array of synthesizers by the eight-minute anthem's midway point, more prominently layering on a tastefully used instrument that, prior to this moment, The War on Drugs had underutilized.
---
David Bowie – "Blackstar"
David Bowie's first instrument was saxophone, so there's a certain full-circle quality to his final album—released just days before his death—prominently featuring Donny McCaslin's saxophone throughout its seven tracks. Which, given the eerie ambient jazz sound of Blackstar overall, makes this less of a "rock" album than Bowie's overall catalog. Yet it's that saxophone that helps drive home what makes the album—specifically the title track—such a stunning listen. On an emotional level, Bowie's lyrical opening of the door to the next world is a punch to the gut; on a purely sonic one, it's magical.
---
Mitski – "Happy"
Part of what makes Mitski's music as enjoyable as it is comes down to arrangement—the melodies in each of her songs are strong enough to stand on their own, but each two- to three-minute pop track on albums like 2016's Puberty 2 is essentially overflowing with sonic ear candy by the time it reaches a climax. Its first track, "Happy," is one of the more slowly building songs in her repertoire, but it feels like a triumph when a saxophone finally breaks through the atmospheric first half and carries the song into its climactic second verse.
---
Couch Slut – "Funeral Dyke"
Few opening tracks in recent memory break through with as much throttling impact as "Funeral Dyke," the leadoff bruiser from Contempt, the second album by New York noise rock outfit Couch Slut. It's punishing and uncompromising, putting up a dense wall of guitars behind vocalist Meg Osztrosits' visceral screams. There's so much sheer, impenetrable sound happening that, in context, the introduction of Davindar Singh's baritone saxophone only enhances the thick, sludgy texture of the song. By the halfway point, however, everything goes to hell. The tempo rises, the tension ratchets up, and the brief semblance of tastefulness gives way to squealing sax dissonance, exactly as it should be with a song this brutal.
---
Downtown Boys – "Lips That Bite"
Rhode Island's Downtown Boys are typically charging at full speed, their politically driven punk barnburners at their most potent when they hold nothing back. With only a slight drop in the BPMs, however, Cost of Living highlight "Lips That Bite" reveals how much depth the group can cram into a four-minute anthem of fierce determination. There's more space, a prominent new wave synth drone underscoring their power chord riffs, and eventually a stellar saxophone solo from Joe DeGeorge, showing that even the most intense of punk bands can slow it down long enough to reveal some of their best pop tricks.
---
Ex Eye – "Opposition/Perihelion; The Coil"
Colin Stetson's appeared on a long list of records outside of his own solo recordings—including albums by Tom Waits, TV on the Radio and Arcade Fire—but one of the most incredible projects he's ever been attached to is the prog/black metal group Ex Eye. Though they've to date only released one album, it's a hell of a lot of sound to absorb, like this standout, a dizzying 12-minute epic of galloping rhythms, dense guitars and Stetson's helical sax leads, resulting in a sound that's only familiar when stripped down to its most basic parts. Combined, it's a wholly unfamiliar yet highly thrilling experience.
---
Kairon; IRSE! – "Starik"
On their latest album, Polysomn, Finland's Kairon; IRSE! streamlined some of their more experimental tendencies while delivering an album that remains a delightfully weird psych-rock highlight of 2020. That said, they got a lot weirder on 2017's Ruination. Standout track "Starik" is at once more indebted to both heavy metal and progressive rock, with more complex structures, beefier guitar riffs and intricate instrumental passages. Andreas Heino provides a wailing dose of saxophone that pulls the band a bit further away from Oranssi Pazuzu and toward King Crimson's "21st Century Schizoid Man," surging and squealing toward infinity.
---
Bambara – "Wild Fires"
There's not enough appreciation for goth saxophone—the soaring leads on The Cure's "Icing Sugar," the dancepunk honks on Bauhaus' "In Fear of Fear," the sickly squeals on The Birthday Party's "Big-Jesus-Trash-Can." Bambara's "Wild Fires" can be counted among that lot, the Shadow On Everything standout juxtaposing a cold, supernatural atmosphere with militant, typewriter percussion and a wailing banshee of a saxophone following the progression of the song. The way it all comes together is deeply unsettling, yet intoxicating all the same, a tense sax-goth update drenched in palpable dread.
---
FACS – "Houses Breathing"
Chicago trio FACS excel at stripping post-punk down to its coldest and most eerily mechanical elements, at their best sounding less like something from Factory Records than a krautrock band playing in an actual factory. In "Houses Breathing," from the band's excellent 2018 debut album Negative Houses, sounds of echoes, metallic clangs, strange percussive reverb elements and distantly chiming effects all swirl within the droning dirge's negative space. The climactic moment arrives six minutes in, however, when the darkly melodic allure of Nick Mazzarella's saxophone breaks through the frosty atmosphere, like the strangely romantic tones of a busker parked outside its harsh concrete exterior.
---
Flasher – "Business Unusual"
While the music that Washington, D.C.'s Flasher plays is ostensibly "post-punk," it's not post-punk in the vein of The Birthday Party, The Pop Group or Essential Logic. It's more tuneful and taut, less prone to moments of fiery abrasion than subtle shifts in intensity and hypnotic layers of guitar. To that end, the use of saxophone in "Business Unusual," the closing track on 2018's Constant Image, more likely brings to mind a new wave hit like Haircut 100's "Love Plus One," its melodic phrase just this side of smooth while the trio's arrangement snakes in and out of different time signatures and escalates toward a dreamily unsettling close with the refrain, "What's the worst thing you've ever done?"
---
Jaye Jayle – "Low Again Street"
As this year's Prisyn suggests, any and all arrangements are essentially fair game for Jaye Jayle, Evan Patterson's darkly psychedelic moving target of a project. With 2018's No Trail and Other Unholy Paths, Patterson's music took on the shape of a heavier kind of gothic rock, like The Bad Seeds soaked in jazz and LSD. The album's closer, "Low Again Street," provided the most climactic moment, all eerie backing vocals, serpentine rhythms and echoing guitar riffs—and saxophone (which on tour was played by a different person in every city!). Enough layers of mind-bending saxophone, drenched in reverb, to suggest that Jaye Jayle's place might very well be onstage at the Bang Bang Bar in Twin Peaks.
---
Nine Inch Nails – "Over and Out"
Trent Reznor, much like his musical idol David Bowie, played saxophone before ever picking up a guitar. Though throughout much of the industrial icon's career, that was never apparent—maybe he snuck some saxophone into the massive walls of distortion on The Downward Spiral, but I certainly don't remember it. Yet with Bad Witch, the third in a trilogy of shorter releases in the past decade, Reznor took a step back from some of Nine Inch Nails' more bombastic stadium rock sounds and delivered a set defined as much by atmospheric nuance as, yes, his saxophone performances. The closing track, "Over and Out," is meditative and mournful, Reznor repeating the phrase "Time is running out" over his own saxophone loops. It feels in some ways like a response to Bowie's final recording, as well as perhaps an affirmation that there's no time like the present to push yourself into new places as an artist.
---
U.S. Girls – "Rage of Plastics"
The first thing you hear on "Rage of Plastics," the second track on 2018's In a Poem Unlimited, is the sound of a wildly squealing saxophone—less the sound of one in the context of atonal free-jazz punk than that of mid-'70s art rock a la Bowie or Roxy Music. Meg Remy's long had a penchant for writing art-pop songs with an ear for elaborate arrangements, and "Rage of Plastics" follows suit, balancing elements of disco, glam and doo-wop into a highlight punctuated by two(!) dynamic saxophone solos. It's arguably one of the more indulgent moments on this list, but it's also one that works because of how rich and luxuriant the atmosphere is throughout the song's four and a half minutes.
---
Cate Le Bon – "Miami"
Welsh singer/songwriter Cate Le Bon's fifth album Reward lined up a set of songs that paired serenely dreamy textural work with sometimes offbeat arrangements and melodic quirks. Her songs would sound magnificent even when pared down to their barest elements, but when given an extra treatment of saxophone like that of Stephen Black's performance on "Miami," they suddenly become three-dimensional—as if you can walk right into the landscape they seem to create. Left alone, "Miami" would be a beautifully surreal dirge, but what Black adds is a sense of depth and animation, no longer something delicate to be admired from afar, but rather something alive and unpredictable.
---
Full of Hell – "Ygramul the Many"
In the context of deathgrind, Maryland's Full of Hell are as innovative as they are weird, employing as much in the way of pure noise elements or doom and darkwave ethereality via guest vocalists such as Lingua Ignota. The penultimate track from their 2019 album Weeping Choir drops in an unexpected, brief yet potent squeal of saxophone performed by bassist Samuel Di Gristine. The track is as much a nod to jazzgrind hero John Zorn—who was first blending concepts of free-jazz, grindcore, noise and cinematic noir back with 1990's Naked City—as it is a further dismantling of the rules holding an already unstable genre together.
---
White Ward – "Love Exchange Failure"
The dystopia Ukraine's White Ward capture on their 2019 album Love Exchange Failure is a strangely romantic one, the group's take on black metal neither orthodox nor even really metal for a significant chunk of its 67 minutes. A searing black metal epic is ultimately where the album's title track leads during its expansive progression, but it detours through Bohren and Der Club of Gore-style darkjazz, piano and saxophone providing the barest of illumination through the dark urban terrain they navigate. It's when the jazz and black metal elements collide that "Love Exchange Failure" becomes most exciting, however, with a heavily sustained saxophone scraping its way through thick layers of guitar. It's not the first time a saxophone has shown up on a black metal record, but few other bands have pulled it off so masterfully.
---
Algiers – "Chaka"
Algiers first introduced saxophone on their 2019 free jazz/spoken word single "Can the Sub_Bass Speak?", taking to task lazy, racist evaluations (many of them actual quotes) of their music while exploring new musical ground. Yet just a few months later they debuted "Chaka," a track that incorporated a blazing sax solo from Skerik (Mark Eitzel, Tuatara, Kayo Dot), that burns right through the center of the groove-heavy darkwave track. It only lasts about 40 seconds, but even that brief fraction of the song achieves a dissonant transcendence.
---
Horse Lords – "Against Gravity"
Horse is Lords is by no means a conventional rock band, if they're a rock band at all—theirs is a sound defined as much by minimalism and microtonalism as it is krautrock pulses and swirling psychedelia. This highlight from their latest album The Common Task makes that perfectly clear, but there's also a muscularity behind the repetitions of swirling guitar riffs and saxophone honks, a pulse that grows more otherworldly as it becomes more off-kilter. The song's hypnotic sax drones and polyrhythmic progressions create a peculiar out-of-body feeling. It might not seem quite right at first, but ride it out and find yourself on a new spiritual plane.
---
P.E. – "Pink Shiver"
One of the things that made P.E.'s debut album Person such an exciting listen is the way in which the group's various elements—pop, industrial, punk—all merge together in a colorful patchwork of unpredictable sound. Cut-and-paste summertime industrial-pop standout "Pink Shiver" is sheer joy in the form of cut-and-paste minimal wave buzz and new wave pop, Ben Jaffe's euphoric saxophone leads guiding the way. In the context of so many abrasive textures and sounds, it'd be natural to expect something noisier or more abrasive. Instead, we get the sounds of pure hedonism filtered through malfunctioning machines.
---
Sunwatchers – "Sunwatchers vs. Tooth Decay"
At their best, New York's Sunwatchers find a transcendent middle ground between a deep, mesmerizing groove and a fiery psychedelic jam session. That's more or less the gist of "Sunwatchers vs. Tooth Decay," a song that's at once an accessible distillation of their sax-fueled rock improvisation as well as a perfect example of how far they can go with all the stops pulled out. It kicks off their latest album Oh Yeah? with urgency and immediacy, driving toward some ever out-of-reach climax while maintaining an intensity and energy level that feels like it's bound to break free from their terrestrial bodies. John Coltrane showed the way for a saxophone to take us to interstellar space, Sunwatchers are merely charting a new path to the same destination.
---
Young Jesus – "Pattern Doubt"
Young Jesus ascended to a new level with the release of this year's Welcome to Conceptual Beach, a lushly arranged album that pulls them away from the scrappier indie sound of earlier records and toward a more sumptuous art-pop atmosphere recalling both Jeff Buckley and Talk Talk. Standout "Pattern Doubt" throws in a little bit of Sade and Roxy Music's Avalon along with those reference points, its twinkling piano and Brian Tuley's saxophone solos conjuring up a sophisticated pop paradise. Bring your own drink umbrella.
---
Support our Site: Become one of our monthly patrons on Patreon, or help fund our Indiegogo, and help support an independent media resource while gaining access to exclusive content, shirts, playlists, mixtapes and more.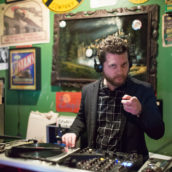 Jeff Terich
Jeff Terich is the founder and editor of Treble. He's been writing about music for 20 years and has been published at American Songwriter, Bandcamp Daily, Reverb, Spin, Stereogum, uDiscoverMusic, VinylMePlease and some others that he's forgetting right now. He's still not tired of it.