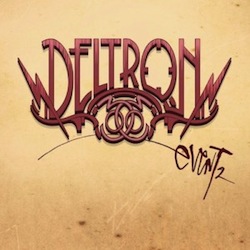 Deltron 3030 is my favorite rap concept album of all time, and with the arguable exception of Dr. Octagonecologyst (A Prince Among Thieves is operatic to a fault, and certainly has not aged as well) it's probably the best. Part of the reason I favor it so strongly is, coming from a supergroup as it did, it had so little chance of displaying deft synthesis of its varying creative forces —those of Del, the Automator, and Kid Koala — and yet such synthesis is its greatest strength. With that said, it will likely come as no surprise that I felt an about-equal mixture of excitement and terror at the announcement of Deltron 3030's long-overdue follow-up, Event II. When the list of features was released shortly thereafter, it seemed as though the latter feeling would be the one validated; in fact, I am pleased to say after having heard the album, it is decidedly the former.
There are more than enough standout tracks on Event II to make it a worthy successor to Deltron 3030's debut. By and large, it is true, many of them are not as inspired or polished as offerings such as "Virus," but one would be hard-pressed to argue that "City Rising From the Ashes," "Pay the Price," or "Nobody Can" would drag down Deltron 3030 if they appeared on it. Further, Event II uses its features, in general, with a degree of unconventionality that seems to be eluding rap artists this year; only Yeezus is superior in this regard. So, despite its occasional flirtation with the safety of more mainstream pop sounds, Event II pushes rap forward to a degree.
But Event II is striking in that the reasons for its success are entirely different than that of its predecessor, which relied on a heavy tone and precise, soundscape-oriented production. This time around, Deltron 3030 offers something that is simultaneously much more topical and polemical but also lighter and more varied in tone. This seeming contradiction would, in many cases, serve to pull an album apart, but here, in the hands of this supergroup's members, it forms the basis for thematic cohesion. Thus, when The Lonely Island appears in expectedly farcical fashion and begins to gripe with all-too-familiar conservative nostalgia, it allows the listener to understand that the uncanny future world presented to them isn't impalpably distant.
This palpability and panorama transcends even that of Deltron 3030, which is a better album overall but a much less immediate one. Unlike Deltron 3030, Event II is not "The Next Great Rap Album" – and this is what will inevitably confound those who refuse to take the record on its own terms – but it is, indeed, a triumph in its unique manner.
Similar Albums:

Gorillaz – Plastic Beach


Mos Def – The Ecstatic


DangerDoom – The Mouse and the Mask