Depeche Mode's "Personal Jesus" caused a fervor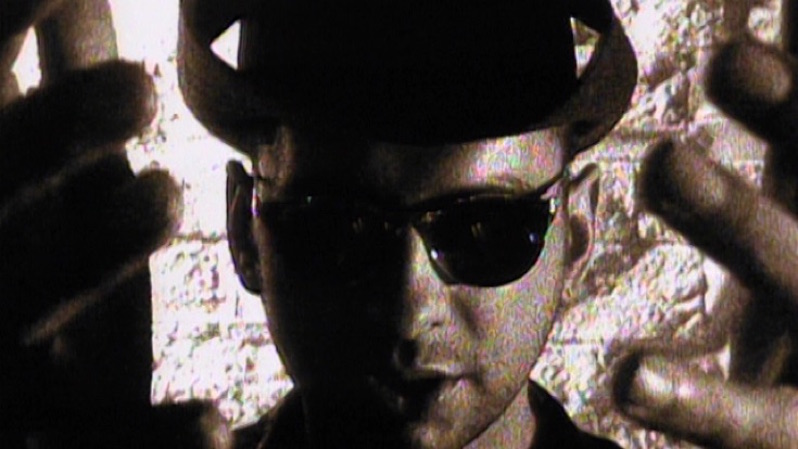 Music for the Masses was meant to be tongue-in-cheek.
In the '80s, Depeche Mode skirted the fringes of the mainstream, creating pop hooks from chilly and ominous textures and wringing emotionally poignant choruses from the most sinister depths of the soul. Yet even among the legions of new wave groups equipped with Roland Juno synthesizers and bleached-white VHS clips, Depeche Mode had an outsize appeal. Though they received some uncharitable reviews at their peak, like when Rolling Stone's Chuck Eddy described frontman Dave Gahan as "slimy and self-involved" and Robert Christgau dismissed their fanbase as fickle teenagers, Depeche Mode's unique hybrid of melody and vulnerability soothed a communal wound for millions of listeners who found a spokesperson in the aching songwriting of Martin Gore. And by 1988, the title of the band's sixth album—anchored by a harrowing and heavy single about heroin addiction—proved ironically self-fulfilling. On June 18, they played their biggest show to date at Pasadena, California's Rose Bowl to an audience of 60,000.
While the band's sales figures had yet to catch up to the likes of Prince, Springsteen or Guns 'n' Roses, Depeche Mode had an appeal very different than most bands on the charts at the time. Their fanbase, though short of monocultural, was intense. D.A. Pennebaker, director of their concert film 101, said of the band, "I found the audience very rapt; they were there for that band. Not any band would do. I got the feeling that maybe there was no other band they'd ever go out for again in that assemblage, and it made me take that audience fairly seriously." Pennebaker understates; in March of 1990, Depeche Mode were scheduled to do an in-store appearance and signing at The Wherehouse on La Cienega in Los Angeles, when 17,000 fans showed up, causing a near-riot, injuries to five people and resulting in the LAPD shutting down the event. Pretty sure that never happened to The Pet Shop Boys.
It's perhaps no coincidence that eight months prior to the now-infamous Wherehouse Riot—30 years ago, to be exact—Depeche Mode released the song that made them household names and helped propel their seventh album, Violator, to triple-platinum status: "Personal Jesus." A machine-backed reinterpretation of the blues and bolstered by an Anton Corbijn-directed video depicting the UK band as cowboys, naturally, "Personal Jesus" is the kind of song that's an obvious hit the minute you hear it. The unlikely dose of guitar twang in a darkly campy dance number, the easy-to-sing-along lyrics ("Pick up the receiver, he'll make you a believer"), the strangely robotic charisma in Dave Gahan's voice—it's all enough to make the popular kids go goth-curious.
It's also, ironically, a song that pokes holes in the idea of upholding people as impossibly perfect idols. Martin Gore wrote it after reading Priscilla Presley's memoir Elvis & Me, in which she actually described The King as her own "personal jesus." "It's about how Elvis was her man and her mentor and how often that happens in love relationships; how everybody's heart is like a god in some way. We play these god-like parts for people but no one is perfect, and that's not a very balanced view of someone, is it?" says Martin Gore in a 1990 Spin cover story. (Also, it's worth hearing Gahan do his impression of Priscilla.) Naturally, this was the song that gave Depeche Mode a gilded escalator ride to the top of the world.
"Personal Jesus" isn't Depeche Mode's best song—that would be "Enjoy the Silence" and this isn't a debate. But it's arguably their signature song. Everybody knows "Personal Jesus"; everybody's covered "Personal Jesus"—Johnny Cash, Marilyn Manson, Def Leppard, Sammy Hagar for some reason. And in large part it helped propel a mythology that became blurred with real life within a matter of years. While ostensibly a group best known for making electronics-heavy music, Depeche Mode's music has long been heavily influenced by American blues and gospel, and here they cheekily embraced the evangelical metaphors whole-hog, Gahan selling personal salvation like Jimmy Swaggart. "Someone to hear your prayers," he promises. "Someone who's there." Unhealthy, even unrealistic? Sure. Appealing? Absolutely.
"Personal Jesus" unlocked an entire motif of religious metaphors that became a staple of Depeche Mode's creative vision, even as recently as 2013's "Heaven." Though with 1993's Songs of Faith and Devotion, the band's messianic concept album found them achieving a new level of bombast, sex and faith and heroin all somehow intertangled in a period that, for Gahan at least, ranks among the darkest and most tortured. He even looked like Jesus at the time, which somehow makes the irony all the more poignant. That era did, however, result in another one of the band's best songs, "Walking In My Shoes." That one's more epic, more intense; sure, it was a hit, but not like "Personal Jesus," a song that by 1990 was Warner Music's best-selling 12-inch vinyl single of all time. An anachronistic badge of honor to be sure, but one still worth pinning to your lapel.
I saw Depeche Mode for the first and, to date, only time at an invite-only SXSW performance for a few hundred people. Objectively, I can tell myself that it was a room full of insiders, press, industry people and a number of die-hard fans who happened to luck out with scoring tickets through a lottery. In other words, another SXSW industry-funded showcase, just one that was a bit harder to get into. But the minute Dave Gahan, shirtless and in a leather vest (naturally), began crooning and writhing on the shockingly-close-to-the-hoi-polloi stage, status and cynicism and professionalism and any and all attempts to play it cool went right out the Brazos Hall doors. When Depeche Mode's right in front of your face, giving it 100 even though they damn well don't have to, you try passing it off as anything but The Coolest Moment You've Ever Experienced.
And though half the show was selections from their solid late-period release Delta Machine, they made plenty of room for hits: "Barrel of a Gun," "Walking In My Shoes," set-closer "Enjoy the Silence." And yes, they absolutely played "Personal Jesus," hundreds of people filling the room with chants of "Reach out and touch faith!" back in the band's direction. It wasn't 60,000 people packed into the Rose Bowl, nor did it result in any bruises or sprains. But that kind of joyful noise still merits an Amen.
---
Support our Site—Subscribe to Our Patreon: Become one of our monthly patrons and help support an independent media resource while gaining access to exclusive content, shirts, playlists, mixtapes and more.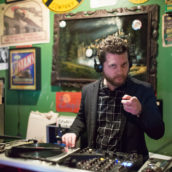 Jeff Terich
Jeff Terich is the founder and editor of Treble. He's been writing about music for 20 years and has been published at American Songwriter, Bandcamp Daily, Reverb, Spin, Stereogum, uDiscoverMusic, VinylMePlease and some others that he's forgetting right now. He's still not tired of it.