Dinosaur Jr. : Sweep It Into Space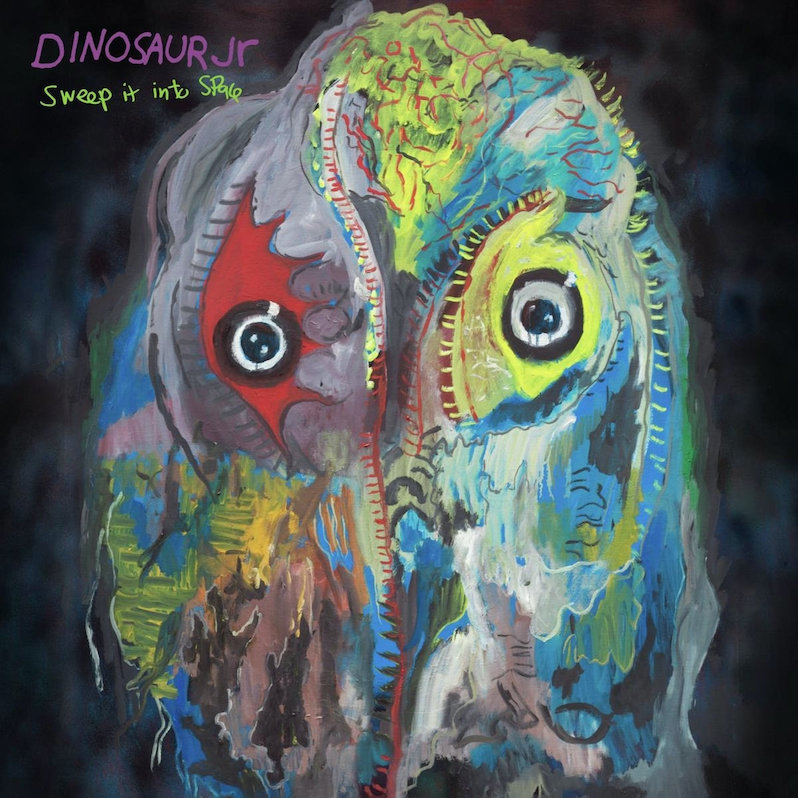 Dinosaur Jr. are a node, a tether to the earliest days of grunge. No matter their lineup changes they have always sounded free from their external burdens and internal conflicts. This is mostly due to the band's anchor: guitar wizard (and perhaps actual wizard) J Mascis. A man that seems to have evaded any notions of radical reinvention, and has sought only to consistently perfect with aching attention to detail a unique brand of slacker rock that deals in quiet passages and incredible crescendos.
On their 12th outing, Sweep It Into Space, their jaunty, exuberant sheen isn't lost here at all. If anything it's been brought to the forefront. Mascis' perfectly imperfect voice still carries the band with a unique drawl that subdues even the most complex harmonies with ease. Lou Barlow's vocals on "Garden" are some of the best he's sung, his bass parts slink and pop, functioning as a melodic counter-weight that while being almost a science at this point in their career, still feels soulful. Murph's cadences this time around are loud and full of natural ability that has been honed to razor sharp, hyper-compressed rimshot rolls and thudding kick drum accents. It comes out wonderfully on "Hide Another Round" a song that wouldn't work without his cathartic percussion.
As you listen to a Dinosaur Jr. album, there's one X factor that everyone is eagerly awaiting, and it's Mascis' guitar tone and solos. As expected, Mascis performs like a jet engine, barreling down his solos with wild noodling. He still plays with a blur of notes that contribute an arresting clarity to every solo, with seemingly little inspiration from any other source. For the devotees of the guitar, yes, there is a bevy of nuance, but at no time does Mascis sound like anyone else except himself. His style is his own. His fretboard still rips with a melodic poetry that screams where typically a vocalist would, if anyone has imbued his guitar with his own voice, it's Mascis. At the same time, he's also playing with longer, more distended notes that are often quieted, bleeding into the foreground more often than not. This production is mostly a benefit because, at its heart, Sweep It Into Space is a pop album.
There's some lingering heaviness on "I Met the Stones" which serves as an opportunity for each member to push through the sonic weight they're creating around them. Lead single "I Ran Away" encapsulates so much of the album's spirit. From fluttering guitars to accented picking that hits just at the right moment, to an ever-present shyness that feels ready to break at any moment. There are some exceptions; one is "Walking to You" which feels a bit darker tonally than your average Dinosaur Jr. track and surprisingly manages to define the second half of the album. Its chorus, while simplistic, has Mascis repeating "I Know why/I Know why," sung with a surprising fierceness.
It's hard to surmise whether this is Dinosaur Jr. at their strongest, or rather what they have always been with exceptionally high production. Regardless, there's a fearlessness in how crisp it all is. A brightness in how much Sweep It Into Space revels in its clarity, there's nothing to cover, nothing to conceal, its openness being integral to its experience. For all of the spaces they create for noise with howling guitars, shuddering drums and furious bass, there are just as many soundscapes ripe for lingering harmonies and earworm choruses in perfect three-minute packages. Classic Dinosaur Jr.
---
Label: Jagjaguwar
Year: 2021
---
Similar Albums: