The old guard of Britpop has finally reached the point where its cycle has ended, while a new revolution seems to be taking place. Many of the genre's most exciting acts, such as The Verve, Pulp, Elastica and Suede, are no longer. And those that remain, like Blur, Oasis and…uh, Radiohead (?), have embraced other genres, lost their luster or have turned away from the conventions of guitar rock for a consistently new and unusual sound, respectively. But the current wave of Britpop has split into two factions: the angelic-voiced U2s of the future (Coldplay, Keane, Elbow, Starsailor) and the rambunctious new wavers (Franz Ferdinand, Bloc Party, The Futureheads). But oddly, The Doves don't seem to fit in comfortably in either of these factions. Neither an AVUOTF or an RNW, The Doves have found themselves split apart from the current English crop, forced to stand out on their own and make themselves heard for who they are.
Five years ago, with the release of Lost Souls, Doves found themselves lumped in with the first group, worthy successors to the '90s Britpop throne. And though they share more than a few similarities with Coldplay, Doves always seemed a little darker, a little grittier and a little artsier. The Last Broadcast, their sophomore effort, took that conception and turned it upside-down, save for the artsy part. Songs like "There Goes the Fear" and "Caught By the River" were as joyous as music could possibly sound. But something may have changed in the last three years, as their latest, Some Cities, shows that Doves have become slightly more subdued and melancholy, though no less magical and transcendant. And certainly not without its joyous moments.
Those joyous moments are the devices that today's Doves choose to introduce themselves to us on Some Cities. The title track is a solid and soulful opener, with a more muscular take on the Phil Spector sound and just a touch of guitar jangle. "Black and White Town," a bouncy four-minute piano-centric track sounds like something of an evil twin to The Jam's "Town Called Malice," presumably intentionally, judging by the titles alone. "Almost Forgot Myself," in contrast, is the closest to Coldplay the Doves sound on this record. Jimi Goodwin's voice is still deeper and less boyish than that of Chris Martin, but Jez Williams' guitar floats in a haze of delay and reverb that could have been pulled from A Rush of Blood to the Head. "Snowden," however, is where things start to get really interesting. It is here that Doves reveal their more majestic side, as the song revolves around a stunning orchestral sample.
All of this is merely a lead-in to track five, "The Storm," a mind-blowing epic track featuring a Ryuichi Sakamoto sample. The song is a haunting, moody trip-hop song that seems to lurk deep in the shadows of the album but reveals itself slowly, and to quite stunning effect. This is where the melancholy sets in. "Walk in Fire," with its more triumphant arrangement, could be a sequel to 2002's "There Goes the Fear," as both songs are celebratory and huge, similar in melody and beat. "Someday Soon" is eerily hazy and ambient, switching back and forth between gauzy chorus and strummy verses, as Goodwin offers the disturbing observation, "Why is it the ones you love, you can't trust?" The muted piano ballad "Shadows of Salford" is beautiful in its simplicity, like a resigned and lonely drunkard singing "Auld Lang Syne," but not nearly as sad. This is merely a stopgap on the path to "Sky Starts Falling," clearly the noisiest song on the album, but a remarkable one at that.
There are many sides to Doves, though U2-juniors they are not. They think big, of course, and make masterpieces from big arrangements (no easy task for a trio). They may not be out there to save the world, but they've certainly changed it by leaving their impact. Some Cities is merely their third album, but it's the third in a run of near-flawless albums, only this time it's completely flawless.
Similar albums:
The Verve – A Storm in Heaven
I AM KLOOT – I AM KLOOT
Gene – Drawn to the Deep End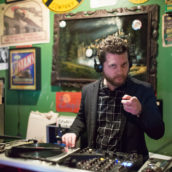 Jeff Terich
Jeff Terich is the founder and editor of Treble. He's been writing about music for 20 years and has been published at American Songwriter, Bandcamp Daily, Reverb, Spin, Stereogum, uDiscoverMusic, VinylMePlease and some others that he's forgetting right now. He's still not tired of it.