El Michels Affair & Black Thought : Glorious Game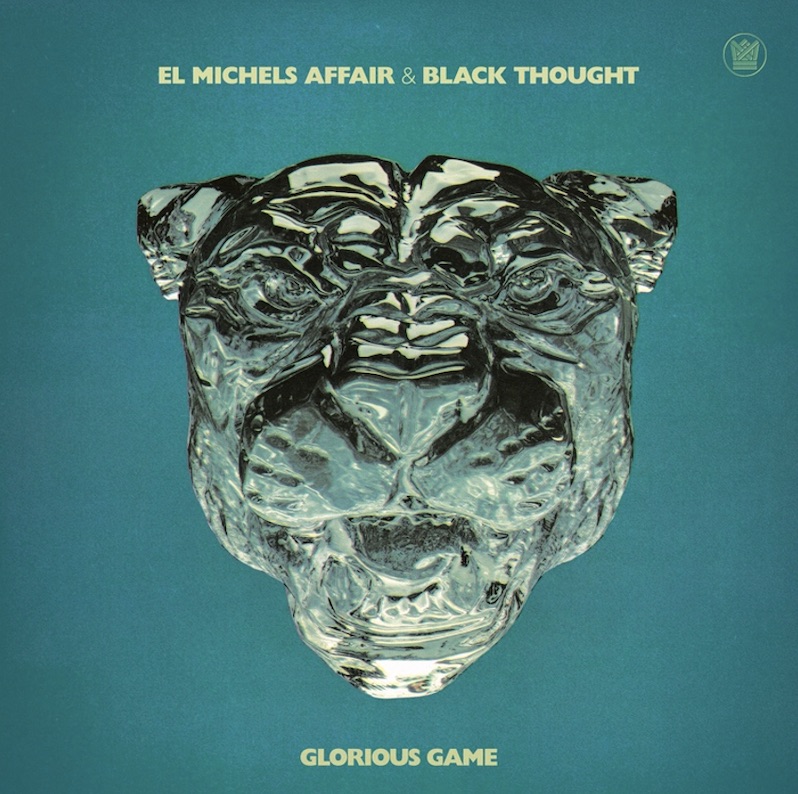 "Glorious game is just that information passed down from an OG, a gatekeeper, an elder statesman with a cautionary tale here and there but not being too preachy, told from a personal perspective, giving you some jewelry to move with," Black Thought explained in The Fader recently, explaining the title of his latest record. The tactile, lo-fi nobility Tariq Trotter, aka Black Thought, speaks knowledge through, over the hardscrabble personal pin drop of a record Glorious Game—produced by El Michels Affair—moves the 51-year-old Emcee into a deep Hemingway phase. His best phase.
As proven with last year's Cheat Codes with Danger Mouse, anyone who has watched, observed, and been blown away by The Roots in their 30-year run as a certain version of America's band, should not regard this juncture as abnormal. It's just a hard lean-in during hard times. They make real-time moves that they believe are appropriate to the situation.
I caught The Roots performing with Common on stage at Maritime Hall in San Francisco in late 1999 or early the 2000s (I can't remember, so many backpacker rap shows at the time). During a performance, Common decides to crowd surf and loses his shoe and the attendees kept it. On cue the almighty Roots swing real hard into a 50-minute set of Miles Davis' Bitches Brew—back when they used to do that shit just to flex—losing two-thirds of the audience (they walked, some ran) and pissing off everyone who came to hear their Grammy-winning hit "You Got Me. However, for the third who remained, present company included, it was an insight and a double down on who the eff they really are.
Listen, jazz musicians, who always go off into the deep end of improvisation, don't just go off top into Bitches Brew like that. In fact, it was the first time I had ever heard Bitches Brew performed live. But that is the unspoken bond between Tariq Trotter aka Black Thought and Amir Questlove Thompson, the core members of The Roots: to do what is necessary in the moment, not what's popular. They did, in fact, run the voodoo that night. In a situation where their friend Common left the show without a shoe, medicine, not appeasement, was the appropriate response to a disrespectful situation.
One of Black Thought's favorite producers is Leon Michels of El Michael Affair, a library music cinemascope soul group: "For me, everything Leon does is soulful. "Soulful people are gonna do soulful shit," he said recently in Bandcamp Daily. This is where Black thought takes off, with tenets of ornate arrangements, not bloated, just cleverness on a keep-it-moving studio budget. To repeat myself, superior emcees are found in the sparse gully productions. KRS-One, Rakim, Notorious B.I.G., Q-Tip, Jay-Z, even Tyler the Creator: The minimal backdrop turns high-level emcees with the golden mic into Ricky Jay master manipulator champions.
On "The Weather," a scenic journey to Black Thought's upbringing, or any black kid growing up in the projects in the '80s, he draws whereabouts, residents of project housing, and scenarios in Walter Mosley's "I know them" technique while applying James Baldwin's simple yet complex conjecture breaking down the social and psychological state of affairs in between guitar chords and raspy express tone. Kids used to play "kickball, stickball from ten o'clock in the morning until somebody got pissed off" to the body blow of "herd immunity, the definition of community, the only neighbor who never knocked was opportunity."
Tariq's dealing from the heart/mind meld amidst the presence of economical, understated arrangements: wood blocks, low-humming bass charts, and lenient drum rim shots takes this 30-minute, 12-song tribute to humble pie origins, written during the pandemic, a tale only a sage poet could pass on.
---
Label: Big Crown
Year: 2023
---
Similar Albums:
John-Paul Shiver
John-Paul Shiver has been contributing to Treble since 2018. His work as an experienced music journalist and pop culture commentator has appeared in The Wire, 48 Hills, Resident Advisor, SF Weekly, Bandcamp Daily, PulpLab, AFROPUNK and Drowned In Sound.