Elvis Costello and the Attractions : Trust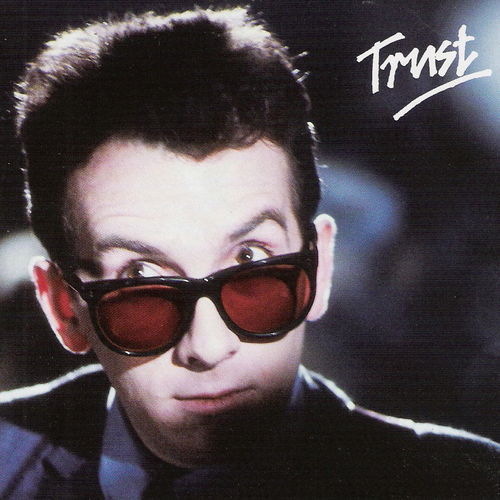 Every Elvis has his army, and Costello had gained a substantial one with his first three albums, My Aim is True, This Year's Model, and Armed Forces, all of which made our best of the '70s list. Get Happy!! also appears in this best of the '80s, making Elvis' first five albums must-haves. Trust, Costello's fifth full-length, is an odd one. It didn't have songs that were nearly the standout successes that were featured in his first three albums, and yet "From a Whisper to a Scream" was the first single to actually chart with Billboard. "Clubland" is an instantly recognizable song that appears on most of Costello's greatest hits collections, yet isn't usually held up to the standards set by such tracks as "Radio Radio" or "(What's So Funny Bout) Peace Love and Understanding." The truth is that Trust is probably the most diverse and yet consistently great album that Elvis & the Attractions ever released.
The first thing that strikes me about Trust is its graphic design. Nowhere on the cover of the album does it say Elvis' name, nor the name of his band. That's how powerful Elvis' image is. One doesn't need the printed name to know what they're getting, only a close-up photo of Elvis wearing rose-colored glasses. The image only became more iconic when a poster of the album cover appeared in the 1982 film, Fast Times at Ridgemont High. One of the album photos also features Elvis playing a green Gretsch Country Club in front of a big band, something that he would actually do many years later. With these somewhat confusing images (there's no big band on the album, nor do we see his name on the front), fans must have wondered what they were in for. All they had to do was read the lone word on the album's cover. All they had to do was Trust.
Only three singles were ever released from Trust, that being the aforementioned "Clubland" and "From a Whisper to a Scream," but also "Watch Your Step." All of the songs on Trust, including the singles, had a sophistication that most of his previous albums lacked. Gone was the shock of hearing Elvis' voice kick off the album before the band joined in. Elvis was also seeking to do something a little different than the new soul sound found in Get Happy!! "Clubland" has that jazzy feel, with the familiar pounding drums in the chorus while "From a Whisper to a Scream" features one of Costello's best ever collaborations, this one with the smooth yet contrasting higher register vocals of Squeeze's Glenn Tilbrook. "Different Finger" featured a preview of what would be Elvis' country covers album, Almost Blue, released later that same year. Three of my all-time favorite underrated Costello songs close out the album with the piano only "Shot With His Own Gun," the media blasting "Fish n' Chip Paper," and the brilliant lyrics of "Big Sister's Clothes" as he sings "it's easier to say 'I love you' than 'yours sincerely' I suppose."
Now that Elvis has released most of his albums as extended double disc packages, this album becomes even more of a treasure. The Ryko reissues featured extra songs, but these new double discs go the extra mile including alternate versions of some of the best tracks. Trust is one of those albums that could get easily overlooked being sandwiched between the first four gems and the amazing Imperial Bedroom, but it still remains one of my favorites. It may not bring you back time and again like particular successful singles, but there's not a skippable track on the entire album. It treads that middle ground between straightforward pop aggression and arranged complexity, and it does that extremely well.
Similar Albums:


Spoon – Kill the Moonlight


Elvis Costello & the Attractions – Armed Forces


The Jam – Sound Affects