Faten Kanaan : A Mythology of Circles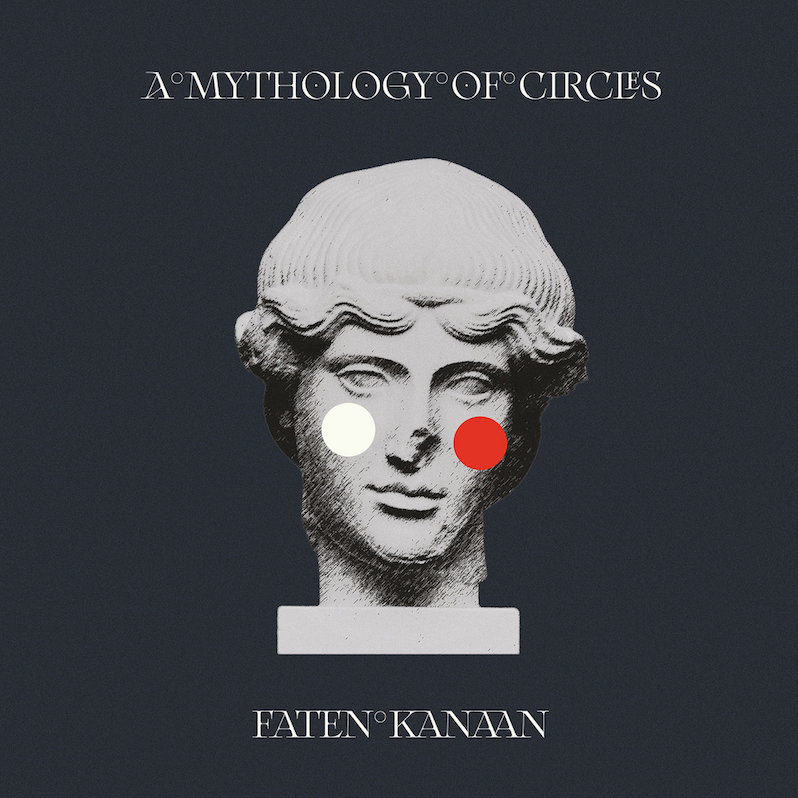 Solo synthesizer records like A Mythology of Circles, a programmatic and stoic album of meticulously layered lines and pads that often calls to mind the wind- and rain-lashed marble in decay of an ancient Grecian temple, have a rich and well-noted history that raise certain necessary questions to answer. The obvious initial points of this record would be to observe that German-born composer/synth player Faten Kanaan clearly descends from the same school of richly imagistic kosmiche playing as the undisputed master Klaus Schulze. There is a similar motility at work in his great works such as Mirage and X and this record, using gently cascading and developing beds of synthesizers to create deliberate lush images. Kanaan's approach is spare but not austere, more Vangelis than Rick Wakeman, even at times capturing Vangelis' unparalleled ability to conjure sound images of arctic wastes and vast expanses of ice and snow although here reconfigured to the chilly spray of the Aegean off of the coast of an immortal and everlasting Greece. (Fitting, given Vangelis' own Greek descent.)
The next obvious point to make would be to remark on the superb sense of instrumental prowess needed to play these compositions without the aid of loops or sequencers. Kanaan performs these pieces organically, something that becomes ever more astounding as the third and then fourth cross rhythm appears, seemingly indicating either the fastest hands in the world, synthesizers she can control with her feet or perhaps a bevy of sample pads. This inscrutable technical/technological question of performability is an obvious trap to fall into, to fixate more on the question of the humanity of the slow developing pieces than on the music itself. Certainly there is something to be said that every note here becomes chosen instead of modulated by algorithm, that despite their stillness and statuesque beauty these are still indeed human forms. But this would miss the underlying emotional and imagistic landscape of this song cycle, something that strikes me as substantially more interesting.
In a pivot away from figures like Schulze, Kanaan's A Mythology of Circles is not one or two half-hour epics but instead over a dozen miniatures, interlocking like figurines in a diorama. The events of the diorama in question are the Orphic myth, the tale of Inanna, of quests into and out of the underworld both with and without that which was sought. There is a trembling sense of temporality that emerges from the nature of all the notes she chooses; this is beautiful, but it is brief, slipping away, never to return, something that a loop or sequenced melody would break. There are images of birds, arrows, wind; all things born of air, departing, snatching away, figures of nature and supernature and humanity, the primal trinity that births religion. There is a lingering melancholy amid the beauty, that anxiety of being and embodiment, one that is not resolved by the unspoken questor's avernal descent.
That one of the closing tracks is titled "The Heron" is striking. The image of emerging from some quickly closing cave on the edge of the river Styx, shade no longer in tow, gazing out across the grass and stone and water of Greece only to have your eye caught by a low swooping bird snatching a fish from the waters, preening its feathers and flying away into the dipping sun. It is a stoic image, one that resolves itself to knowabillity and unknowability. There is a sense of intimacy in the music, a bass presence that grows like the warmth of a mother or of the heating stones of the earth. There is a great deal of ambient and ambient-associated music that gets by merely on pleasant soundscapes, but this is something else, a craft image gently tailored second by second in its scant miniatures to assemble into a specific guided whole. It feels more often like a score to a film you can see in your eye or like watching a dialogue-less play enacted on a stage, its movements and staging terrifyingly vivid. You can almost feel the hot red sun baking down upon you, Grecian curls hung limp with sweat on your brow as you look longingly into the gaping mouth of the pit of hell that holds that which you seek. This is perhaps the most overriding sense and, at last, her reunion to the greats of Schulze and Vangelis and Tangerine Dream; even when it is not a soundtrack record, it feels like one because the internal emotional narrative arc of the music is so obvious and tactile, the images so specific and grounded and undeniable, that you feel like you've walked away from a new and riveting Tarkovsky film rather than an electronica record.
---
Label: Fire
Year: 2020
---
Similar Albums:
Langdon Hickman
Langdon Hickman is listening to progressive rock and death metal. He currently resides in Virginia with his partner and their two pets.