Fiery Furnaces : Blueberry Boat
Well, that didn't take long. Not one year ago, The Fiery Furnaces were giving The White Stripes a run for their money with Gallowsbird's Bark, their off-the-wall blues rock debut. The siblings Friedberger traded verses about "Tropical Iceland" and office supply puncture wounds over blazing slide guitar and some fucked-up sounding wah-wah. It was weird, but rockin', like Captain Beefheart and the Magic (bar) Band, with some consulting work by Syd Barrett. Suffice to say they started out on the right foot.
So how did Matt and Eleanor decide to follow-up their debut? By making a wildly experimental monster epic that probably would have made sense for any other band to release much, much later in their career. But The Fiery Furnaces are just too ambitious for that. Blueberry Boat, the band's sophomore release, has taken the band from inventive young songwriters to megalomaniacal musical mad scientists. And it took them less than a year to get there. For such a young band, a leap this big would seem premature, as they've scarcely given themselves time to establish themselves as career musicians. But on the other hand, if Blueberry Boat won't cement this brother-sister duo in everyone's minds (and record collections), I don't know what will.
Boat, first and foremost, shows a newly ambitious compositional side of the band. Five of the album's songs stretch well beyond seven-and-a-half minutes. The very first song alone, "Quay Cur," is ten-and-a-half minutes, opening the album with an extended, melancholy trip-hopera a la The Black Heart Procession. Two ominous repeated chords clang underneath Eleanor Friedberger's tale of a lost charm, which sees her returning, repeatedly, to the refrain of "Now I never ever, ever feel like I'm safe again." The title track, easily one of the best tracks on the album, begins with a dizzying moog riff, about four permutations of which appear throughout the length of the nine-minute song. Between the carnivalesque chimes, however, the song takes a folksy turn as Eleanor sings a tale of pirates pillaging her cargo of blueberries on the high seas. "Mason City," though one of the longer tracks, is more straightforward and doesn't stray far from its original tempo or chord progression. But that's not to say it doesn't have its share of surprises or subtleties. And "Inspector Blancheflower" and "Chris Michaels" are each written in movements, each one moving on from one part to another, never looking back.
For fans of Bark, this departure into slightly more progressive territory may seem difficult to take on in one sitting, though no matter how long any of the tracks are, they remain fun and accessible, each one an adventure in listening. But then again, there are eight shorter tracks that most will inevitably find easier to tackle, which is fine. Each song, no matter how long or short, never stops short of mind-blowing. "My Dog Was Lost But Now He's Found" tells a tale of a lost dog over a whimsical Os Mutantes-like melody. "Straight Street" is a five-verse five-minute skronk blues track involving "two-timer Damascus computer cafes" and a "dusty Beanie Baby sold for good luck." And "Spaniolated" is a simple but touching ballad that features the classic line "The pain/in Spain/falls main-ly on me." Weird, but great stuff.
It's probably safe to say that nobody expected something this monumental and epic from a band as young as The Fiery Furnaces. But, apparently, expectations have no place in the Chicago by-way-of Brooklyn band's agenda. This may or may not be the biggest surprise album this year, but it's certainly one of the best.
Similar albums:
Captain Beefheart and His Magic Band – Trout Mask Replica
Os Mutantes – Os Mutantes
Quasi – Hot Shit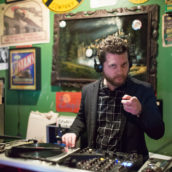 Jeff Terich
Jeff Terich is the founder and editor of Treble. He's been writing about music for 20 years and has been published at American Songwriter, Bandcamp Daily, Reverb, Spin, Stereogum, uDiscoverMusic, VinylMePlease and some others that he's forgetting right now. He's still not tired of it.