Foo Fighters : Wasting Light
To paraphrase a statement I once read about Def Leppard on a message board, what kind of asshole doesn't like at least a little Foo Fighters? Since Dave Grohl first recorded under the Foo name in 1995, they've steadily maintained their place as one of mainstream ("alternative") rock's most consistently enjoyable, if not flat-out likable, bands. That isn't to say their run has been flawless; both 2005's In Your Honor and 2007's Echoes, Silence, Patience and Grace found the band too middle of the road for their own good. And as the new Foos documentary Back and Forth made abundantly clear, they've had their share of drama, from Grohl re-recording William Goldsmith's drums on The Colour and the Shape to Taylor Hawkins' drug overdose. Yet that very same documentary also revealed the band as ultimately well-meaning goofballs figuring things out as they went along, all the while releasing some great rock records in the process.
But that's the frustrating part – for as strong as the Foo Fighters' first three albums are, and as much as I want to like every new album of theirs, their last truly great album, There Is Nothing Left to Lose, was released in 1999, an astonishing 12 years ago. If that fact doesn't immediately make you feel old, it certainly leads one to question whether the band's best days are behind them, which would be a damn shame. However, a confluence of factors surrounding seventh album Wasting Light seemed to indicate the contrary. First, guitarist Pat Smear has returned to the band, notable for the fact that his first run with the band was at their peak of creativity. Second, the group committed the album to analog tape in home-recorded sessions with Butch Vig, whose name is on an overwhelming number of alt-rock classics. And third, both Krist Novoselic and Bob Mould make appearances, their presence indicating a subliminal nod to the days long before the Foo Fighters were playing to audiences of 80,000 at Wembley Stadium.
Maybe it's Vig, maybe it's Pat, or maybe it's all of the above, but after more than a decade, Foo Fighters have finally made another record that lives up to the sort of quality rock anthems pumped out on their first three albums. But the band achieves that largely by creating something that sounds natural and visceral, rather than the overwrought arena rock of their last two albums. For once, Grohl isn't saving his meatier, harder material for a side project such as Them Crooked Vultures or Probot, and is instead hammering out burly doses of thunder like "Bridge Burning" and "White Limo," the latter of which is even badass enough to warrant a Lemmy cameo in its video.
Throughout the majority of Wasting Light, Foo Fighters are in maximum rock mode, largely avoiding ballads until "I Should Have Known," which, even as the album's slowest track, builds into a big, meaty rock song in the end. But despite the inclusion of one or two moments of temporary respite, the Foos are far more concerned with cranking the amps to eleven and chugging out the sickest riffs in their arsenal. Lead single "Rope" is a prime example of everything the group does right: precision power-chord jabs, ultra-catchy melodic chorus and a brief, but nonetheless awesome solo. "Dear Rosemary" drops the tempo slightly, but its combination of syncopated rhythms and Bob Mould's bold, powerful baritone put it on par with the album's more intense rockers. And on that note, the careening, Judas Priest-style metal homage "White Limo" is the most singularly badass thing the band has released in the last ten years.
The looser, more primal feel of the album is largely what makes it such a joy to listen to, though one side effect is that Grohl's lyrics often sound tossed off (a scene in Back and Forth depicts him rewriting some of them minutes before recording, so that can't be far from the truth). From the mouth of a lesser frontman, lines like "these are my famous last words," "this was no ordinary life" and "shame, shame, go away, come again some other day" would sound downright embarrassing. But Grohl's a veteran, someone who knows how to sell these lyrics like they actually make a fucking difference, and the result is the difference between Die Hard and a rerun of CSI: Miami. Ultimately, Wasting Light sounds like a Foo Fighters record, but more importantly, it sounds like a really good Foo Fighters record. They may very well be one of the biggest bands on the planet, but after all this time, it's comforting to know they're making records that sound like they still give a shit.
Similar Albums:
Queens of the Stone Age – Rated R
Foo Fighters – The Colour and the Shape
Jimmy Eat World – Bleed American
Video: Foo Fighters – "Rope"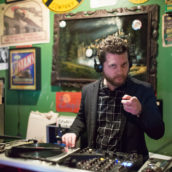 Jeff Terich
Jeff Terich is the founder and editor of Treble. He's been writing about music for 20 years and has been published at American Songwriter, Bandcamp Daily, Reverb, Spin, Stereogum, uDiscoverMusic, VinylMePlease and some others that he's forgetting right now. He's still not tired of it.