Fotocrime's "Expulsion From Paradise" is an artfully dark goth clip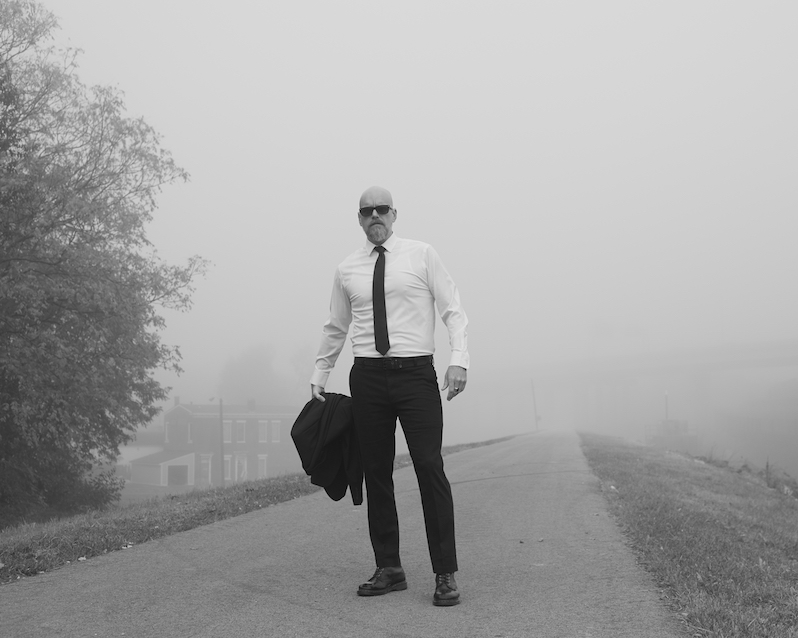 On March 13, Fotocrime—the goth/post-punk project of R., aka Ryan Patterson, formerly of Coliseum—will release sophomore album South of Heaven via Profound Lore. And today, we're debuting a new video for the single "Expulsion from Paradise," directed and edited by Jakub Moth. The dark and driving goth-rock track, dense in gauzy distortion and melodic synths, is paired with grainy, artful yet ominous images of trains, eyes, architecture and other sometimes-unclear imagery. Watch the clip below.
South of Heaven, which was produced and engineered by J. Robbins (Jawbox) and features sessions recorded by Steve Albini (Shellac), follows 2018's Principle of Pain.
Fotocrime tour dates:
3/4 Queretaro MX | Más Sabe El Diablo
3/5 San Luis Potosí MX | Loud Open Stage
3/6 Guadelajara MX | Palindromo
3/7 Mexico City MX | Centro De Salud
3/8 Tijuana MX | Black Box
3/13 San Diego CA | Whistle Stop $
3/14 Los Angeles CA | 5 Star Bar *
3/15 Oakland CA | Elbo Room JL *
3/18 Portland OR | High Water Mark
3/19 Seattle WA | El Corazon
3/27 Louisville KY | Zanzabar +
3/28 Birmingham AL | Firehouse +
3/29 Atlanta GA | 529 +=
3/30 Raleigh NC | Slim's +
3/31 Richmond VA | Fallout +
4/1 Baltimore MD | Metro Gallery +
4/2 Brooklyn NY | Gold Sounds +
4/3 Manhattan NY | Mercury Lounge +
4/4 Boston MA | O'Brien's +
4/5 Quebec City QC | L'Anti +
4/6 Montreal QC | Casa Del Popolo +
4/7 Ottawa ON | Dominion +
4/8 Toronto ON | Bovine Sex Club +
4/10 Ann Arbor MI | Lo-Fi Bar +
4/11 Chicago IL | Subterranean Downstairs +%
5/6 Szeged HU | Grand Café ~
5/7 Cluj-Napoca RO | Form Space ~
5/8 Budapest HU | Robot ~
5/9 Bratislava SK | Kulturák ~
5/10 Brno CZ | Kabinet Muz ~
5/11 Warsaw PL | Chmury ~
5/12 Gdanks PL | Drizzly Grizzly ~
5/13 Dresden DE | Scheune ~
5/14 Bochum DE | Die Trompete ~
5/15 Darmstadt DE | Oettinger Villa ~
5/16 Lohr am Main DE | Stadthalle Lohr – Umsonst & Drinnen Festival ~
5/18 Koln DE | Bumann & Sohn ~
5/19 Liege BE | Kultura ~
5/20 London UK | The Black Heart ~
5/21 Paris FR | Espace B ~
5/22 Winterthur CH | Gaswerk ~
5/23 Rorschach CH | Treppenhaus ~
5/24 Tabor CZ | Stanek ~
5/25 Slavonice CZ | The Barakos ~
5/26 Vienna AT | Venster 99 ~
5/27 Mannheim DE | Forum ~
5/28 Siegen DE | VEB ~
5/29 Berlin DE | Kastanienkeller ~
5/30 Hamburg DE | TBA ~
5/31 Prague CZ | 007 Strahov ~
$ w/ Blood Ponies
* w/ Primary
+ w/ Fool's Ghost
= w/ Null
% w/ Sweet Cobra
~ w/ Bleakness