Franz Ferdinand : Right Thoughts, Right Words, Right Action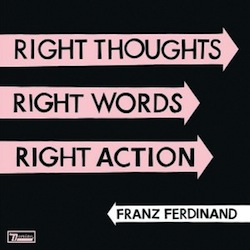 Buy at iTunes | Buy at Insound (vinyl)
The popular music-listening collective (critics and casual fans alike) may have deluded themselves at the turn of the century when they inclined towards positioning the post-punk/garage rock revival as the first Great movement of the millennium. It is sometimes easy to forget — in the absence of retrospective reading — precisely how massive of a fervor was made over the debuts of The Strokes, Interpol, The Libertines, and, of course, Franz Ferdinand, who released their auspicious self-titled album in 2004 and prompted NME to gush, "[Franz Ferdinand] marks the dawning of an era of British music that isn't just for the casual petrol shop consumer, but stuff so important that you can give yourself to it completely…[it] is the album that's going kick open the door for all the great British bands that'll sweep through in their wake…"
Rarely, if at all, would you ever hear a writer discussing Franz Ferdinand in such terms today, for the simple fact that the above prophecy just didn't occur. In fact, nearly every one of the major breakthrough bands with a revivalist aesthetic flamed out shortly after their debuts; nary a single one ever came near to reaching the heights of their first album again. None of this purports to take away from Is This It, Turn on the Bright Lights, Franz Ferdinand, Up the Bracket, or even slightly less-celebrated works (Your New Favourite Band, Highly Evolved), which stand mostly unwithered today, as originally evaluated.  But (and here's where I abuse my retrospective privilege) one cannot help questioning the optimism of the writers at the time for a movement that was always, at worst, backwards-looking and, at best, affected and synthetic.
All of that, though, just begs the question: what happened to these anointed and subsequently un-anointed artists? Some, like the Libertines and the Strokes, were not built to last from the beginning and quickly broke apart or disbanded. Some, however, have continued plugging away in the face of a declining commercial and critical response. Franz Ferdinand probably belongs in the latter group, having composed their first three albums over a reasonably consistent, unbroken time span. After an uncharacteristically quiet three years, however, Kapranos (now aged 41) and his bandmates have released Right Thoughts, Right Words, Right Action to a new decade. As per usual, it's svelte as hell, clocking in at 35 minutes (even shorter than their debut). Also, as per usual, its length is perfectly suitable for the band's thumping punkiness.
But welcome moderation in length notwithstanding, RT, RW, RA comes off disquietingly, as a divided and nearly anguished effort. Much of it is transparent to artistic pressures: an anxiety about experimentation and, most importantly, the desire to create something intelligent and significant. That Right Thoughts, Right Words, Right Action positions itself as a record with these concerns is a triumph of maturity, demonstrating that Franz Ferdinand has truly developed with age. And, sometimes, they sound as significant and mature and intelligent and bold as they hope for themselves, charging out of the gates with the sly-yet-rowdy opener "Right Action;" going theatrical on "Evil Eye"; channeling TISM for the intelli-funky "Treason! Animals"; and effectively incorporating electronic effects on standout closer "Goodbye Lovers & Friends." Each of these tracks is top-flight Franz Ferdinand, with "Right Action" especially recapturing the glory-days catchiness of "Take Me Out" (and showing up the throwaway single proper, "Bullet"). When the album works, it really works.
That said, Right Words, Right Thoughts, Right Action is also, in a sense, a failure of maturity — still defined by its pastiche nature as opposed to any kind of newfound originality. Perhaps the most striking element that corroborates this is the appropriation of Beatlesque harmonies and songwriting, which is clear throughout but particularly on George-Harrison-quoting "Fresh Strawberries." In spite of his voice, which has matured to affect the depth and vibrato of Scott Walker's, Kapranos often insists on these precious and glossy harmonies, leaning on them when his songs meander (such as on "The Universe Expanded"). Sure, they're not drawing from post-punk, but Franz Ferdinand is still situated comfortably and unfortunately in their backward-looking, revivalist niche. Perhaps the only explicit indication that this record even came out in 2013 is the aforementioned "Goodbye Lovers & Friends," which, located as it is at the very end of the album, seems to betray a reluctance to adapt and move forward.
Prince, perhaps the greatest innovator ever in popular music, opened Batman — his daring foray into an untested commercial market at the end of the '80s — with an exhortation to "think about the future." That's precisely what Franz Ferdinand is doing here, and they're scared. I'm scared for them, too.
Similar Albums:


The Walkmen – Heaven


Bloc Party – Four


The Libertines – The Libertines