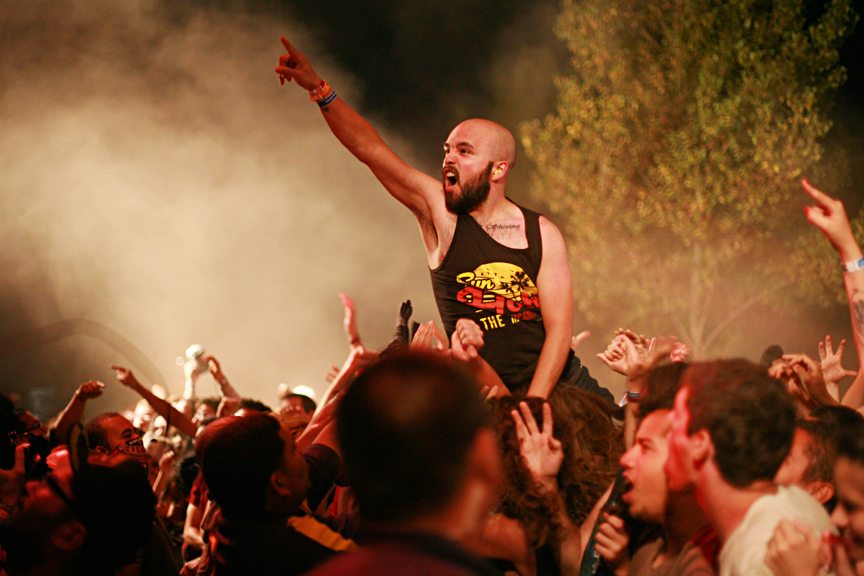 Saturday
King Tuff
Spring St. Stage – 2:05
The organizers of FYF Fest were faced with an uphill battle of trying to please everyone by not creating many difficult scheduling conflicts in two days overflowing with spectacular artists. And even after a revision of the initial schedule, people were still faced with some uncomfortable sacrifices. That said, King Tuff's smart-assed but joyous glam rock (hold the glamour) made for an easy decision early on Saturday afternoon. With long, frizzy hair pouring down from a baseball cap and dark glasses on at all times, the King looked more like he stepped out of a skateboarding video than Top of the Pops, but the royal slacker, born Kyle Thomas, clearly brought his best Bolan chops with him, racing through tracks from his new self-titled album with swagger and ease. "This one's for all the weirdos out there," Thomas said before launching into "Freak When I'm Dead," "and that looks to be just about every last one of you."
The Men
Hill St. Stage – 2:45
Keeping in the theme of the weekend of seeing bands who make as much ruckus as humans are capable (with only a few exceptions), next on the itinerary was Brooklyn's The Men. The quintet kept banter to a bare minimum, instead preferring to fill their allotted 45 minutes with hit after hit of body bruising, ear-splitting, dust stirring fuzz. I didn't actually bring a stopwatch, so there's no verification, but I'm pretty sure the average length of space between their first three or four songs was about a second each. There's no time to bullshit when you've got rocking to do, and The Men did plenty. Stacking their setlist with tracks from recent albums Open Your Heart and Leave Home, including the former's unstoppable title track, at a certain point the distortion was so thick, and volume so high, that being able to identify specific songs became a little more challenging than expected. No matter, it all pretty much ruled, whatever they played.
Nite Jewel
Broadway Tent – 5:15
The gnarly heat bearing down on downtown Los Angeles around 4 o'clock called for a beer break, chased by a water break, overlapping with a shade break. But refreshment took hold just at the right time in order to head back out to soak in more music, albeit under a benevolent and nurturing shade-bearing tent. As Nite Jewel finished up her soundcheck, a surprising number of girls in spirit hoods showed up, as another attendee practiced her hula hoop skills. Still, once Nite Jewel, aka Ramona Gonzalez, got her beat-heavy set of electronic pop under way, the best dance moves were executed by a Jarvis Cocker lookalike in a floppy hat. Though small in stature, Gonzalez has an outsized personality, which arrived early on in her shout-out to Octomom, who apparently showed up for the festival. Even bigger is Gonzalez's voice, which is a big and soulful confection that carried tracks like "One Second of Love" with confidence and command.
Fucked Up
Spring St. Stage – 5:25
The first schedule that FYF sent out initially pitted Fucked Up too closely against some other must-see acts, which sorta bummed me out. However, having seen Fucked Up before, I was ready to sacrifice a guaranteed punk rock party for a previously unseen adventure. However, with the schedule revision, Fucked Up once again made their way on to the schedule, and thank goodness for that, because one should never be denied the antics of Damian Abraham. Most of the band's setlist is standard fare — "I Hate Summer," "Black Albino Bones," "David Comes to Life" and many tracks from the album that bears the same name (but not that song, it turns out) — but no matter how many times you hear them, they always rule. The band held court on stage while Abraham joined the Spring Street Stage crowd to offer his mic for gang vocal shout-alongs and a moshing, stage diving whirlwind of chaos. Another conflict beckoned, but on the way out, I did catch Abraham's confirmation of what many of us in the states have long suspected: "Socialized medicine is pretty fuckin' sweet."
Future Islands
Hill St. Stage – 6:05
Future Islands' bassist William Cashion and keyboardist J. Gerrit Welmers are perfectly strong musicians and make some wonderful music, but with all due respect, in a live setting, the focus is and should remain on frontman Samuel Herring. He's not just a singer, he's a thespian of sorts. And when you watch him, you don't hear some live music, you see a man living the songs right in front of you. It's already a given that Herring's voice is a theatrical device in itself, full-throated and impassioned to the point where every last syllable seems like a deadly serious matter. Couple that with his choreography — arm swinging, chest beating, steely gazes and kneeled confessional poses — and a set of danceable pop songs turn into something much bigger and seemingly heavier. Not that the songs themselves weren't great; starting off with On the Water standout "Give Us the Wind," the trio maintained a high that reflected in the crowd at the Hill Street Stage, which was surprisingly huge and justifiably stoked. And Herring, for all his intensity, transforms back into a charming, hilarious dude between songs, proving that he's got the best banter game in addition to having the most fierce stage presence. After spitballing about baseball for a spell, Herring introduced a new song by stating, "Bands probably shouldn't try out new material on the road, but we don't give a fuck."
Chromatics
Spring St. Stage – 6:35
Chromatics never seemed like a band that made a lot of sense outdoors or in daylight, but the band proved both of these assumptions wrong at the Spring Street Stage Saturday evening, playing a dreamy electronic pop set against the sunset. But then again, hearing the anthemic glory of "Kill Your Love" or the pulsing disco beats of "I Want Your Love," it makes perfect sense for the group to be playing early evening at a festival. They make big songs out of intimate, sometimes dark elements. And those songs are built for dancing. Of the sea of bodies gathered in front of the stage, only a scant few weren't giddily bouncing and gyrating. Even "These Streets Will Never Look the Same," the Auto-tuned sad robot ballad from Kill For Love, turned into a cool, funky dance jam. I've missed them a few times on their last few trips down to San Diego, and can say with confidence that their sparkling post-punk-dance tunes met my expectations even at a festival this size. I can also say there's no way I'm missing them next time.
Hot Snakes
Hill St. Stage – 7:15
It seems a little ironic that I had to drive to Los Angeles to see a San Diego band, but the Hot Snakes' hometown reunion shows earlier this year sold out pretty damn quick. Regardless, I made it there, I saw them and they absolutely ruled. For how chill John Reis looked in a Hawaiian shirt and shorts, the guitarist showed off some meaty punk rock chops, as singer Rick Froberg screeched like the good old days. And while they played for merely an hour, they crammed a lot of material into that time, going chronologically with a few tracks from Automatic Midnight, about half of Suicide Invoice, and another half dozen or so from Audit In Progress. The band saved the most jaw-dropping, OMG, bucket list, am-I-actually-hearing-this moment for last, however: Drive Like Jehu's "Golden Brown." And considering Hot Snakes is half of Jehu, that's about as close to a reunion as you'll likely get. Weekend made.
Sleigh Bells
Main St. Stage – 8:10
Young artists take note: do not attempt to replicate Sleigh Bells' insane levels of volume without proper supervision. I can't verify that the roughly one-dozen Marshall Stacks that made up Sleigh Bells' stage rig were actually functional, but I do know the band was one of the loudest acts to roar all weekend. Derek Miller's guitars could fell entire buildings with the right frequency, and Alexis Krauss, as it turns out, has stage banter cranked up even louder. If you weren't sure of where you were, Krauss screaming "LOS ANGELES!!!!" should adequately orient you and then disorient you again. Volume isn't all they got though; Krauss is highly animated, leaping around the stage and whipping her hair with reckless abandon (not to mention her styling, which is somewhere between vampy retro Hollywood glamour and early '80s heavy metal). Reign of Terror isn't just a clever title; Sleigh Bells use melody as a weapon.
Quicksand
Spring St. Stage – 9:10
Refused may have been the headliners Saturday night at FYF, but anyone who saw the Swedish hardcore act and missed NYC post-hardcore legends Quicksand did themselves a disservice. For having traveled nearly 20 years since their debut album Slip, the newly reunited foursome didn't appear to have aged much at all. They still look and sound very much like the aggressively melodic act birthed from the New York hardcore scene to create something more melodic and groove heavy. And I'll just go ahead and put this out there: I freaked the fuck out.
If anyone found demand for a Quicksand reunion surprising, the response to their set should have hushed all that. Faced with a somewhat unfortunate set time dueling with M83, the band held their own, and the animated crowd — hardcore dancing, shouting along — displayed a level of enthusiasm that was not only heartening, but deserved. With a set representing a cross section of bashers from their two full lengths, Quicksand pounded out every tempo shift and dissonant riff with authority. One heckler hollered, "You guys are pretty good!", which caught frontman Walter Schreifels off guard, chuckling as he tuned his guitar. I'm showing my teenage self here, but this was one glorious hour.
M83
Main St. Stage – 9:45
In their decade of making music, M83 has transformed from a primarily electronic act that walked a line between shoegaze and ambient to a capital-p Pop act with a certified Gold single in "Midnight City." I caught them once in the transitional Saturdays=Youth period, but even then there were glimmers that Anthony Gonzalez had set his sights on something pretty huge. That hugeness was put in perspective Saturday night at the Main stage, in front of thousands of awed and ecstatic Los Angelenos. Not only the area directly in front of the stage, but the grass field in front of the shade tents and food vendors were packed with bodies, some watching intently, others dancing without regard for who gets in their way (that would be me).
But M83 earned that crowd. Against a huge neon backdrop, the band, now a four-piece live, summoned their most heroic sounds and packed their setlist with pretty much all of Hurry Up We're Dreaming's big anthems, as well as a few key career highlights. Understandably, "Midnight City" got an uproarious response, particularly when the saxophone player came out to blow his righteous solo. Yet the blazing closer, "Couleurs," got every hip swinging and every limb flailing, proving that no matter how much Gonzalez puts stock in his favorite Smashing Pumpkins records, he'll always be an ace at making amazing dance music.
Refused
Main St. Stage – 10:55
A band as big as M83 generally can take care of the headlining spot on a two-day festival, barring an appearance from U2 or a Tupac hologram. Yet FYF Festival made an exception for the newly reunited Refused, who broke up after releasing their classic album The Shape of Punk To Come and never actually toured behind it. Making up for lost time and finally putting aside any petty pretense, the Swedish hardcore band arrived not as a long-lost punk rock act back to cash in on nostalgia, but as genuine rock stars, ready to give an ecstatic, patient audience something they've been waiting for almost 15 years.
Now, there's hardcore, and there's Refused. Taut, dynamic and above all flamboyant, the band doesn't just hammer out power chords as fast as they can — they put on a show, and there's a good chance you'll enjoy every minute of it. A big part of that can be attributed to frontman Dennis Lyxzsen, whose James Brown dance moves and endlessly entertaining stage banter makes him a natural frontman. There were some expected political statements, mostly concerning imprisoned Russian band Pussy Riot: "If I were sentenced to two years in prison every time I spoke out against the church or the state, I'd be locked away for 100,000 years. This would be an instrumental band." But whatever cynicism might have emerged in the wake of their reunion, their explosive and impassioned performances of "The Shape of Punk to Come," "New Noise" and "Liberation Frequency" showed something different than a band collecting a check. They were making good on an unfulfilled promise, and giving the crowd a show they'd never forget.