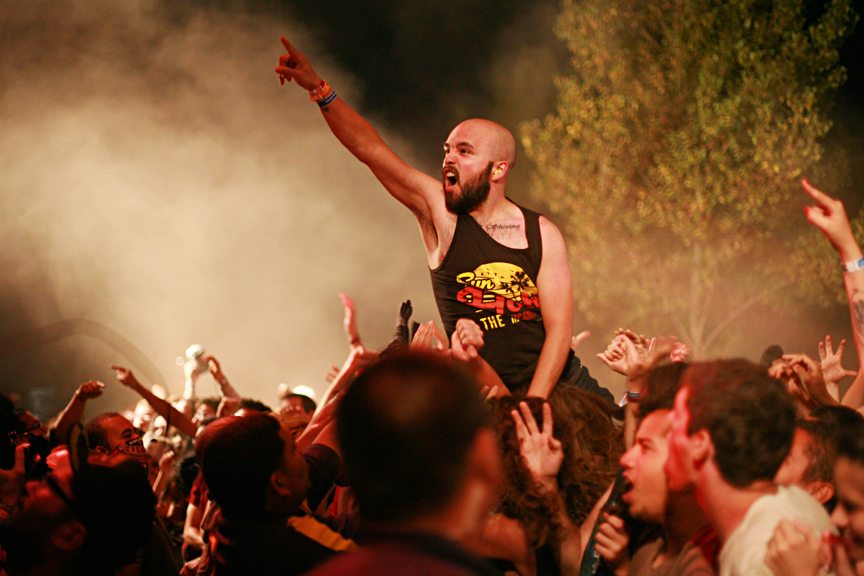 Sunday
Ceremony
Spring St. Stage – 3:35
California's Ceremony started out as violent and harsh a hardcore band could be, but have since come to embrace accessibility and melody with their latest album, Zoo. That said, even when playing their catchier tunes, the band faced a crowd that sought any excuse to transform into an orgy of crowd surfers and tenderized bodies. Which, of course, meant the band was super fun to hear and to see, particularly singer Ross Farrar, who lumbered and stumbled about the stage, contorting himself to sing into a doubled-over mic stand and shouting almost Tourette's-like utterings such as, "This song is about THE COPS!!!!!" This all happened on a Sunday afternoon at a festival stage, but the band still tore it up like they were in front of 30 angry teenagers in a friend's basement.
King Khan & The Shrines
Main St. Stage – 4:15
King Khan tours a lot, most frequently with the King Khan & BBQ Show, partially because he's released an album with BBQ more recently, but mostly because it's kind of complicated to organize a tour with a seven-piece band, most of whom live in Germany. The logistics alone made the band one worth the benefit of the doubt on Sunday at the Main stage, but watching the performance should have ably removed all of said doubt. Clad in matching outfits and bone necklaces, the Shrines took the stage first, jamming out an exotica instrumental before introducing King Khan as if in an old fashioned Christian revival. Khan, stripped to a cape, gold chain, shorts and wig, took the stage by taking on the mantel of preacher, albeit a half-naked one, and once the garage rock faith healing began, all hell broke loose in the greatest of ways.
First off, the stage diving during King Khan's set took some definite practice, as one guitar player leapt into the crowd and continued playing, while later on, two of the horn players went surfing while hitting tambourines. During "I Wanna Be A Girl," one member climbed on top of a speaker, dropped trou and demonstrated his mangina. While the audience leading up to the beginning of the band's set started out small, suffice it to say it grew nearly tenfold by the time the set was over.
Atlas Sound
Hill St. Stage – 6:00
You never know what you're going to get with an Atlas Sound show. Sometimes it's whiteface. Sometimes it's a 20-minute cover of "My Sharona." At FYF, Bradford Cox's performance was considerably more chill, the singer blending acoustic strums and electronic effects into a seamless medley of Parallax highlights. Cox, unfortunately, seemed to be swallowed whole by the crowd gathered for his understated show, but the sounds were lovely all the same.
Dinosaur Jr.
Main St. Stage – 6:40
I've long heard that Dinosaur Jr. was oppressively loud live, but until FYF Fest, I had no firsthand knowledge to confirm that. Now, having been through J Mascis' fuzz-cranked wringer, and lived to tell the tale, I can confirm it. Dinosaur Jr. is really fucking loud. But they're also awesome, and more than 25 years after their first album, the band can make some fantastic noise. Granted, Mascis, Lou Barlow and Murph don't really get super animated, but with songs like "Freak Scene" and "Out There" in their repertoire, they can stand perfectly still and let the fuzz-fest speak for itself.
The people-watching during their set was almost worth it on its own. A trio of dudes in front of me high-fived, hugged and tumbled all over each other, drunkenly, singing along to practically every song. A girl at least five years my junior went through a repeated crowd-surf and ejection cycle about three times in the span of 15 minutes. Next to the stage, however, revealing himself to be the biggest fan there, sat Henry Rollins, rocking out to every song and loving it. Bless you, Henry.
Liars
Hill St. Stage – 7:20
Choosing to wait for the end of Dinosaur Jr.'s set (totally worth it) meant having to hover on the periphery of the swarm around Liars' set. But as dapper as the Los Angeles trio looked in tailored suits, their menacing electronic art rock worked perfectly fine without a strong visual, as I discovered taking a dusty seat beneath a tree. Even at a distance, Drum's Not Dead jam "Let's Not Wrestle Mt. Heart Attack" is chilling.
Converge
Hill St. Stage – 8:30
With Baroness having to drop off the lineup due to a recent bus crash, the metal contingent at FYF was minimal, to say the least. Yet Salem, Mass., hardcore heroes Converge, in 45 minutes, delivered the heaviest, most punishing performance of the entire festival. As they soundchecked, the band seemed jovial, even jokey, as Nate Newton screamed his mic check "TURN IT LOUDER! KEEP GOING!", and frontman Jacob Bannon took care of guitarist Kurt Ballou's microphone ("Hiiiii, I'm Kurt and I play guitar").
This all changed when the set began. Ripping through all 11 minutes of "Jane Doe," the band opened their set in as gigantic a manner as possible, only to follow it up with a long series of shorter, explosive hardcore face rippers. Bannon's vicious growl is a fearsome thing to hear in person, though at various points he let the crowd take over with gang vocals. Loud, harsh and cathartic, Converge make a great case for why heavy music can elicit such strong responses from people: It's really fun!
Twin Shadow
Spring St. Stage – 9:35
Having just seen Twin Shadow play an absolutely stunning show at the Casbah a week prior to FYF Fest, I can't help but feel something was lost on the giant festival stage. That's often an unfortunate side effect of the festival experience — smaller bands without any insanely huge visual display or Bruce Springsteen-sized charisma don't always translate into the experience they might better produce in a smaller setting. That said, George Lewis & Co. definitely sounded great ably rocking out a single like Confess' "Five Seconds," or making an earlier favorite like "Slow" sound even more gigantic. Sure, Twin Shadow was good, but in an intimate setting, Lewis' magic is all the more palpable.
The Faint
Spring St. Stage – 10:55
I can't be the only one who was a little baffled that, of all bands, the Sunday night main stage headliner is Beirut. Sharing the same time slot, however, The Faint unsurprisingly stole the show. Though not nearly as active of late as they were five to ten years ago, the Omaha synth-pop never lost their mojo, and for that matter, drew an impressive crowd, though one that likely wasn't prepared for the ribcage-rattling bass that drove set opener "The Unseen Hand" and Danse Macabre pounder "Glass Danse." Admittedly, I wasn't too keen on the band's last album, Fasciination, but even the songs that didn't wow me on record sounded great live. That the band is revisiting Danse Macabre with a reissue and tour, however, is a pretty cool turn of events; those darkly cool new wave tunes were super fun the first time around, and haven't lost their appeal more than 10 years down the line.