Garcia Peoples : Dodging Dues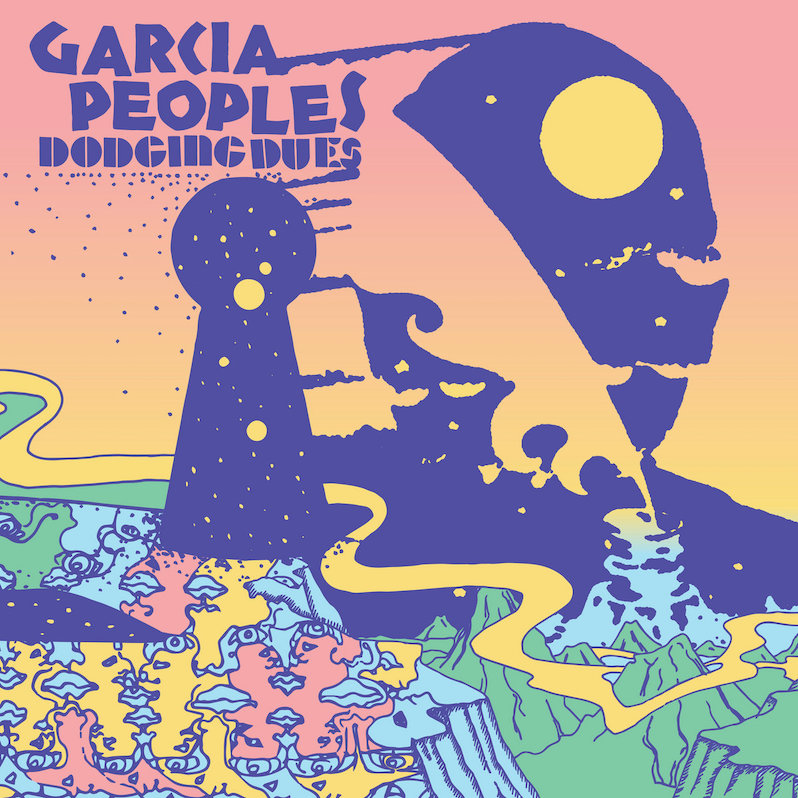 The best rock groups have a protean quality, a radical willingness to explore new territory even if it means changing their identity along the way. Garcia Peoples fit this bill. A lot has changed since their earliest incarnation as a fast and loose four-piece in Rutherford, New Jersey, founded by guitarists Tom Malach and Danny Arakaki. They've transformed from a wired New York apartment band pumping out Minutemen and Misfits covers to a widescreen jam sextet willing to play an instrumental song for 45 minutes.
But that simple narrative doesn't do the Peoples justice. They've certainly opened up their
sound and embraced the performance ethic of the Grateful Dead (also the inspiration for their name), but somehow they've managed to have it both ways—the founding spirit of punchy songcraft still shines through as well. They threw this schizoid dynamic into sharp relief in 2019, when they released two LPs. Natural Facts is concerned with songs—some fast and loose, others more intricate, each around four or five minutes. One Step Behind, on the other hand, pulses and radiates with psychedelic heat, relying on repetition and stasis to create a mood. Its three tracks run a combined 48 minutes.
Dodging Dues is a finely wrought synthesis of these two identities. This isn't apparent on first listen—all seven of these songs are powerful and melodic enough to stand on their own, and there are no marathon instrumental passages (only "Here We Are" cracks the five-minute mark.) But a liquid continuity runs through the album, each track gently tumbling into the next. This is the work of a mature band who've learned how to meld their songwriting chops with a longform sensibility.
"False Company" kicks the record off with a welcome note of elation: "So tired of pretending to enjoy your false company, and now that weight has been lifted, there's a gladness in my heart that's returned to me." Malach and Arakaki sing in crisp, confident vocal harmonies, rejecting irony in every syllable. "Cold Dice" mellows the mood with more hushed, Dead-inspired lead guitar and softer percussion.
The middle stretch is the album's biggest triumph. "Tough Freaks" is its crown jewel, one of those rock songs sturdy enough to feel inevitable. The tempo ebbs and flows with a nervous regularity, a trilling organ adds texture, and the guitar bleeds perfectly into "Stray Cats," a jagged and equally catchy slow burner. Follow-up "Here We Are" is an eight-minute airing-out, the album's most anthemic track. This whole three-part sequence has the stolidity of a great classic rock suite; its lushness and attention to detail recalling not only the Dead, but also rock bands like The Who, R.E.M. or Parquet Courts keener on rich, high-fidelity studio albums than extended live workouts.
The hazy "Cassandra" creates a brief lull until closer "Fill Your Cup" lurches into paranoid, blown-out power chords and a Joe Strummer-snarl, in without warning and out just as quickly. That's Garcia Peoples for you—they may be embracing keys, organ and pedal steel, but they haven't lost their bite. No doubt their next project will arrive in due time, time enough for them to venture in some other direction. Until then, Dodging Dues is more than enough to keep us busy.
---
Label: No Quarter
Year: 2022
---
Similar Albums:
Casey Burke
Casey is thinking about modern hip-hop and 70s rock. He's written for Grandma Sophia's Cookies, Brainchild, Plaze Music and WTJU.