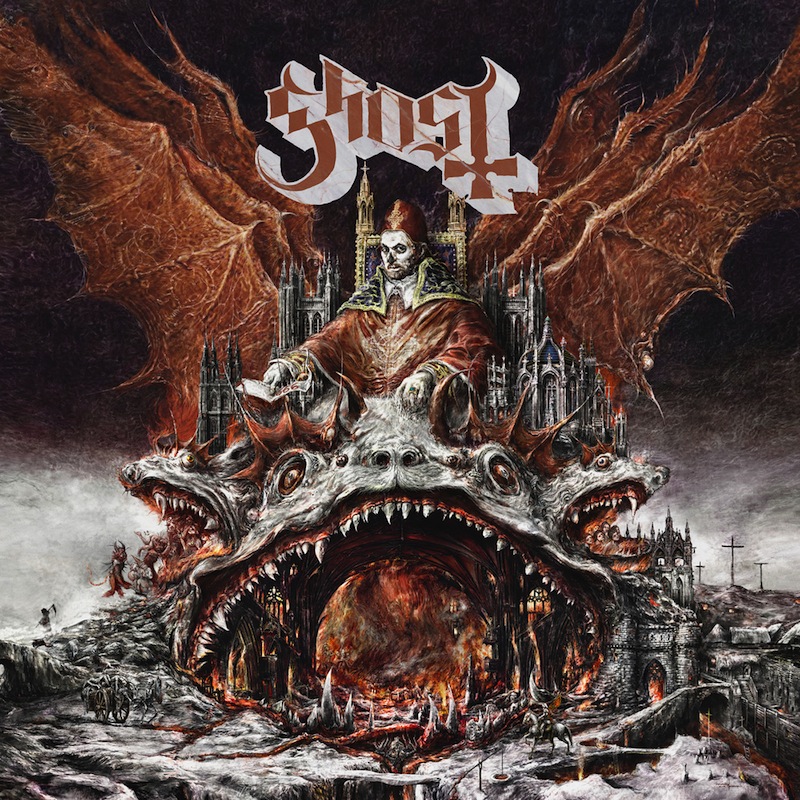 If we view art as mythic, and bands and their works as intrinsic to those myths, than a central question of the myth of Ghost is why did they receive a $250,000 advance? After all, they are costumed group singing paeans to Satan and the rotten spirit of the Earth, making traditional moralist horror fiction draped in ecclesiastical pop trappings. What about that demands that much money, and from a major label, no less? It feels first like a question meant to be an affront to the group but, considering the gothic Blue Öyster Cult-isms of their debut, or like a mellowed Mercyful Fate, it feels worthy to ask what was seen then that demanded such an investment.
There has certainly been a general upward slope to their work. Infestissumam was an experimental work dabbling in cleaner and more contemporary production and a furthering of progressive as well as pop song structures and motifs, and Meliora was an end-of-year worthy pop-metal record, marrying instantly memorable melodies and gargantuan world-conquering pop choruses with heavier guitars, more controlled compositions, and perhaps their three greatest songs in "Spirit", "Cirice" and "He Is," which between them seemed to underscore the thesis of the group in total. It was shortly after that record however when they released the Popestar EP, another of their set of covers EPs, which led off with a new track called "Square Hammer" in which something about their narrative seemed to shift. Or, at the very least, a revelation occurred and the veil was swept aside and some other thing was seen where once it was different. Ghost was not a modern Blue Öyster Cult or a pop music Mercyful Fate. They were an evil progged-up ABBA, seasoned with a dash of Judas Priest.
It is from here that Prequelle leaps and our opening question gets answered. Why was so much money invested in Ghost and their music moved to a major label so quickly when other esteemed metal bands seem to struggle and grind it out on smaller (but no less dedicated) labels? Because inside Ghost is not a metal band but one of the biggest pop-rock bands on the planet, an ABBA in corpse-paint with prog-rock keytar solos, heavy metal guitar riffs and lights that cascade up to heaven (or, perhaps, downward, to hell). For the first time, every track on a Ghost record feels like it could be a world-conquering pop song, from album opener "Rats" to the neoclassical arpeggios and Judas Priest stomp of "Faith" to the distinctly ABBA-esque piano-led rave-up "See the Light" to the proggy instrumental "Miasma" (replete with, seriously, a sexy and fun saxophone solo).
And that's just the first side of the record. "Danse Macabre," the opener for side 2, would in a perfect world be a chart-topping pop rock fixture for months. It's mysteriously devoid of Satan, instead being a sincere power-pop tune about dancing in the moonlight with someone you love, something that feels so literally plucked from ABBA's playbook as to underscore this shift in perspective on the group with a Sharpie, making it undeniable. "Pro Memoria" is a complex theatrical work revolving around death consciousness which continues the subtle theme of Latin-titled theatrical pieces that find themselves somewhere on each of their records. "Witch Image" is an AOR tune built around horror imagery like previous songs "Mummy Dust," "Zombie Queen" and "Elizabeth" (about the vampiric historical figure Elizabet Bathory), but like the other songs of this record aims more for stadium-filling arena rock and earth-rumbling choruses than for gloomy doom-pop vibes. "Helvetesfönster" is another prog instrumental, gorgeous in its own right if a bit of a squandering of tempo but certainly enormous in a live setting, while album closer "Life Eternal" is a tear-jerker of a piano ballad, building and building, until the roof rumbles and growls with singing.
Ghost are less a rock or metal band, and less even a traditional pop band, than they are a theater act. They want to sit somewhere between Queen, King Diamond and the most Mamma Mia moments of ABBA. Prequelle doesn't feel like a step closer as much as it feels like the second sincere statement in that mold following the triumph that was Meliora. It was, ironically, their promising start and initial championing by metal blogs that perhaps got in Ghost's way the most, caused the most disjoint as they grew and flourished from doom-pop origins slowly but deliberately into Satanic pop rock torch song smiths. Ghost seemed destined for arenas someday, given the vastness of their vision; Prequelle makes this only seem more likely, not less.
Drama surrounded the group following the departure of the full lineup save frontman Tobias Forge (aka Papa Emeritus aka Cardinal Copia), but the musical strength and stylistic similarity of Prequelle does much to his claim that band members were always role-players, contributing certainly but not the guiding hand. If you didn't follow that news, you'd never guess it from listening to the record. Prequelle is almost everything Meliora did right (no follow-up to current career masterwork "Cirice," but perhaps they shouldn't force that if it isn't coming) performed both tighter and larger. The footage of their recent arena shows in New York and L.A. confirm this thought, showing the potential this band has for larger venues, an image that's easy to conjure as this record plays. It no longer feels like eerie pop songs sung by Scooby-Doo villains lurking in dusty crypts, the Mellotron warping out of tune; now it's more like a corpsepainted Jem and the Holograms up on stage, keytars and fog and lasers, and Satan, sweet Satan, receiving hymnals from the gathered adoring crowd.
Similar Albums: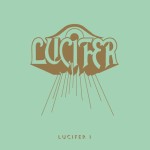 Lucifer – Lucifer I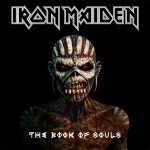 Iron Maiden – Book of Souls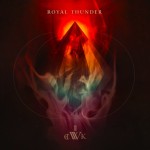 Royal Thunder – Wick
Langdon Hickman
Langdon Hickman is listening to progressive rock and death metal. He currently resides in Virginia with his partner and their two pets.