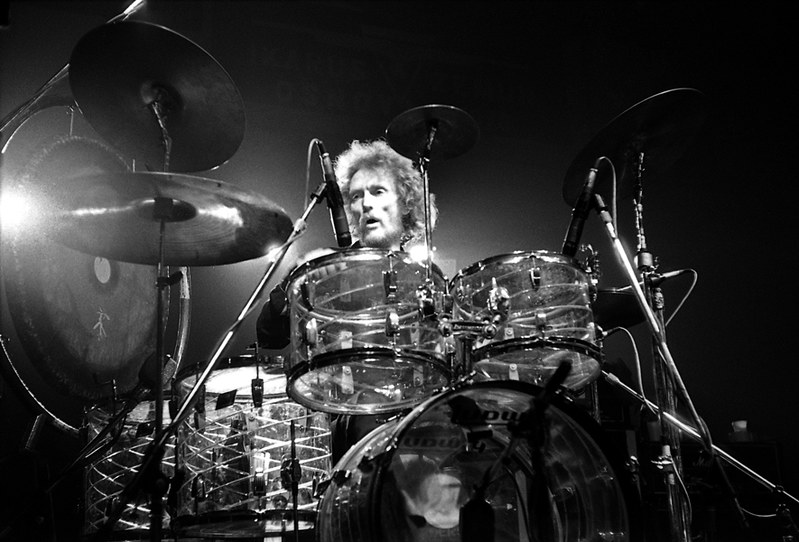 Ginger Baker, the British drummer for iconic rock trio Cream, has died, his family confirmed via social media. He was 80. Baker co-founded Cream with guitarist Eric Clapton and bassist Jack Bruce in 1966, and the trio released four studio albums during their brief time together: 1966's Fresh Cream, 1967's Disraeli Gears, 1968's Wheels of Fire and 1969's Goodbye.
Baker was born Peter Edward Baker in 1939 in London, and began drumming as a teenager, playing in bands such as the Graham Bond Organization and Blues Incorporated. After meeting Eric Clapton in 1966, the two musicians began playing together with Jack Bruce as Cream for three years, producing celebrated rock anthems like "Sunshine Of Your Love," "Crossroads" and "White Room." Baker famously performed a five-minute drum solo on "Toad," found on their debut album Fresh Cream. The band briefly reunited in 2005 to perform at London's Royal Albert Hall and New York's Madison Square Garden.
Baker once again performed with Clapton in Blind Faith, through which they released just one album, and formed the jazz-rock group Ginger Baker's Air Force in 1969 with Steve Winwood. In 1971, Baker set up a studio in Lagos, Nigeria, and collaborated with Afrobeat pioneer Fela Kuti. Afterward, Baker collaborated with Hawkwind, Public Image Limited, and Masters of Reality, as well as having released several solo albums.
Last month, his family revealed that Baker was "critically ill" in the hospital. In recent years, he had to cancel tour dates due to heart problems, and underwent open heart surgery in 2016.
Cream's "White Room" is featured on our list, Counter Culture: The Top 100 Songs of the '60s.