Bands come and go, that much is certain. I've become so immune (though not quite yet jaded) to the whole cycle of incoming and outgoing bands that I usually remain unaffected, even by my favorites. Just this last year, Silver Jews, the Rakes and Harvey Danger all took their final bows. Hell, the Verve broke up for the third time! But, for every band that bites it, there will likely be five more to take its place, usually consisting of four guys who have a look, but can barely play their instruments (innuendo somewhat intended). But when I heard not long ago that Damon Albarn and Jamie Hewlett were planning to retire Gorillaz, I was beside myself. I felt like I had just gotten to know the virtual band. Luckily, they just couldn't stay away, despite all of Damon Albarn's various other projects. Plastic Beach is the 'unexpected' third album from Gorillaz, and arguably their best.
One could write volumes just on the dual nature of the band, the fictional, animated creatures with incredibly imaginative backstories that flow into their videos. In fact, I'd venture to say that other than maybe OK Go, Gorillaz are the most successful video band in the post-video generation. And, while it could be easy to immerse ourselves in the cartoon world, itself reason enough to follow the band, we would be in danger of ignoring the music. After all, we've all had enough time to familiarize ourselves with the project, no? Well, for only the slightest bit of backstory, apparently Murdoc is holed up on an island that is made up of 'social and cultural garbage,' has kidnapped 2D, keeping him there by playing on his, you guessed it, Cetaphobia (he's guarded by a whale), and made a clone-cyborg Noodle.
While these soap-opera antics are infectious, they only serve as backdrop to the brilliance of Plastic Beach. Mos Def was quoted as saying that rapping on the album was "one of the greatest things as an MC I've ever done." That bit of self-praise can be said by practically anyone who worked on this record. The album starts with a sweeping "Orchestral Intro," complete with the sounds of seagulls Albarn recorded at a landfill, one of the inspirations for the Plastic Beach concept. That cinematic prelude then smoothes out into "Welcome to the World of the Plastic Beach," a proper, 'step into my parlor' greeting from Snoop Dogg. And yes, it's the best thing Snoop's done since "Nuthin' but a "G" Thang." It's like Isaac Hayes meets Wham!'s first album, and it's amazing. British grime artists Bashy and Kano trade rapid-fire political rants on "White Flag" shortly after, and we start to realize something about Plastic Beach: one, though we've only heard three tracks so far, what we've heard is incredibly varied and engaging; two, we have not yet heard (at least at the forefront) Damon Albarn's (ahem) 2D's voice.
That is corrected with "Rhinestone Eyes," the laid-back cockney delivery over Casio keys a sure-fire winner. As can usually be expected from Gorillaz albums, the lead single is a stunner. This is certainly the case with "Stylo," a song featuring the aforementioned Mos Def and Bobby Womack, the latter delivering an explosive chorus. You'll be humming, "Overload, overload, coming on to the overload" over the ensuing days, even without having seen the Tarantino-esque video with a brilliant Bruce Willis cameo. (By the way, featuring the first 3-D renderings of the band members). De La Soul return to the Gorillaz fold, this time collaborating with Super Furry Animal Gruff Rhys on "Superfast Jellyfish," the musical equivalent of 'Fruity Oaty Bars.' Speaking of guest stars, Plastic Beach ups the ante on that front without sacrificing the sound we all associate with Gorillaz. Mark E. Smith and Lou Reed, as unlikely a pair of collaborators as one could think of, contribute to "Glitter Freeze" and "Some Kind of Nature" respectively, the former a, well, Gary Glitter-like track with Smith sounding like a combination of Shaun Ryder and John Lydon.
The truly astounding feature of Plastic Beach is that each song is a potential single. Aside from the hip-hop luminaries and the veteran guest stars, there are also pop tracks of pure Albarn-created joy. "On Melancholy Hill," due to be released as the third single from the album, almost out-M83s M83. Yep, it's a theme song for a John Hughes movie we'll never see, except in our minds. The two tracks that Albarn writes and sings with Little Dragon, the Gothenburg band that will surely get a sales bump after Plastic Beach blows up, are particularly great. "Empire Ants" begins luxuriantly, relaxing in repose, but then halfway through launches into a Heaven 17 / Human League club facelift, making way for Yukimi Nagano's honeyed vocals. "To Binge" brings back the same pairing, this one a little more playful, like a he said / she said lounge number akin to "Somethin' Stupid."
Plastic Beach is an incredible achievement. It's scope and grandiosity are made all the more spectacular by its accessibility. Styles and genres mesh into a gorgeously interwoven text that can only be Gorillaz. From lush and organic orchestration to detached '80s keys, Albarn can make it all work. I'll always be a huge Blur fan, but I'm starting to wonder if I'm beginning to like Gorillaz just a little bit more.
Similar Albums:
Handsome Boy Modeling School – So…How's Your Girl?
UNKLE – Psyence Fiction
Blur – Parklife
Video: "Stylo"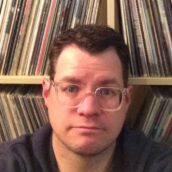 Terrance Terich
Terrance Terich firmly believes that 1985 is the best year for music. He lives near Seattle with his books, movies, and music.