Grizzly Bear : Horn of Plenty/ Remixes
It just makes sense to package a remix album with its source material. While remix albums can be fun and exciting in their own right, they never do get the attention that the originals do, primarily because that's the way they were meant to be heard, not chopped into bits or set to a disco beat. You see some remixes in the Top 40 from time to time, and sure, they fit in just fine, but for rock fans, or even yet fans of lo-fi bedroom rock, a remix, let alone an entire album of such, would seem more novelty than anything else. For Brooklyn's Grizzly Bear, the decision to package their Horn of Plenty album with its remixed counterpart is genius. Where one might be a tad apprehensive at purchasing the remixes on their own, in this form, the two discs prove to be apt foils.
On the one hand, you have the originals — quiet, yet sonically expansive indie-psych-folk tunes that fall somewhere between Iron & Wine and Pink Floyd. Opening epic "Deep Sea Diver" is a powerful and catchy psychedelic anthem. Meanwhile, the brief "Alligator" provides some Radiohead-style art rock in a rather abbreviated form. "Don't Ask" and "Disappearing Act" make fine subdued folk tunes, though ones with the right amount of sonic experimentation attached to broaden the otherwise minimal spectrum. And "Showcase" marries some chattering beats to reverberating guitar and vocals to trippy effect.
Now, on the remix side of things, the songs are given entirely new identities. But while many remixes in the indie world can be more experimental leaning, those found here are, quite often, more accessible than the originals, though not always. Efterklang's take on "Campfire" sees the song played on harp and melodica, while Hisham Bharoocha and Rusty Santos make that very song into an almost amorphous bit of messy IDM. DNTEL works his fuzzy electronica magic on "Merge," making the Bear sound like a dead ringer for My Bloody Valentine, which is never a bad thing. But for actual "dance" remixes, one must look no further than Soft Pink Truth's house take on "A Good Place." My favorite artist among the remixers (aside from DNTEL sometimes), Castanets, provides one of the more unusual tracks, reducing "Deep Sea Diver" to nearly two minutes of ambient drone, inserting the original's guitar for another thirty seconds or so, and returning to an ominous drone once more. And the original's closer, "This Song" gets fuzzed-out by The Double's Dr. Cuerpo (that means "body," kids).
What the remixed version of Horn of Plenty has on the original is volume. The old school studio versions are prettier and more perfect in terms of songcraft, of course. Remixed, however, they're turned into something entirely new. Occasionally rocking, sometimes dancey, sometimes completely abstract altogether, the Horn of Plenty remixes provide an equally compelling listen, one that stands up to the disc on the other side. Let's be honest—the remixes wouldn't be what they are without the source material. But given such a strong push, these artists are able to mold something oddly innovative and creative. And should you want to compare and contrast, then all you have to do is flip open the hinged tray and pop in the other disc. It's just that easy.
Similar Albums:
Microphones – It Was Hot We Stayed in the Water
Her Space Holiday – The Young Machines Remixed
Animal Collective – Sung Tongs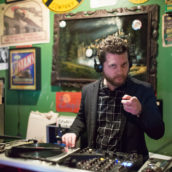 Jeff Terich
Jeff Terich is the founder and editor of Treble. He's been writing about music for 20 years and has been published at American Songwriter, Bandcamp Daily, Reverb, Spin, Stereogum, uDiscoverMusic, VinylMePlease and some others that he's forgetting right now. He's still not tired of it.