Matthew Herbert is a man of conviction. He's got as many philosophies and ideals as he does albums, and of albums, he has his share. Aside from his political beliefs, which include a staunchly anti-corporate stance, pacificism and a disregard for territorial borders, thus prompting him to participate in the creation of a virtual non-country called "Country X," which will allow anyone as a citizen. Basically, he believes in Utopia like the rest of us, only he's a lot more vocal about it. However, this spills over into his music, which has seen him sampling consumer products, food and his own body, all of which play into his musical philosophies, as spelled out on his website. In the creation of a Herbert album, the use of drum machines, other peoples' music and keyboard presets (in unaltered form) are all strictly prohibited. Not allowing himself to rely on old electronica standbys means, inevitably, that one mustn't expect traditional dance music on any of his records. His latest, Scale, is one of the most melodic, accessible and soulful records in his catalog, thus making it one of the best. And it couldn't be farther from a typical dance album.
As with any of his albums, Matthew Herbert gets extremely creative on Scale. Though he's not sampling Coca-Cola or his own heartbeat, he finds ways to make the recording process far from that of his DJ peers. For starters, Herbert enlists a chamber orchestra and horn players, which add to the sometimes old-school disco sound of the album. All of the drums on Scale were recorded live, albeit in the unlikeliest of situations: in a hot air balloon, in a cave, underwater (one would hope that poor fellow had enough oxygen). And the sampled found sounds are, as always, far from conventional, this time around including an RAF bomber, coffins and gas pumps, which all tie in to the political motifs of the record, which may not be quite so obvious, considering how vibrant and celebratory this record is.
Come to think of it, I hardly even connected the dots that this was a political record upon first listen, it was just so melodically sublime and lushly gorgeous. As with last year's solo debut by Roisin Murphy (which Herbert produced), Scale is a soulful pop record, rather than IDM, thus making his unconventional methods seem all the more rewarding. Rather than bizarre sounds contributing to an abstract series of rhythms, this is something of a party record. Herbert's partner in crime, Dani Siciliano, provides vocals on all but one track, playing musical chameleon throughout. Her soft and sensual vocals turn "We're In Love" into a romantic ballad made cinematic by the orchestral backing. Her ultra-high notes on the funky "Moving Like a Train" are a dead ringer for those of early Prince, bringing to mind his gender-bending sexy funk. On the smooth pop sounds of "Something Isn't Right," however, Siciliano duets with Dave Okumu and Neil Thomas, sounding something like an angrier update of Stevie Wonder's "You Are The Sunshine of My Life," replacing its sweet sentiments with vitriolic statements like "cover up: it's an allied slaughter/pucker up: it's a friendly torture." And then that political side becomes all the more apparent.
The harder funk of "The Movers and the Shakers" takes a more militant stance against the Bush administration, Siciliano and Thomas sing in unison, "damn fool, go figure out how those Christian bones can orchestrate shock and awe." Yet "Those Feelings," a more straightforwardly electronic pop song, stuns with its subtlety, replacing political themes for a more emotional delivery, makes for one of the most haunting listens. There's an astounding beauty within its simplicity, and the song contains one of the most infectious synth hooks ever recorded, which is repeated only minimally, making its initial impact even greater. The funky "Movie Star" takes a turn for the kinky, outdoing "I'm a Slave 4 U" for sexy minimalism, and, of course, bringing to mind Prince once again.
At the close of the album, Herbert himself takes the mic on the one-minute wonder, "Wrong." It's endearing, as his voice isn't the greatest, but it's a fun way to close the album, regardless, and hey, at least he gives it a shot. And that's exactly what makes Herbert such a profound musician: there's nothing he won't do, unless it's not interesting. Scale succeeds where so many "dance" records fail—it takes chances. Herbert fluidly combines his convictions, great pop songs, really odd samples, lush orchestration and a sweet, buttery diva's voice and somehow makes one of the year's great party albums while making Paul Oakenfold seem like a lazy bastard. After completion of the record, Herbert admitted his disappointment in not making a more upbeat record, but even a record as politically-motivated as this can't help but sound so vibrant and alive.
Similar Albums:
Roisin Murphy – Ruby Blue
Jamie Lidell – Multiply
Zero 7 – Simple Things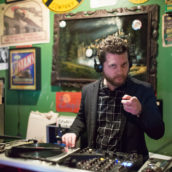 Jeff Terich
Jeff Terich is the founder and editor of Treble. He's been writing about music for 20 years and has been published at American Songwriter, Bandcamp Daily, Reverb, Spin, Stereogum, uDiscoverMusic, VinylMePlease and some others that he's forgetting right now. He's still not tired of it.