Here We Go Magic : Pigeons
Never underestimate the power of a good demo. For most up and coming artists, it's both formality and necessity – something to hand out at shows and circulate to drum up buzz. But history has shown that when done well, and when introduced to the right person, a demo more often than not will end up as a band's debut album. Elliott Smith's Roman Candle is one sublime example of the transcendent quality of raw, unpolished melody. And in 2009, Here We Go Magic's Luke Temple released a nine-track album consisting of demos made in his home in Brooklyn, long before a band was even formed. While raw, that debut saw Temple tossing out as many disparate ideas as there were tracks, launching between Afrobeat and ambient, psychedelic pop and folk.
A lot has happened since that demo, however. Temple has since been joined by Kristina Lieberson, Michael Bloch, Jennifer Turner, and Peter Hale, thereby transforming Here We Go Magic into a fully-formed, five-piece band. And they made the jump from Western Vinyl to big name indie Secretly Canadian, which has released their sophomore effort Pigeons. More importantly, they've made a tremendous sonic evolution in just one year, taking the basic spirit of Temple's eclectic demos and fleshing out their sound to something much more dense and intricate. Their fidelity, however, remains charmingly fuzzy, only adding to the character and intrigue of Pigeons.
The band reveals a stunning dynamic on Pigeons, showing off a hyperkinetic instrumental prowess intensified by layers and layers of awe-inspiring sound. In fact, a first listen to a song like "Collectors" can prove a bit overwhelming. Guitar riffs stack and cascade over fluffy, neon synthesizers and a high-speed beat that serves to make the track all that much more dizzying. Meanwhile, Temple confesses, "I got a mild fascination…for collectors," delving into a narrative on second-hand trinkets, later finding his voice in an endless loop as a burst of brass cuts through the Neu!-inspired swirl. It's a lot to take, but at the expense of risking sensory overload, it's a hell of a sonic experience.
Here We Go Magic leap across genres and styles on Pigeons, which shouldn't come as a big surprise to those won over by Temple's 4-track journey last year. Still, for as disparate these ideas may come across on paper, they maintain a perfect flow and a compelling pace, each song standing out on its own unique merits while bolstering a magnificent whole. First track "Hibernation" is one of a few African inspired grooves, a funky and ethereal jam session that recalls Remain In Light-era Talking Heads. The group takes a similar tack on closing instrumental "Herbie I Love You, Now I Know" and the surreal "Vegetable or Native," essentially a nonsense chant that's oddly alluring in its strangeness.
Not all of Pigeons' tracks are quite so frenetic, however, and when the pace is slowed just a bit, the results are often sublime. The juxtaposition of acoustic and electronic sounds on "Casual" makes for a psychedelic stunner, while "Surprise" is a bit fuzzier and denser, but still quite gorgeous. Temple & Co. launch into outer space on breathtaking cosmic ballad "F.F.A.P.", which runs side-by-side with like-minded trippy groover "Land of Feeling," which shows off more of the band's dazzling guitar pyrotechnics around the one-minute mark. When the band does return to a more frantic tempo, as on the weird and wonderful "Old World United," they stay true to their name and cast some bizarrely beautiful melodic spells. Bass buzzes, synths whistle and whirr, and Temple lends his own surrealist offer: "Take, take/ take what you want to/ you can have my heartbeat."
A great leap beyond their already impressive lo-fi debut, Pigeons shows off the kind of prestidigitation that Here We Go Magic is capable of. They take on a lot of ideas, and veer into countless directions, but they handle each and every one with immaculate skill and a playful command of their material. It may take a few listens before some of it makes any sense, but even with all freaky pistons firing, Here We Go Magic offer something that must be heard.
Similar Albums:
Talking Heads – Remain In Light
Department of Eagles – In Ear Park
Brian Eno – Taking Tiger Mountain (By Strategy)
Video: "Collector"
Download at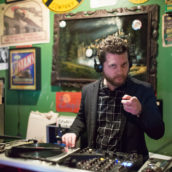 Jeff Terich
Jeff Terich is the founder and editor of Treble. He's been writing about music for 20 years and has been published at American Songwriter, Bandcamp Daily, Reverb, Spin, Stereogum, uDiscoverMusic, VinylMePlease and some others that he's forgetting right now. He's still not tired of it.