Spring Singles Spectacular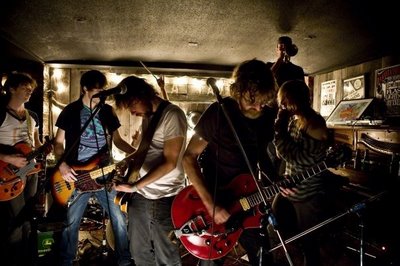 Every couple of months, Treble runs a summary of a handful of notable singles and EPs released during that season. Yet, it's 2010 and most bands and artists are releasing singles or EPs as free downloads, some of which aren't even connected to an album. Many of them, however, do have a new album on the horizon, and hearing a slice of the new Broken Social Scene or MGMT album proves to be a truly exciting prospect. This month, we check out some of the tracks that are floating around on the Web, and since most of them are up for a free download, we've included links where available. Have at it!
Broken Social Scene – "World Sick" (Arts & Crafts)
Considering how infrequently it happens, it tends to be a pretty big deal when Broken Social Scene releases an album. Their last official album was their 2005 self-titled release, though their have been several BSS-aligned albums released since then, including semi-solo albums by Brendan Canning and Kevin Drew. But the Canadian indie rock collective finally has a new one on the way, titled Forgiveness Rock Record, and its first single "World Sick" has all the makings of a classic. John McEntire's production immediately stands out during the song's first verse, as its clean lines of guitar recall the likes of The Sea and Cake, yet it soon explodes into a towering rock epic, as many Broken Social Scene songs are wont to do. Yet, for a track as sprawling as this (stopping a little short of seven minutes), it breezes by quickly, sweeping up the listener with its mighty chorus and gloriously dense layers of guitar. Once again, a reminder of just how incredible this band is.
MGMT – "Flash Delerium" (Columbia)
MGMT is a band defined by their big, dense synthesizers, neon body paint and almost cartoon-like, video game melodies. That's likely what most were expecting from "Flash Delirium," the preview single launched from their sophomore album Congratulations. That, however, is not what MGMT delivered. Rather, the four-minute track is actually a more laid back, '60s-style psychedelic rock track that layers on lots of reverb over its British-invasion sounding guitar jangle. It's a remarkable change from the sound that earned MGMT an enormous following on Oracular Spectacular. But it's a cool one. The bizarre Tex Avery-meets-Sonic the Hedgehog cover art for the band's new album may give listeners the initial wrong idea, but MGMT looks to very well have something interesting in store with their new effort.
Here We Go Magic – "Collectors" (Secretly Canadian)
Here We Go Magic's self-titled debut was one of 2009's great surprises, but for 2010, frontman Luke Temple has expanded his recording project to a full band, and on new single "Collector," it shows. The psychedelic, hypnotic melodies that marked HWGM's debut are ever-present, but with a fuller, denser sound, chiming with heady synthesizers and jangly electric guitars. Essentially, Temple & Co. have taken something that was already good and made it even more awesome. Pigeons can't come soon enough.
High Places – "Can't Feel Nothing (remix)" (Thrill Jockey)
High Places are releasing their second album, High Places vs. Mankind, later this spring, but for the time, the sample-based indie pop duo has been releasing a series of non-album singles, the most recent of which they've made available as a free download via their label, Thrill Jockey Records. The elements that made them so charming before remain in full force, from the cut-and-paste sample beds of indecipherable origin, to Mary Pearson's ethereal vocals. Yet the percussion on this remix of "Can't Feel Nothing" is utterly huge, a massive albeit atmospheric stomp that's as trippy as it is meditative. I don't know if it's dance music, but it is certainly cool.
Neon Indian – "Sleep Paralysist" (Green Label Sound)
I'll be honest-I didn't particularly care for Neon Indian's debut album Psychic Chasms. It was a pleasant enough electronic album, but its lo-fi, wobbly sound seemed to round out any of the danceable punch Alan Palomo's tunes might otherwise project. This is decidedly not the case with his new single, "Sleep Paralysist," released as a free download on Green Label Sound. Awash in bright new wave synthesizers, and with the woozy filters and Doobie Brothers tendencies removed, he's unleashed a stellar electronic pop track that stands up against the best of DFA or Modular's roster. "Sleep Paralysist" is an incredible new leap from a young artist whose talent has been there all along, but now has so much more to show for it.
Javelin – "Oh! Centra" (Luaka Bop)
With their Luaka Bop debut No Mas set for release next month, electro-pop duo Javelin have unleashed a strange, oddly alluring yet completely absurd preview in the form of "Oh! Centra." Chipmunk voices, 8-bit synthesizers, goofball raps and a nod to Salt-n-Pepa make this track one to remember, if not always for the right reasons. Among the numerous one-liners thrown out (still in chipmunk voices mind you) is "you play me like Sudoku." I'm not sure if I love this or hate this, but I feel like there's not a lot of middle ground to be tread on this one.
Friendo – "Counter/Time" (St. Ives)
Friendo initially seems like a questionable name for a band, until you realize that it's what psychopath Anton Chigurh called his victims in "No Country for Old Men," and then it becomes utterly terrifying. This Calgary band's music isn't so frightening, however, but rather a bit disorienting and accessible all at once. Featuring Michael Wallace, also of Women and Azeda Booth, the group lays down a little more than two minutes of detuned jangle and disco synth to fascinating effect. It goes by quickly, but it certainly has potential.
Arms – Arms EP
Todd Goldstein, formerly of Harlem Shakes, impressed the heck out of us with his 2008 debut Kids Aflame. And as a brief follow-up of sorts, the New York troubadour has offered up a new five-song EP full of melodic treats that dare not be passed up. It's a thoroughly gorgeous affair, from the glimmering first track "Floaters," to the outstanding, anthemic "Heat and Hot Water," to the stunning twinkle of "High Heels." Goldstein has already proven himself as an incredible artist, both on his own and as part of Harlem Shakes, but with this humble release, he merely builds on that, taking an already impressive sound and making it even more beautiful and enchanting.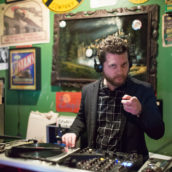 Jeff Terich
Jeff Terich is the founder and editor of Treble. He's been writing about music for 20 years and has been published at American Songwriter, Bandcamp Daily, Reverb, Spin, Stereogum, uDiscoverMusic, VinylMePlease and some others that he's forgetting right now. He's still not tired of it.