Hot Chip : Made In the Dark
The bridge between dance music and rock `n' roll existed long before Justice began treating French house music with heaping doses of distortion. Dancepunk, Big Beat, Duran Duran and New Order present that evidence pretty clearly. Yet in 2007, that much-lauded French duo and peers such as Simian Mobile Disco and Digitalism added steel reinforcements, emphasizing stronger rock sensibilities in their booty-shaking anthems. Take a group like Hot Chip, however, and the marriage between beats and riffs sounds less like one genre sprinkled with elements of another as it is a perfect hybridization of the best of both worlds. What's truly unique about them is that they function as an actual band, performing more like a rock band than a couple of DJs, and rocking that much harder because of it.
Anyone who has seen Hot Chip live can attest to the band's dynamic, which is just as much rock as it is dance. This is partially due to their actually being a five-piece band, and partially due to their songwriting, which is less about minimal progressions in sonic filtering, or seemingly endless loops as it is about hooks, choruses and lots and lots of grooves. This isn't an affront to more traditional forms of dance music, but rather a statement that Hot Chip does pop music, and sometimes does it with an emphasis on rocking out, in their own nerdy way. Made In The Dark is the same sort of nerdy pop music they've been creating since back in 2005 on their goofball debut Coming On Strong, but after a few years of smoothing out rough edges and honing their pop sensibilities, they've come out with their most varied and accomplished set of songs to date.
While The Warning was an album built around some stellar singles, notably "Over and Over" and "Boy From School," the distinction between singles and those that aren't is much blurrier here. "Ready For the Floor" is an obvious exception, being that it is a single, but more so because it's such a catchy confection, you can practically hear Casey Kasem saying "and that's Hot Chip, rising up the charts!" Bubbly and light, but as wonderful as anything they've released before, "Ready For the Floor" is a delight, and will likely have any listener singing along, "do do do do do do it now." "Shake A Fist" is subtler, but mines a much deeper groove, perfectly coupled with lots of hand percussion and call and response vocals. Maybe it isn't quite as catchy as "Ready For the Floor," but it's much more intense, due in part to live studio recording.
That band-in-the-studio approach also lends "Out At the Pictures" a fiery, fuzzy kind of energy, opening the album with fierceness. "Bendable Poseable" initially comes off as silly pranksterism, a quality that has come to characterize much of Hot Chip's work through the years, yet opens up into a much crunchier and more complex track than it initially seems. The biggest surprise of all on Made In the Dark is the inclusion of four soft and soulful ballads, the likes of which Hot Chip has only hinted at in the past. The smooth and gorgeous "We're Looking For a Lot of Love" sounds like a Studio outtake, whereas the title track contains almost no electronics whatsoever, more akin to classic soul than anything DFA. The final two tracks, "Whistle For Will" and "In the Privacy of Our Love," are sparse and wispy tracks, closing the album on an understated note. They deflate a little of the energy that builds up toward them, but they're nice enough.
Hot Chip's real stride begins in the middle of the record with "Touch Too Much," with a dense blast of synth and cowbell, pulsating and shaking, but retaining the soul of their slower tracks. A distorted, reverb-heavy guitar opens "One Pure Thought," lending more credence to the idea of Hot Chip as a rock band, though the song soon explodes into maximum synth-pop mode. Nothing grooves harder than "Hold On," all deep, throbbing basslines and furious, distorted organs, with Alexis Taylor bizarrely declaring "I'm only going to heaven if it feels like Hell/ I'm only going to heaven if it tastes like caramel." When the energy really picks up, the gloves are off (to steal a line from "Wrestlers"), and Taylor announces "sir, I've a good mind to take you outside." Though broken up by the title track, this triptych makes up the danciest, most awesome part of the record, fit for some serious disco throwdowns.
More than anything, Hot Chip plays "pop" music, to whittle it down to one oversimplified name for what they do. That pop music is a little bit disco, a little bit rock `n' roll, and a little bit sketch comedy, but no matter how far they stretch their musical salt water taffy, they always come out with something that emphasizes the best of all possible combinations. Plus they've begun to show a slower and softer side, just going to show that with each album comes a surprising new facet to an already great band.
Similar Albums:
Junior Boys – So This Is Goodbye
Simian Mobile Disco – Attack Decay Sustain Release
Fujiya & Miyagi – Transparent Things
Video: "Ready For the Floor"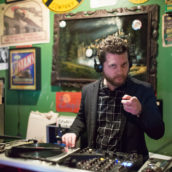 Jeff Terich
Jeff Terich is the founder and editor of Treble. He's been writing about music for 20 years and has been published at American Songwriter, Bandcamp Daily, Reverb, Spin, Stereogum, uDiscoverMusic, VinylMePlease and some others that he's forgetting right now. He's still not tired of it.