Interpol : Our Love to Admire
For reasons I cannot fully comprehend, there are those who adore Turn on the Bright Lights, and yet speak ill of Antics. Interpol's debut was an amazing record, one that made a devastating impact in 2002, yet its follow up was merely a brighter and more vibrant version of the same sound—the major label debut that wasn't, so to speak. It even invited dancing on a few of its friendlier tracks, "Slow Hands" and "Length of Love" in particular. It was a record that defied the sophomore slump by sounding natural rather than forced, playing to the band's strengths instead of offering any immediate challenges. It's a beautiful, powerful record. Though now that the band is actually on a major label, they've allowed for some even greater and more ambitious developments.
Truthfully, Our Love To Admire, Interpol's third album, sounds mostly like one would expect an Interpol record to sound, but much more inflated. The album sounds bigger, more expansive, more elaborate, just plain more. This is clearly evident in first single "The Heinrich Maneuver," which boasts bigger hooks, beefy production, and deliciously gothic keyboards during the chorus. Even Paul Banks goes for the direct approach lyrically, sneering to a Hollywood-ized lover, "I don't wanna take your heart/ and I don't want a piece of history/ and I don't wanna read your thoughts anymore." Good on Banks for the kiss off and all, especially with a track this rocking, but as he sarcastically snarls "how are things on the west coast/ I hear you're doing real fine," I can't help but think that this East Coast-West Coast stuff should have ended after we lost Biggie.
Epic six-minute opener "Pioneer to the Falls" opts for a grand and ominous arrangement as well, though it creeps in slowly, unlike the bombastic door-kicking of "Heinrich." Daniel Kessler's guitar rings in repetition, precipitating like rain over Gotham City, with strings, melodica and soaring riffs following, the storm flooding the song with overwhelming sound. "Mammoth" lives up to its mighty name, introducing the sound of a bell clanging over taut guitar riffs in one of the band's loudest songs. Banks brilliantly intones "spare me the suspense" as the song merely piles it on, a tense and anxious pounder, merely waiting to let the tension explode. In "Wrecking Ball," however, a slowly plodding beat provides the groundwork for a dizzying array of swirling guitars and harrowing layers of melody augmented by more strings and synth. It's one of the most gloriously stunning tracks on the album, revealing a new layer with each listen.
Not everything is quite so enormous. In most cases, this would be for the best, but some of the simpler, less elaborate tracks lose a bit of steam. "The Scale" never arises from its murkiness, its dreariness overly weighted. Likewise, closer "Lighthouse" seems like an afterthought, never quite going anywhere until the last minute of climax. The explosive "All Fired Up" is a much more direct, and therefore much more appealing, song, twisting and turning with jagged riffs and curious lyrics like "I dream of you draped in wires and leaning on the breaks." "Rest My Chemistry" finds the band at their most relaxed and soulful, Banks baring a bit of his own soul with his honest, weary lyrics: "I haven't slept in two days/ I've bathed in nothing but sweat/ And I've made hallways scenes for things to regret/ My friends they come and the lines they go by." The exhausted rock star song is a bit cliché, though I suppose everyone's entitled to their Bob Seger moment. On that note, a song like "No I in Threesome" could have benefited from a little humor, given its titular wordplay. As its not Interpol's nature, though, the song isn't so much a clever sex jam, and rather a morose and desperate escape from a disastrous relationship, or so it would seem.
With Our Love to Admire, Interpol is essentially refining their craft and expanding it into a wider, more elaborate realm. While it's mostly first-rate, particularly on the louder tracks, it's not without a few awkward stumbles. Had they gone big from beginning to end, it might have sounded more exhausting overall, but there's enough gold here to believe it could have been every bit as good as their last two.
Similar Albums:
Calla – Strength in Numbers
I Love You But I've Chosen Darkness – Fear is on Our Side
The National – Alligator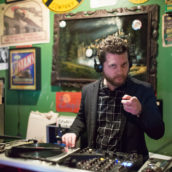 Jeff Terich
Jeff Terich is the founder and editor of Treble. He's been writing about music for 20 years and has been published at American Songwriter, Bandcamp Daily, Reverb, Spin, Stereogum, uDiscoverMusic, VinylMePlease and some others that he's forgetting right now. He's still not tired of it.