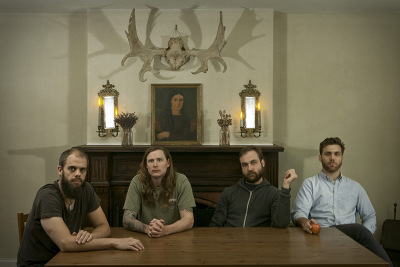 In 2009, Savannah-based metal band Baroness confirmed something that attentive listeners might have suspected all along — underneath the heavy layers of riffs and crushing volume, they were really just an incredible rock `n' roll band. Their second album, the psychedelic, hook-driven Blue Record, began to show some new elements that weren't as apparent on its predecessor Red Album. Where once they specialized in an atmospheric but visceral sound, their sophomore effort found the band incorporating elements of punk, folk and Southern rock, some harmonized vocals, spoken word and even a disco beat. A risky move for sure, but one that largely paid off; the album was met with widespread acclaim, even being named Decibel magazine's best album of 2009.
If that album's shift in direction was unexpected, however, its follow-up, Yellow & Green might very well come off as a shock to longtime fans. While the album is still certainly loud, and features frontman John Baizley's signature cover art (not to mention continuing the band's chromatic-themed album titles), it's not, strictly speaking, a metal album. Not exactly, anyway.
Spread out across the album's two discs, 18 tracks and 75 minutes are the most diverse array of styles and sounds Baroness has ever captured on a single album. There are pop songs. There are ballads. And there are at least half a dozen songs that could be singles, two of which — "Take My Bones Away" and "March to the Sea" — already are. As guitarist Pete Adams explains, the wider range and greater attention to subtlety was born of a practical need.
"After touring behind Blue Record, basically, we just kinda had to kick back and say `now what?' Basically what does our live set need?" Adams said in a phone conversation while in Philadelphia. "One thing for sure was that there was no space — no breathing room. You go up there for an hour, an hour 15, and you're spent. There was no break or moment of hesitation. So that's where we started off, writing for [Yellow & Green]. We were all collectively in a mellower mood. We started rolling with things and we just got on a plane, got in a groove of things.
"March to the Sea"

Yellow & Green is, like most double albums, pretty massive in scope. It initially lures the listener in with "Yellow Theme," a brief introduction of instrumental atmosphere before setting in motion a journey that sets up one exclamatory and compelling surprise after another. Where "Take My Bones Away" is a muscular rocker in the vein of some of the band's catchier tracks on past albums, the six-minute "Eula" is a dirge composed of much dreamier, hypnotic elements, and "The Line Between" is a stadium rocker that goes big on riffs and hooks.
An even more noticeable change of technique lies in the band's approach to vocals. Where Baizley and Adams once created a chorus of burly screams, this time around they're actually singing, which Adams notes as a primary factor in opening up their sound.
"One thing we don't want to do is repeat ourselves," Adams said. "Next time, we'll do something completely different. But vocally, we discovered between Blue and touring, we discovered, John and I, we could sing. We don't have an amazing ability, but we have a range we could work with. So it's like an added element we can introduce.
"It dawned on us when we were recording that, yeah, this can appeal to a wider audience," he continued. "When you continue on as a band, it's nice to have a few more fans. I've heard a few times people say, `I really like your music but I don't really like the vocals.' So maybe they'll like this more."
In addition to the artistic changes the band has undertaken, logistically Baroness has undergone some transitions as well. Earlier this year, longtime bassist Summer Welch left the band, and Matt Maggioni has since joined and assumed the low-end duties in the group. Meanwhile, John Baizley and his wife relocated from Savannah up to Philadelphia, which places drummer Allen Blickle (New York) and Adams (Virginia) in somewhat closer quarters, even if the four musicians are still separated by state lines. Whatever mileage they rack up when writing or recording, however, Adams says the new geographical arrangement is far more convenient.
"Thankfully, with technology the way it is, if John's got an idea, he can send it out to us, and say, `while you're at home chew on this.' And we can do the same. But the bulk of it really gets written in person," Adams explained. "Because I live 400 miles away, I actually end up driving all the time. And this is my love — it's my passion. So it doesn't exactly hurt my feelings to spend my time doing that. Being down in Georgia, and have a drummer live in New York, that was way harder to do. But now with John being a little bit closer, and closer to Allen, it's a little bit easier."
So, there is one nagging question that lingers in light of Baroness' new, sprawling sonic approach — is Baroness still a metal band? They're still a heavy, soaring and riff oriented band, after all, and Yellow & Green is still being released on longtime underground metal imprint Relapse. When asked, Adams pauses for a few seconds to ponder, but ultimately reaches a comfortable and confident conclusion.
"Baroness has never been a straight up metal band," Adams said. "It's always been left of center. Even more so now than yesterday. Nowadays, I wouldn't call it metal. And honestly, we don't want to be just a metal band and we don't want to be just a rock band. I think it's everyone's fear of being pigeonholed. It's kind of out of control actually how people have to label your band to try to fit or relate.
"We're still called sludge, and that's just like the worst word to describe our sound," Adams added, with a chuckle. "Nowadays it's still happening. We're not a sludge band! The idea is to just kind of create our own thing, and not be a pop band, metal band, rock band, just be a little bit of everything."
"Take My Bones Away"

In their 10 years together, through a handful of lineup shifts and even more phases of sonic evolution, Baroness has amassed a compelling body of work. From their beginning as what Adams describes as playing "Mötorhead-meets-Exploited-meets Iron Maiden" metal, to their latest album, undoubtedly their most ambitious work to date and arguably their best, they've made some pretty massive leaps in a relatively short amount of time. But while Yellow & Green presents a stage of significant change for the band, it's still just one step in an ongoing path of growth and artistic development.
"It's interesting to look back and see the progression," Adams said. "It's not like it's happened over the course of 30 years. It's a decade of progression. Where we started and where we are now, just to see it all, it all feels really natural to me. We're all full of different influences. We all listen to so much and play so much different music — I've played bluegrass for years — and that comes out. And all of our influences come out. We just want to continue to evolve and just get different ideas out there.
"We just want to play all the stuff we're capable of playing."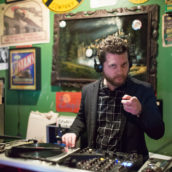 Jeff Terich
Jeff Terich is the founder and editor of Treble. He's been writing about music for 20 years and has been published at American Songwriter, Bandcamp Daily, Reverb, Spin, Stereogum, uDiscoverMusic, VinylMePlease and some others that he's forgetting right now. He's still not tired of it.