Ishmael Butler on the 10 Best Shabazz Palaces Songs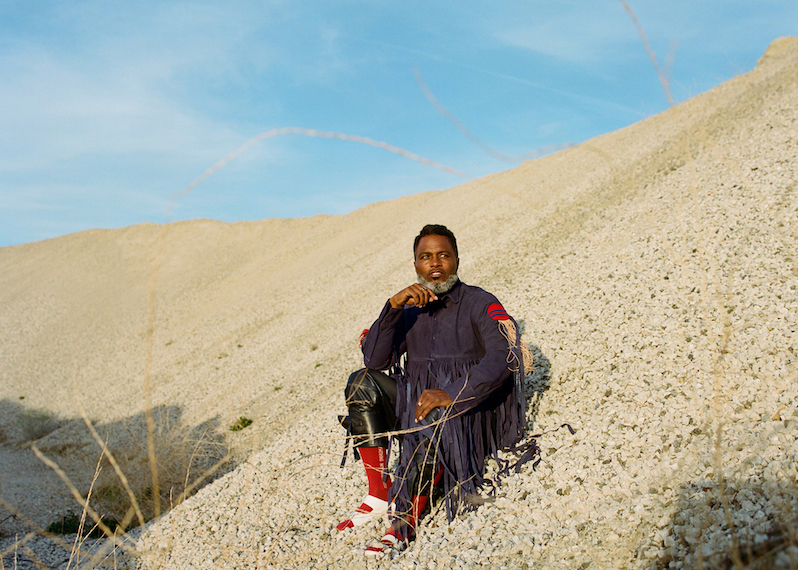 Ishmael Butler has lived two different lives as an artist. In the early '90s he made two albums of groove- and jazz-sample-heavy records with Digable Planets. The New York trio only released two albums, but they did something unique with those two records, connecting hip-hop's present and future to the sounds and sentiments of the past, from Bobbi Humphrey to Bobby Seale, Eric Dolphy to Erikca Huggins. Even 25 years down the line, Blowout Comb still sounds both out of time and ahead of its time.
More than a decade after Digable Planets, Butler made a clandestine return to music under the pseudonym Palaceer Lazaro with a pair of short records as Shabazz Palaces. Their psychedelic, unconventional approach caught fire quickly, and Butler and his musical partner Tendai Maraire would end up signing with Sub Pop and releasing five full-length records. Each release has revealed a new shade of the duo's abstract approach, while retaining a certain level of otherworldly mystery, their commitment to progressive sounds making them one of the most consistently unpredictable groups of the past decade.
With Shabazz Palaces' fifth album The Don of Diamond Dreams newly released earlier this year, we got in touch with Butler to ask him about his 10 favorite Shabazz Palaces songs (which included two Digable Planets tracks, as well).
---
"They Come In Gold"
From Lese Majesty (2014; Sub Pop)
Ishmael Butler: I liked the way that song comes together. It's a song in two movements. They're really different from each other but they're based on the same chords and notes and stuff, but they sound a lot different. And I like the way the first part of the song transitions to the second part of the song. It's got a kind of smoothness to it. And that's really one of my favorite songs to perform live. It's really fun to perform, and it ends abruptly and the crowd usually has a good response to it.
---
"Forerunner Foray"
From Lese Majesty (2014; Sub Pop)
IB: That song, I picked because I felt it was one of the more infectious grooves that I've made, and also we come onstage to that song. It's dark and deep and funky and makes me want to move. It's got the arpeggiated keyboard lines, so it's kind of feathery. But the bassline and beat are kind of sinister. I just like that song, and the way Cat (Catherine Harris-White, a.k.a. SassyBlack) sings on it, and the musical breaks that come back, I think it's just a good construction.
Treble: It also features a Lightnin' Rod (Jalal Nurridin of Last Poets) sample at the beginning. What did you find appealing about that clip?
IB: Lightnin' Rod is my favorite vocalist, my favorite rapper. The greatest rapper of all time. When I grew up, my pop introduced me to Last Poets, and Jalal was always his favorite cat. I loved 'em all, but he was the one that spoke to me. I mean if you listen to that album that I got that from, The Hustlers' Convention, he kicks a whole story in that same style of phrasing. He does it over and over, in this story of these two hustlers… he's just my man. He's the most sort of influential human, really, other than people in my family. I've been sampling his stuff, Last Poets stuff, since Digable days really.
---
"Motion Sickness"
from Lese Majesty (2014; Sub Pop)
IB: On that song, I like that story that I tell. It's about one of my bros that I grew up with, and he took the route of dealing drugs and went to jail, but we still stayed tight throughout our lives. I walked my path and he walked his path, but during that time when I made that song, he was out living his good life, and that was just kind of dedicated to him. I was doing a mini-biography on him. Plus I like that beat. A directing team called TEAN did a cold video for that one, that was near and dear to my heart. So I have a lot of good feelings and memories with that song.
---
"Thanking the Girls"
From The Don of Diamond Dreams (2020; Sub Pop)
IB: I took a sample and just kind of morphed it, so it's very simple, but with some stuff over the top of it. It's basically really simple, but it has a weird and warm sound to it. Plus the subject matter, I like a lot, just talking about the ladies in my life. Girlfriends and stuff like that, you know you got people that you don't talk to or aren't around anymore, but you think about the way they affected you. And then my mom, and my daughters. Just talking about the ladies in my life that gave me a lot and taught me a lot. I had a lot of fun with it. It's an homage to them.
---
"Dedicated"
From Beyond the Spectrum: The Creamy Spy Chronicles (2005; Blue Note)
IB: That's the last Digable Planets song that was ever recorded. It was recorded at a time when I could tell that we were gonna go our own ways, and I started the group, and I had a lot of good times and good traveling and good memories with them, so I wanted to make a song with everybody and our crew, just showing love and respect and appreciation in the crew. So that was that song.
---
"Shine A Light"
From Quazarz: Born on a Gangster Star (2017; Sub Pop)
Treble: I'm happy to see you picked this one, it's probably my favorite.
IB: Nice! It almost was never born, man. I made that beat, and I sung that song, my plan was to get someone who could sing good, and just got my part down as a placeholder. And Erik Blood, who mixes the Shabazz records, we were just kind of going through shit, going through prospective stuff I was going to finish up. And I played that as an accident, and he said "what's that?!" He was like "you're putting that on, and it's staying the way it is." And I said, "for real?" And he said, "yeah, that's the one." So that's my man, and I listened to him. And now I like it a lot. It's probably our most popular song, actually. The one that we're most kind of known for, that got the most exposure in a way. It trips me out that, in my mind, I was so unattached to it. It made me wonder, "what else have I fucked up on?" (Laughs)
---
"An Echo from the hosts that profess infinitum"
From Black Up (2011; Sub Pop)
IB: I remember finding that sample, from a YouTube video of spiritual songs in India or Sri Lanka, and I put it in Ableton and did the Ableton stuff, stretching it and morphing it. And I replayed it and it sounded so otherworldly and eerie and divine. I loved the sound of that song, and the beat, and then when the beat drops and Tendai comes in and played the mbira. It's very strange, even though I played it and was a part of it. But when I listen to it, it's like "what is that?" I like strange, weird, wild things, and it remains weird even to myself. I like that feeling.
Treble: How often are you finding material to sample like that, just accidentally?
IB: Always, man. I'm always looking at YouTube, and I'll put in a search for, like, Somali music from the '60s, there will be all these live recordings or TV shows from Mogadishu, and I find all these sounds and put 'em in the sampler and play with 'em. So I'm always doing that.
---
"Kill White T…"
from Shabazz Palaces (2009; Self-released)
IB: That's from the first actual Shabazz recordings ever. I just dug that one because it's in 6/4, and most rap songs aren't in anything other than standard time. I played guitar and keyboard, and that's in my early days of learning how to do any of that stuff. I just liked that flow. I was at this girl's house, she's Ethiopian, and her sister just came back from Ethiopia and was playing this lick, and I had just started messing around on guitar at that time. So I remembered the lick but had no way of recording it or writing it down, so I just tried to recreate it.
Treble: When you began Shabazz Palaces, was it entirely experimental, or did you have a specific vision from the get-go?
IB: I had no vision. I had been out of the game for so long that I didn't think there was any place for me. Rap is such a young man's game, and I was in my thirties at the time, I thought it was over for me. But my passion had me making music at the house. So all those early SP releases are just home recordings. And that's when I met Tendai who started playing in the group with me, and he was like "this is cool, what are you doing with it?", and he got me thinking I should put it out. And I met Blood and we mixed it together, and that's when I started thinking conceptually about what it's about. So I just put it out in Seattle, take it to the mom and pop stores and they'd buy it and sell it, and I kept getting orders. And once they asked me for 80 of each record, I was just like "damn!" So I thought "OK, maybe I can do something in this world of rap." It was a special time, I did a lot of growing, and I'm still fortunate to be able to be vibing that way.
---
"Effeminance"
From Quazarz vs. the Jealous Machines (2017; Sub Pop)
IB: I made that song, I made the beat, and my cat Thaddeus—Thaddillac—he plays guitar on it. And I mixed it with my man Sunny Levine. I just like the sprawl of it. It's long and has some cool parts to it. I like the groove. It's another song about ladies. Very inspirational. I felt that vibe floating into it.
---
"Graffiti"
From Blowout Comb (1994; Pendulum)
IB: That's just my favorite song to perform. That bassline and that groove. No matter what band we have, no matter who's on drums, it's just always grooves. It's a song that's near and dear to my heart and my funk bone. I love it.
***
Photo by Patrick O'Brien-Smith
---
Support our Site—Subscribe to Our Patreon: Become one of our monthly patrons and help support an independent media resource while gaining access to exclusive content, shirts, playlists, mixtapes and more.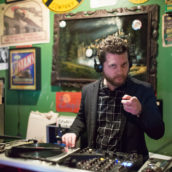 Jeff Terich
Jeff Terich is the founder and editor of Treble. He's been writing about music for 20 years and has been published at American Songwriter, Bandcamp Daily, Reverb, Spin, Stereogum, uDiscoverMusic, VinylMePlease and some others that he's forgetting right now. He's still not tired of it.