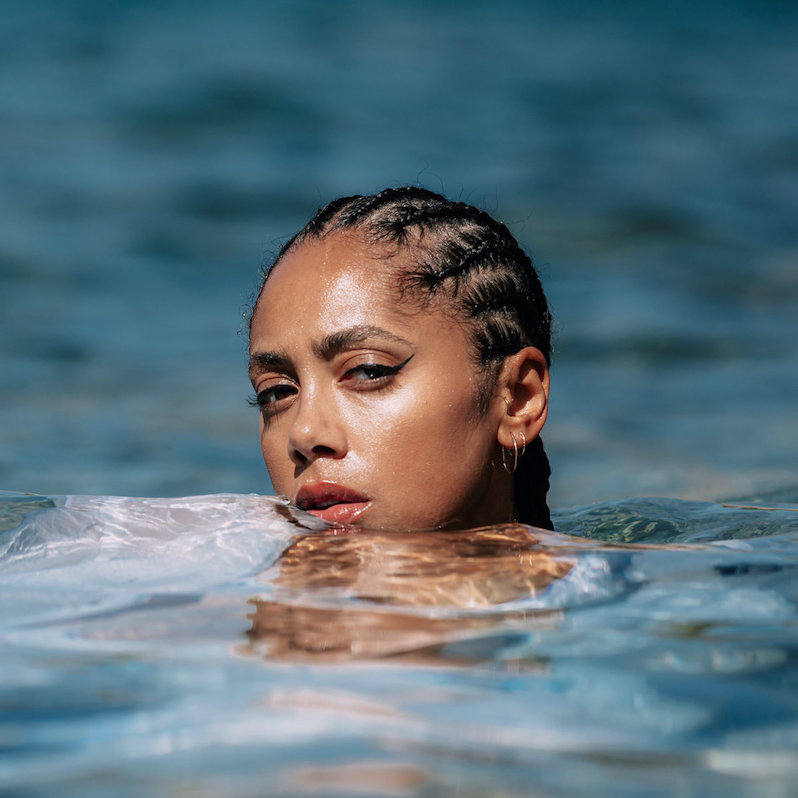 In her Instagram bio, Jayda Guy describes herself as a DJ, music producer and environmental toxicologist, and in the lead-up to her latest album Guy, she's earned plenty of recognition following her Grammy-nominated single "Both of Us" with collaborator Fred Again. Yet, to best understand the Vancouver-by-way-of-London artist, look no further than her Boiler Room performances where she commands the dancefloor with an intrinsic understanding of house music, DJing as if the mixing tables are an extension of her fingers. She's fluid and weightless. This is the best lens through which to view Guy as her first foray into pop music under her own name is equally as unflappable.
Guy, her third full-length record, is not nearly as dance-oriented as its predecessors. Rather, it builds upon Jayda G's remix of Taylor Swift's "Anti Hero," a house, dance, and pop hybrid that leans heavily on the final element in that equation. Guy's remix hinted at what her productions could accomplish when driven by vocals and pop structures. Rather than recruiting Swift and other marquee vocalists, Guy is the record's sole singer, and her voice carries the same effortless energy as her live performances. Meanwhile, production-wise, she doesn't draw from the same percussive disco as her 2021 DJ Kicks release. The horns are sadly missed, but they'd be out of place alongside Guy's beachy synths and basslines that are far removed from any tension that'd disrupt the album's momentum.
The ease at which Jayda G operates is Guy's linchpin. Take the laissez-faire eulogy of a relationship that is "Lonely Back in O" where, instead of mourning the crumbled relationship, she takes note of the current situation, implying that though she's lonely, she's still thriving. Maybe, being alone is more fun than a relationship. Other pivotal moments on the record ooze nonchalance as well. There's no more life-affirming chorus in 2023, none that energizes with as much excitement and joy, as that on "Sapphires of Gold." Its delayed release after a bridge may seem pedestrian, but it's executed flawlessly. Vitally, Guy doesn't exclaim to the heavens nor oversaturate the production. Instead, she lets the refrain speak for itself. "I've fallen in love with living."
Jayda G's house experience serves her well, as her third album peaks when she's in familiar territory. There's the obvious single "Blue Lights" on which she's cognizant of her strengths as a vocalist and producer, enhancing her nonplussed delivery with a slick house beat. She exudes comfort, almost as if she's so good at this that she doesn't have to try. Her trained ear carries over to her new direction as every cut possesses enough bass and treble that they punch above their weight class. As such, it's easy to love Guy's surface; a flowing synth and bass trip with choruses with saddling earworm hooks. Yet, what occasionally holds the record back is that it's out of step with itself.
Jayda dedicates the album to her father, William Richard Guy, who passed away from cancer in the late '90s when she was a preteen. He also served as a microcosm for her larger thesis—to document the African-American experience. As such, Guy is a biography that's light on details. Songs about William Richard's return from the Vietnam War only to find his then-wife in another man's arms and involvement in the 1968 race riots dance around their subject matter rather than address it. In these contexts, he's a stand-in for the American experience. He's meant to represent a demographic at large while retaining his own character. This task is onerous especially when Jayda's lyrics limit defining traits or locations. The issue isn't the quality of her lyrics but the fact that they, along with the overall aesthetic, don't convey the narrative. Take "Meant to Be," a house pop track whose drums alight a landing strip straight to the beach. However, the track is about Guy's relocation to Canada to create a better life for his children, wife, and community. Its coordinates do not line up with the intended destination. Then, there's "Lonely Back in O," which concerns his first wife's adultery, but comes off as light as a seltzer. Yes, Jayda G admits that she's lonely, but it's a half-hearted consideration, as if she's tasked with describing the one feeling on her mind by a friend desperate to pull an answer out of her.
Fortunately, this dissonance bears little effect on Guy's sonic palette. It doesn't rob "Sapphires of God" of its disco regality, or deny "Blue Lights" from being one of the year's best pop tracks. It also takes nothing away from the album's key point. In the press release accompanying the album, Guy mentions her father's drive to improve himself throughout his life, a process that only grows more difficult as one ages. Yet, if the results can inspire a daughter to create Guy, or come with the recognition that the process is strenuous, is it not inherently worthwhile? Jayda G makes it sound effortless, but that's because she's done it. She's reaped those benefits. She affirms that positivity and struggling are not mutually exclusive. More often than not, they require harmony.
---
Label: Ninja Tune
Year: 2023
---
Similar Albums:
Colin Dempsey
Colin Dempsey is a Toronto-based writer with publications at Consequence, Invisible Oranges, Spectrum Culture, and more. There will always be more to write about, and he wants to cover it all.