Here's dubstep's agriculture in a nutshell: It mutated from breakbeat and 2-step. Those subgenres have roots in UK garage and grime. All contain DNA from hip-hop, soul, and house. Since 2007, the man called Joker has known and lived this history well. Bristol born and London based, he's built a rep with high-profile bass-drop remixes (Gorillaz's "Doncamatic," Simian Mobile Disco's "Cruel Intentions") and a string of singles and EPs on signature labels like Tectonic and especially Hyperdub. Joker and his comrade Zomby were among the first dubsteppers to make a big label jump, both landing on 4AD.
While Zomby's Dedication rests squarely in the genre's current comfort zone, Joker's bow The Vision seems to want to cycle back to the late 1990s and early 2000s, when R&B was first being transmogrified by this stuff in Britain. Often the results don't resemble proper dubstep at all, much in the same way that Skrillex uses a heavy hand to make his work feel like big beat or nu-metal. Songs like "Slaughter House" and "On My Mind" sound ready for American urban radio next to someone like Drake, what with their menacing backing tracks and sung pseudo-emo-raps. "Level 6" could almost be a Dâm-Funk outtake, and suggests that while the mimicry on Joker's part is competent, it's a questionable method for building up the popularity of dubstep itself.
The Vision improves marginally when Joker drops vocals out of the mix. "Milky Way" dials back the heavy bass and has quite a lot of chirping treble synths; even in a minor key, it's about as fun and lighthearted as dubstep can get. Yet other tracks leaning heavily on such pop-music sensibilities — "My Trance Girl," "Electric Sea" — seem to do so not heavily enough, so they're neither radio-friendly nor appropriately aggro. It's a song like "Tron" that drives home this biggest problem with The Vision: Joker's work has all of the hallmarks of dubstep, but none of the emotional heft.
Similar Albums:
Drake – Take Care
Craig David – Born to Do It
Zomby – Dedication
Stream: Joker – "Tron"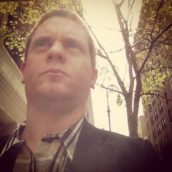 Adam Blyweiss
Adam Blyweiss is associate editor of Treble. A graphic designer and design teacher by trade, Adam has written about music since his 1990s college days and been published at MXDWN and e|i magazine. Based in Philadelphia, Adam has also DJ'd for terrestrial and streaming radio from WXPN and WKDU.