Things don't always end up the way they were intended. They say if you want to make God laugh, you make a plan. When members of Sigur Rós started making babies, they took a little break, and frontman Jón Thor Birgisson, aka Jónsi, made different plans. The original intention was to go through all the songs he had written that didn't quite fit into the band's repertoire to find a sedate acoustic album to record. For those of you have heard teasers of the album, you know this was far from the end result. And while an emotional acoustic record would have surely pleased a lot of his band's more immutable fan base, the actual finished product, Go, is both a confirmation of Jónsi's songwriting prowess and a delightful and playful yet shocking surprise.
For those of you who worried about the sound of Jónsi going `pop,' shame on you. A good portion of Go is firmly in the pop camp, and it's as if our post-rock, shoegazer hero has emerged from a stifling cocoon. Sigur Rós has never shied away from the dramatic, and have experimented with many different styles, but the songs on Go seem freed from worry, fear and doubt. The music and feeling of the album is perfectly represented in the cover, a wash of vibrant color emerging from grayscale. "Boy Lillikoi" and "Go Do" have been two of the more pop driven songs to be previewed from the album, both encompassing the new, joyous sound of Jónsi. And no, your ears are not deceiving you. Following a rare appearance of vocals in English within "All Alright," the last track from the most recent album, most of Go is sung in English! But, guess what? Turns out, it doesn't really matter. Jónsi's dynamic vocal range has always made perfect interpretation of lyrics somewhat moot. His voice has simply and gorgeously navigated through notes and chords, and this turns out to be true, even in English.
Not all of the songs on Go can be tucked into any one category. Yes, several of the songs are more spirited pop, including "Animal Arithmetic" with its pounding drumbeat, but other tracks steer this record away from the realms of homogeneity and predictability. The opening piano chords of "Tornado" could certainly remind some of either Radiohead's "Pyramid Song" or the National's "Fake Empire," and the ensuing song is equally as transformative. The strings and piano of "Kolnidur" sound like the heralding of Nick Cave about to sing Johnny Cash. All of these glorious moments of instrumentation are provided by Nico Muhly, lately the indie go-to guy for lush and emotional orchestration, as can be found in his projects with Grizzly Bear, Antony & the Johnsons, and Bonnie "Prince" Billy. The pairing is so harmonious, it's difficult to call Go a true solo album. Muhly's soaring string arrangements, as well as the glitches and hiccups throughout, become the perfect complement to Jónsi's delicate vocal style.
The most devout fans of Sigur Rós will surely see the closing two songs as some of the most transcendent pieces Jónsi has ever created. "Grow Till Tall" stretches out, taking its time to build up into a crescendo of intensity, percussion filtering in like white noise and static behind Jónsi's signature cooing. "Hengilás," one of two songs on the album in Icelandic, closes the album, the perfect sister song to "Grow Till Tall." It is the lullaby at the end of a long, exciting and fruitful day. Again, Jónsi's vocal pitch reaches into higher realms, to angelic climes, as we are properly escorted from this world. If you're anything like me, by the time the last string is bowed, you'll simply start it all over again. Go ended up being far more than I ever expected, and I'm surprised anew with every successive listen.
Similar Albums:
Loney, Dear- Loney, Noir
Thom Yorke- The Eraser
Mew- And the Glass Handed Kites
Video: "Go Do"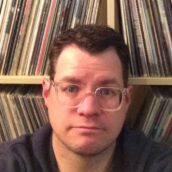 Terrance Terich
Terrance Terich firmly believes that 1985 is the best year for music. He lives near Seattle with his books, movies, and music.