Junior Boys : So This is Goodbye
The most immediately arresting quality that marked Junior Boys' debut Last Exit was its unapologetic stylishness. Hamilton, Ontario duo Jeremy Greenspan and Johnny Dark paired wispy, gauzy sheets of synth with unlikely stutter step beats akin to those of Timbaland, creating a sound that spoke as much of aesthetics as of emotions and sense-memories. The melodies, light as they were, sank deep into the listener's subconscious, quickly erasing the notion of being merely a sleek and elegant album, and one that became almost comforting in its evocation of mood. "High Come Down" was an instantly alluring introduction, yet the appeal of songs like "Under the Sun" and "Teach Me How to Fight" was their subtler qualities. The latter still stuns me to this day, and the album on the whole marked a stunning left-field discovery for indie fans in 2004.
On album number two, So This Is Goodbye, Greenspan and partner Matthew Didemus (Dark bowed out a couple years back) further their jaunt into adventurous electro-pop sounds, mostly doing away with the glitch-hop beats of Last Exit, beefing up their melodies and backing them with heavier synth basslines. Preview single "In the Morning" best declares the new agenda; a collaboration with Mouse on Mars' Andi Toma, the single finds solid four-four beats mixing with percussive breathing samples, glimmering synth harmonies, subtle waves of clean guitar and Greenspan's breathy warning "you're too young," recalling Bernard Sumner's similar caution in "Fine Time." It's sexy, sure, but it's a melodically stunning track, a remarkable achievement of an electro-pop single, without the burden of robotic stoicism.
Like much of Last Exit, the songs on So This is Goodbye strike first with their danceable, yet downtempo hooks on tracks like "Double Shadow" and "Equalizer." The former begins minimally with spare samples and repetitive sequences beneath Greenspan's simple rhyme scheme ("catch up/ you young pup/ you old dog/ you blue fog"), while the latter attacks in a much more direct fashion, synthesizers pulsing and flexing over a handclap beat. After this initial harmonic seduction, the album sinks deep within, gradually becoming more about the heart than the hips, as "Count Souvenirs" finds Greenspan lists off seemingly unrelated objects, but in a manner similar to Tom Waits' "Soldier's Things," the sentimental significance of said objects reveals itself through his delivery, which is bound to make a few eyes misty.
The title track has a cool, downtempo strut, which works at making it a dance anthem for the night drive home. This track, just as much as any song on here, finds the perfect synthesis between melody and lyrics, Greenspan's verses of few words finding the right atmosphere to perfectly express them in the ambient, electronic haze. As a title, "So This is Goodbye" speaks volumes, so it would only be fitting that the song evokes a similarly melancholy feeling.
One particularly noteworthy track is the cover of the Sinatra standard, "When No One Cares," which, in its sparse, nebulous arrangement mirrors the feeling of desolation in the song. Keyboard echoes strike like rain drops in slo-mo, Greenspan's voice soft and soothing in this decidedly depressing and lonesome lullaby. Well, depressing, lonesome and gorgeous—melodic grace like this almost makes being alone seem utterly romantic. By the closer "FM," the duo has switched to a major key, and with the opening lines "let's leave tonight/ for one last time" leaving that farewell on a bittersweet note, with a romantic and memorable farewell. This is the sort of song that should close out blockbuster summer films, over that ubiquitous kissing in the sunset scene, fading out into slowly scrolling production credits. At this point, there's no avoiding the goosebumps, the lump in the throat, and the overall overwhelming feeling of having borne witness to something extraordinary and beautiful. The next logical step is to compose yourself, take a deep breath, maybe get a glass of water, then press play one more time.
Similar Albums:
Depeche Mode – Black Celebration
Kelley Polar – Love Songs of the Hanging Gardens
Hot Chip – Warning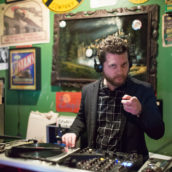 Jeff Terich
Jeff Terich is the founder and editor of Treble. He's been writing about music for 20 years and has been published at American Songwriter, Bandcamp Daily, Reverb, Spin, Stereogum, uDiscoverMusic, VinylMePlease and some others that he's forgetting right now. He's still not tired of it.