Kendra Morris : Nine Lives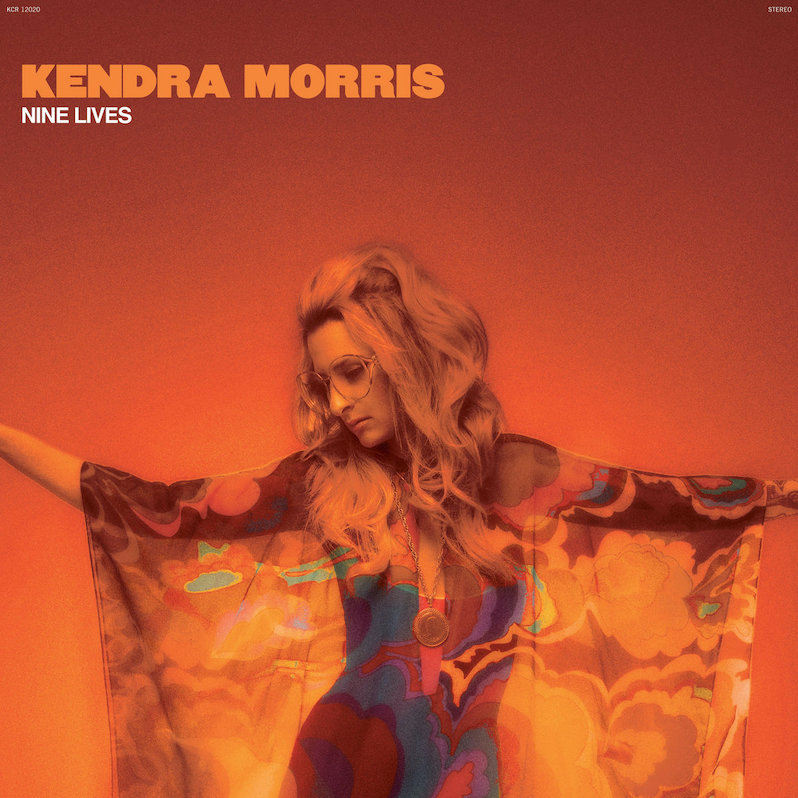 Kendra Morris should have blown up already. I'm speaking facts, with remixes from the likes of the almighty DJ Premier and NorCal selector and producer Mophono, with numerous features on the CZARFACE project including selections with the legendary MF DOOM?
Correction. She did blow up already, at least in the respect column. Not every vocalist can get down and just blow in that retro-soul soul vein, you know? Do that Amy Winehouse thing with perfection. Many may try and they sure do fall short. As the emcee Grand Puba would say, cats try to copy but just can't get it down right. Only a scant few, can make that music in solitude, on an 8-track, in their closet and have it come out legit. That's not a job, mind you, it's a longing. A personal religion.
Kendra Morris reads the retro-soul lane so cold, this redheaded fixture of almost two decades on the New York City music scene (and hails from Florida), does it backward and blindfolded. On the first attempt. Then flips into "sing the hook" grit mode and becomes a one-woman songster team for the indie hip-hop bracket.
No fantasy here, bubba. That's been her reality. Don't take my word though, go ask DJ Premier, 9th Wonder, Ghostface Killah, Dennis Coffey, David Sitek—Kendra Morris is far beyond a one trait troubadour. Take for example her crafty reworking of the Soundgarden exemplar standard "Black Hole Sun" from her 2013 Mockingbird album, a project filled with covers. Jawns she grew up with. That psychedelic grunge sound is converted into the cinematic acid-fried soul, with Morris, ever so calmly, meandering about the David Axelrod type arrangement with breezy aplomb. Owning it. Making Chris Cornell smile and sweat, mind you, from above.
Nine Lives is Kendra Morris' fourth studio album, and first with Karma Chief—a subsidiary of the experimental soul-funk imprint Colemine, home of Ghost Funk Orchestra, Black Pumas, and starting ground for Neil Francis. It may seem like a comeback record of sorts, but it's actually an evolution. Finally, the right label, proper situation and correct bandwidth, from tip to tail, sees her vocal intellect flourish as the all-encompassing singer-songwriter Morris has always sought to be. Her trademark contemporary soul arrangements, matched with a pastiche of clever lyrics formed from an 11-year friendship with co-writer and producer Jeremy Page—those broad-stroke American culture compositions—make Nine Lives a veteran project that seeks to capitalize on taking chances and broadening Morris' repertoire beyond trend; She capitalizes on the scratches earned from twenty plus years in the music game.
Highlights like "Who We Are" delves into new waters, seeing Kendra embrace gothic song composition, experimenting with more open-minded arrangements, completing that hip-hop soul pedigree we've become so familiar with. Meanwhile, tracks such as "Nine Lives," "Got Me Down" and "Someone Else" polish off those Daptone meets Lee Fields chops she is known for, running them back for the newbies on board this time around. But there is a novel playfulness in selections "Dry" and especially the slow-moving tear innit standout track "Circle Eights." It's still soul, but a different color, a profound swing outside her comfort zone, made with heft, not hustle. She's peacocking with the best of them here.
In a 2012 interview with NPR she retells the inspiration for her song "Concrete Waves" that Preem would remix into a dart: "I got that [song] from skateboarding. I used to skateboard when I was 15 for a brief second," Morris says, laughing. "It didn't go well. … [W]ith skateboarding, you're gliding, you're going fast, sometimes you're on a ramp and you just feel on top of the world. But if you hit a pebble, you go flying off your skateboard and there's nothing to catch you. It's the pavement. It hurts. With a concrete wave, the metaphor to that is just following through with a moment of what feels good. It might wreak a lot of havoc, but it's so worth it for that second of being on the top."
Her backstory is textbook. Q-Tip said it best: Industry rule number 4080, record company people are shady. After being dropped from the Wax Poetics label in 2018 after the landmark music periodical closed in 2018, she self-released a project and did spots on other people's projects, but did a pivot to visual art, becoming a filmmaker and animator to keep the lights on. But the music never left her, it just got put on a shelf, always within arms reach. Finally, after dusting off those intuitive notes, idiomatic songs—much like that Soundgarden cover—Kendra Morris sounds cool, calm, and free.
---
Label: Karma Chief
Year: 2022
---
Similar Albums:
John-Paul Shiver
John-Paul Shiver has been contributing to Treble since 2018. His work as an experienced music journalist and pop culture commentator has appeared in The Wire, 48 Hills, Resident Advisor, SF Weekly, Bandcamp Daily, PulpLab, AFROPUNK and Drowned In Sound.