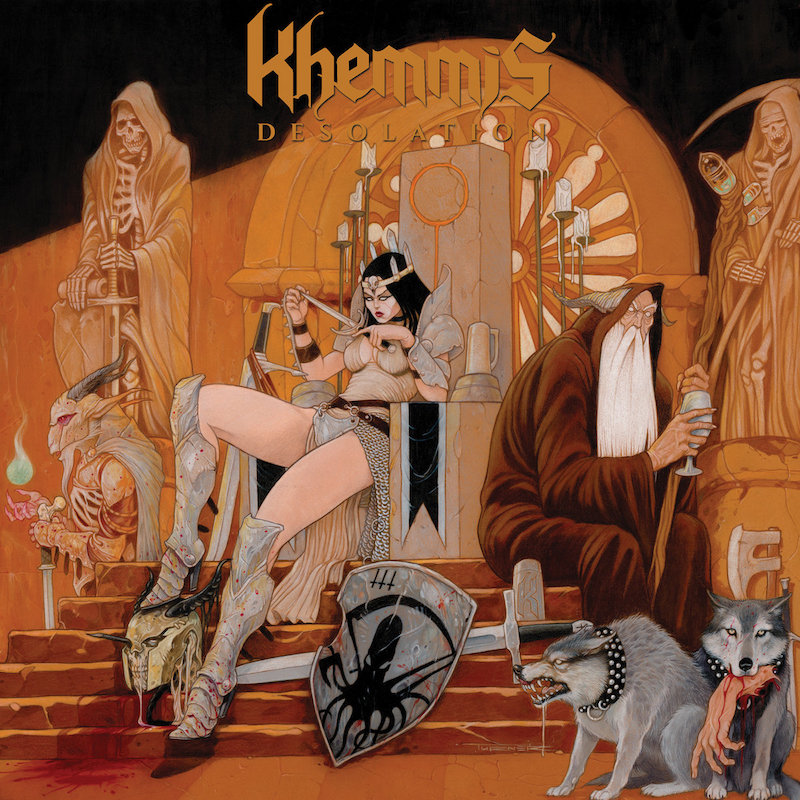 Khemmis are an underground metal band whose music aims for something much bigger than the underground. They just happened to choose a strange time to go all-in on being the next great American heavy metal band. The Denver group's aesthetic palette is heavily informed by the classic era of '80s metal: Iron Maiden, Judas Priest, Dio and Mercyful Fate, sans King Diamond visual theatrics. Their songs never aim for anything less than the anthemic: soaring riffs, mighty vocal bellows and melodies that more extreme bands would sneer at or shrug off, even though this kind of metal hasn't filled stadiums in some time. Still, there's arguably never been a better time since the '80s for a more traditionally-rooted heavy metal sound to thrive, thanks to acts ranging from New Wave of ABBA Metal superstars Ghost, goth-metal MVPs Tribulation, and this latest, awesome act for Judas Priest. Of this younger new wave of heavy metal axe wielders, though, nobody's creating a sound as powerful with minimal schtick involved than Khemmis.
Following their Decibel Album of the Year-honored 2016 album Hunted, Desolation finds Khemmis moving away from some of the stoner/doom influences that defined their first two records. In many respects, it's a progression along a linear path, an escalation of the elements that were already present in their earlier tracks. The first couple of songs here, "Bloodletting" and "Isolation," even feel as if they could have been added to the tracklist of Hunted without the character of the record being changed all that much. The former begins with the sound of Phil Prendergast and Ben Hutcherson's harmonized guitar leads climbing a tower to the heavens before settling into a darker, doomier groove as Prendergast reminds listeners of his earnest, arresting vocal abilities. "Isolation," meanwhile, chugs and gallops with greater urgency. They've certainly released songs this catchy in the past, but here it stands out because its hooks are that much sharper and better defined.
Desolation isn't so much a major change of M.O. for Khemmis, but an expansion of it. If they can go bigger, longer, more intricate or elaborate, they almost certainly will. Khemmis never sacrifice the songwriting itself to do so, but rather find a more sophisticated relationship between their melodies and their instrumental dynamics. If anything, the layers of complexity and additional flair merely make these songs even stronger as a result, from the acoustic guitar outro to "Flesh of Nothing" to the back-and-forth between Pendergast's croon and Hutcherson's demonic growl on "The Seer." "Maw of Time" likewise brings greater contrast between the two vocalist, but with an even nastier groove, the yin and yang of Khemmis' influences in perfect harmony as their sound balances technical skill with some direct hits of power chord punch.
For how high Desolation aims, it does so in a relatively compact package. Most of the tracks here are shorter than those on Hunted, and considering that album's final two tracks were nine and 13 minutes apiece, Khemmis already had a pretty good handle on gargantuan compositions. Still, "From Ruin," the album's nine-minute final track, aims for a kind of prog-metal grandeur that adds a new layer to the band's discography. More specifically, it finds the band becoming more comfortable in quieter spaces, with an entire passage sans drums or anything that sounds metal at all, really. It's tempting to call this the band's Opeth moment, but there's still something much more old-school about Khemmis' approach that makes more fun, even when they're fully embracing the cerebral prog-nerd that's truthfully always been a part of who they are. And metal is always at its best when it's fun. That's ultimately what makes Khemmis one of the best bands—metal, "heavy metal" or otherwise—currently letting their riffs fly. They might not be headbanging for its own sake, but with songs this good, there's no reason the rest of us can't.
Similar Albums: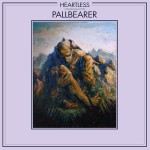 Pallbearer – Heartless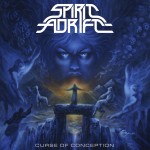 Spirit Adrift – Curse of Conception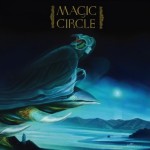 Magic Circle – Journey Blind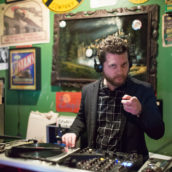 Jeff Terich
Jeff Terich is the founder and editor of Treble. He's been writing about music for 20 years and has been published at American Songwriter, Bandcamp Daily, Reverb, Spin, Stereogum, uDiscoverMusic, VinylMePlease and some others that he's forgetting right now. He's still not tired of it.