Lead Into Gold : The Eternal Present

One of music's great talent incubators was Chicago's Wax Trax! label from the mid-1980s to the early 1990s. Full of resident and distributed musicians in electronic body music (EBM) and industrial genres, players from disparate acts regularly hooked up for a strange yet potent roster of spinoffs and side projects. Some of the biggest catalysts in this sound lab were members of Ministry, who had parlayed their early Wax Trax! singles into a contract with Sire Records but remained true to their hometown roots.
Among the experiments sprung from this fertile creative ground was Lead Into Gold, a solo nom de plume for more intellectual industrial pursuits from Ministry bassist and producer Paul Barker. He only put out a few releases under that name during the label's heyday, but returned to the studio in service to that project beginning in 2015. The new third album from Lead Into Gold, The Eternal Present, is a stark reminder of both the fearlessness these musicians embraced and the fear and loathing they tried to commit to tape.
The Eternal Present returns to the obtuse sounds first heard on 1990's Age of Reason, abandoning the more traditional songcraft of 2018's The Sun Behind the Sun (which itself was only "more traditional" by, say, Laibach degrees). Barker contorts synth and horn parts into aboriginal melodies and tunings, and pushes stuttering hi-hats and big, echoing drums to the front of the mix. Combined with menacing low-strung bass lines and occasional off-time samples in the background, this eight-song set simply sounds like a keeper.
I dare say the lyrics here don't mean all that much, and don't really need to. Lines like "Outside your world is burning now," from "The Final Blows," are industrial's Day of Reckoning stock-in-trade. It's all about an atmosphere of dread, and when Barker half-sings his words through deep-water production, in front of disorienting drones suggesting so many insect plagues, that's where The Eternal Present seems the strongest. It's reminiscent of early Ministry and Skinny Puppy albums, even introducing decay and chaos on a song like "The Sea The Sun The Past The Sum" that might otherwise almost be a single.
I'm personally not surprised that I find Lead Into Gold's apex here to be "Fugue (for BR)." Barker's cyclical and buzzing piece for martial synths is an instrumental tribute to his longtime Ministry bandmate Bill Rieflin who died in 2020. A fugue is both an orchestral composition that repeats passages throughout sections and a psychiatric diagnosis involving temporarily forgetting who and where you are. It's this strategic use of basic themes and aggressive sounds that makes The Eternal Present expertly, uniquely evocative of specific times, places, and people.
---
Label: Artoffact
Year: 2023
---
Similar Albums: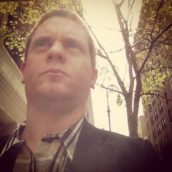 Adam Blyweiss
Adam Blyweiss is associate editor of Treble. A graphic designer and design teacher by trade, Adam has written about music since his 1990s college days and been published at MXDWN and e|i magazine. Based in Philadelphia, Adam has also DJ'd for terrestrial and streaming radio from WXPN and WKDU.