Lee Fields : Sentimental Fool

Lee Fields has lived and breathed soul music in a career that spans more than 50 years. With Sentimental Fool, the North Carolina returns for his 19th full-length album, on which he's lost none of his potency. Here, the veteran singer performs against a different backdrop than that of his usual backing band, The Expressions, carrying the torch for classic soul, funk and R&B with assistance from various members of the Daptone family. In Fields, soul lives on, with another set of songs that serves remind listeners of its musical roots.
Unlike his previous release, 2019's It Rains Love which he made with The Expressions, this newer project hits its groove from the start. It's also much more versatile, with a greater variety of tempo and styles. And though he's been previously called "Little JB" for his physical and vocal resemblance to James Brown (he also provided vocals for the 2014 biographical movie, Get On Up), Fields is a great performer in his own right.
"Two Job" rides on a toe-tapping beat with a Hammond organ. Fields really sings his soul out, too—it's the type of work one might expect from the veteran musician who's worked with B.B. King and Kool and the Gang. And there's a message; a story about a man having to work two jobs, which is relatable and rather telling of a society that doesn't always seem to care about the humble everyman. These songs combine social commentary and stellar songwriting, and that's what hits home—what remains with us.
Yet Fields' energy is what keeps the listener here. If an artist sounds like he's not invested or enthused, we can tell. But on Sentimental Fool, Fields never approaches that point. and even slower songs like "What Did I Do" are comparably engaging to the album's more upbeat moments. Stylistically reminiscent of The Temptations or even Al Green, Fields' fantastic vocals show an inner turmoil only relieved by song. "Without a Heart" picks up the pace while sustaining the overall atmosphere—lovesick, lovelorn, love-worn. From one moment to the next, sitting still isn't an option. You're either dancing, shaking, or crying.
Sentimental Fool shows Fields at his best: innovative, soulful, truthful, and inspired. He never stopped performing in over five decades, and yet this far down the line, Fields sings beautifully, passionately. There's something deeply personal about his music, and yet he uses those songs to connect with everyone he's singing to and singing for. He hasn't forgotten his roots, only growing them deeper, solidifying his critical role in continuing to carry soul's legacy forward.
---
Label: Daptone
Year: 2022
Buy this album at Turntable Lab
---
Similar Albums: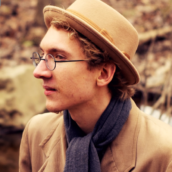 Konstantin Rega
Born in Krasnoyarsk, Russia, Konstantin Nicholas Rega currently attends East Anglia's famous MA in Creative Writing with the Ink, Sweat and Tears Scholarship. He is a professional musician, the former host/producer of Jazz Jams on CSRfm 97.4, and twice a Dan Veach Prize for Younger Poets finalist. He is the Fiction Editor for Crack the Spine and a contributor to The Black Lion Journal. He also blogs.