Linda Perhacs : The Soul of All Natural Things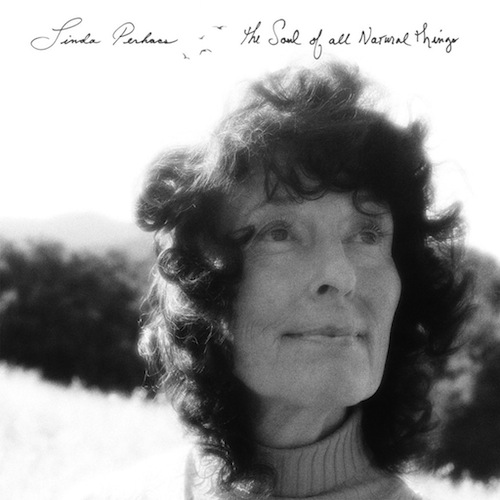 Buy at iTunes | Buy at Insound (vinyl)
The most remarkable thing about Linda Perhacs' Parallelograms may well be that it is every bit as remarkable as its devotees say it is. The allure of the record may have intensified because it basically disappeared upon release, but unlike many other so-called forgotten treasures — the content of most of which, I would argue, does not outlive their fascination as archaeological finds – the music itself exerts the main attraction. There is, of course, the mind-blowing title track, which outdoes most any psychedelic-electronic song of the period, and certainly any that brings folk into the equation (Buffy Sainte-Marie's "Poppies" the only thing near it, as far as I know), but also the shivering loveliness of a subtle piece like "Morning Colors," the charms of which may well, so it has seemed to me, take around a decade to reveal themselves. It is, then, perfectly understandable that the specter of a new Perhacs record, 44 years down the line from her debut, is a proposition of unusual delight.
What has stayed the same, is the sensibility of Linda Perhacs, one marked by a sensitivity toward the natural world – the first images of the record are waves breaking on rocks and stones, and winds that play upon ice – which has as its correlate a pantheistic sort of spirituality. Yet, if the lyrics reveal what is the same, what persists after 44 years, they also reveal an important difference. Many of the songs on Parallelograms seemed to pick up details from everyday life, from the everyday life of Linda Perhacs: the rain in northern Washington, the rugged, ladies' man of Paper Mountain, that other, sleeping, lover of "Morning Colors." Those little, tiny moments, dilated, are gone here, and that strikes me as unfortunate. Everything comes from a sort of disembodied perspective, an outsider catching the world from the outside and setting it before us so that we may be re-sensitized to the wonder at work in it.
Perhacs has said that there is a polemical gist to the songs on this record, one that has to do with restoring balance, with the songs and words helping, lifting those who hear them. I don't really find myself irritated by such this notion, admirable in many ways, but it does slightly turn me off from time to time, when, for instance, she describes children as possessing a wisdom from which we can learn (is lacking those stupidities and prejudices through which adults so often think and act really wisdom?), sings "no one ever said this life was going to be easy," a line I would like to never hear sung ever again by anyone, or includes a rambling, new-agey territorialization of Blake on the concluding "Song of the Planets."
Anyway, I have a vexed relationship with Aquarian ideals, toward which part of me bends and from which another part recoils, but I can deal with it, and sometimes find myself perfectly in tune with the vision at work. "Freely" is wonderful, mildly psychedelic folk, deftly picked guitar, piano notes like slow rainfall, wind, birds, clouds, "I want to be freely with you," a sentiment toward which we all aspire, a paradox close enough to my kind of paradox. That said, every you and he on this record seems to be directed at least as much toward that god who is the soul of all natural things as toward another human being, for better or worse, depending on your perspective, I suppose. "Prisms of Glass" follows "Freely" and is without a doubt my favorite thing on the record, baroque, choral psychedelia, taken over by Julia Holter's voice at the key moment where it blooms into a hallucinatory cathedral of arcane wonders, falling stars, and rain on windows. "River of God" and the title track are also high points, while "Daybreak" seems to belong, somewhat disquietingly, between Chris Rea's "Josephine" and Linda di Franco's "TV Scene" on a playlist for moments of comedown transcendence amidst beaches and breezes.
It seems like a good decision to acknowledge that I am of a number of minds with regard to this record. Part of me says, it's a pretty damn good comeback after 44 years, 44 years removed from the person who made the record that your new acolytes think of you as. There are plenty of moments of a very singular kind of quiet ecstasy. Another has to admit that not only do tracks like "Intensity" and "Immunity" not give the world a blush of re-enchantment, like "Freely" or "Prisms of Glass," but issue an annoyance my way. Then there is the thought that very few people who were writing great songs around 1970 are still writing great songs, whatever the length of the breaks they are taking — and there are a number of pretty great songs on The Soul of All Natural Things.
Similar Albums:


Julia Holter – Loud City Song


Devendra Banhart – Smokey Rolls Down Thunder Canyon


Marissa Nadler – July