10 Essential Psychedelic Folk Albums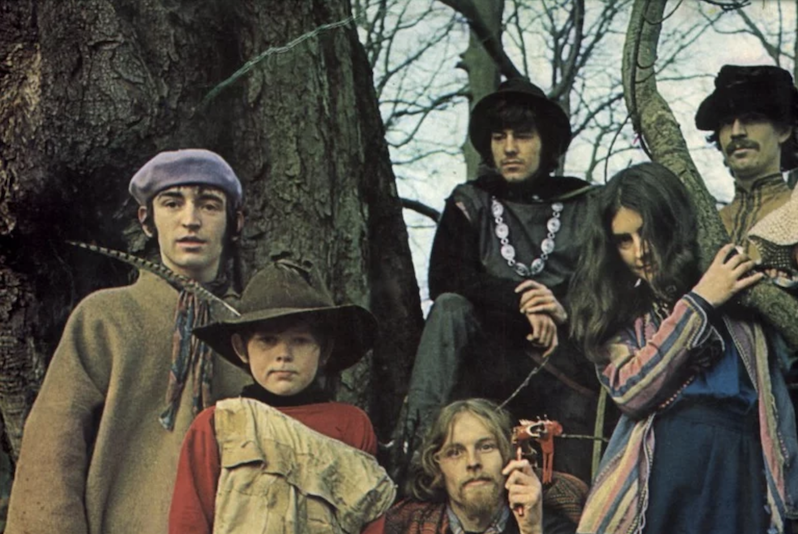 Fifteen years ago, indie music press had a new summer obsession: Freak folk. Though none of the artists associated with the sound cared for the term, and the term itself had been floating around for more than a decade due to a number of reissued obscure acoustic '60s and '70s albums that reemerged in the '90s, it nonetheless found a new audience in young people attracted to the medieval plucks of Joanna Newsom and the drone-and-yelp of early Animal Collective. But really it was all part of a much longer tradition of psychedelic folk that stretched back to the '60s. Initially associated with groups like Holy Modal Rounders and Pearls Before Swine, psychedelic folk soon became a staple of the '60s counterculture, with hippie strummers adopting the textural and stylistic conceits of avant garde composition and Hindustani classical music. Much like The Beatles famously did, in fact, but in the context of the folk tradition; in fact, folk music is built on the foundation of the past, and in the psychedelic era, that simply included a much broader representation of the past, with a dose of surrealism and dissonance to fit the moment. Over the past five decades, psych-folk has thrived and evolved, and it's had subsequent moments in the sun. But what's interesting about it is that it expands outward, its influences and foundation growing each time a new interpretation is released. This week, we take a look at 10 of the best albums the genre's produced. This isn't an end-all be-all list; there are dozens and dozens of artists worth exploring (and we haven't even gotten into Sun City Girls, which is a topic that warrants its own article). But this should serve as a solid starter set of psychedelic folk records that deserve a spin on the turntable.
---
Donovan – Sunshine Superman
(1966; Epic)
Turning away from his usual folk albums, Donovan's 1966 album Sunshine Superman may be described as "bubblegum psychedelic." With its lighter tones and almost whimsical melodies, this album feels as if you are lying in a vast field of flowers and rainbows. Very much in the vibe of a more drug-than-bug Beatles' tune (though one doesn't have to be on drugs to make such sounds) with hints of Indian or Eastern influences, Sunshine Superman moves at times at its own pace and is never in a hurry, as with the track "Three King Fishers." Retaining his folk-roots, Donovan looks back to the Legend of Arthur in "Guinevere," in languid and tender vocals and guitar strumming. Truly a British musician with a lazy-day mission, singer-songwriter Donovan's 1966 album is not one to pass up while exploring the psychedelic genre and its many facets of rock, pop, and folk. – KR
---
The Incredible String Band – The Hangman's Beautiful Daughter
(1968; Elektra)
Suppose some cosmic mirthmaker travels back in time a couple hundred years to spike everyone's drink in an Elizabethan pub with some pretty potent doses of LSD. Well, you'd get something like The Incredible String Band's third album, an album as much a product of the 1960s as it is completely apart from it. "The Minotaur's Song," with its barroom singalongs, and "Koeeoaddi There," rife with the buzz of sitars, each show a different aspect of the band, though it's the sprawling centerpiece "A Very Cellular Song" that offers 13 minutes of The Incredible String Band at their strongest and most inventive. Everything here is weird and merry and strange, yet always inviting and warm. As long, strange trips go, it's an awfully comforting one. – JT
---
Tim Buckley – Happy Sad
(1969; Elektra)
At just 20 years old, Tim Buckley entered a phase of his career that stands as a period of creative fertility that yielded five outstanding albums in just three years. Happy Sad is the second of these, his third overall, the sweet spot between his jazziest grooves and LSD-laced freakouts (the latter of which would reach an almost nightmarish peak on 1970's Starsailor). Happy Sad isn't harrowing or intense, but cool and weird, like a much funkier answer to Van Morrison's Astral Weeks with nods to the likes of Miles Davis. From the opening "All Blues"-lifted groove of "Strange Feelin'," Buckley guides a session intoxicated with voodoo and who knows what else, a smoky and searing moment of psychedelic singer/songwriter ecstasy. What lies beyond is a "singer/songwriter" album in name only, the end result the best bohemian jam session ever caught on tape. – JT
---
Linda Perhacs – Parallellograms
(1970; Kapp)
California singer/songwriter Linda Perhacs became a cult sensation decades after releasing her debut album in 1970, and in the decades afterward she worked as a dentist, only in the past decade returning to recording new music. It's a shame that Parallelograms flew under the radar for so long, but in retrospect the album's a little like a gentle hallucination or a visitation from a ghost. It gives the listener a sensation of having been briefly haunted. These songs drift through the subconscious, each one an out-of-body experience more than a performance. There are grooves, like the funky raga of "Moons and Cattails." And there are nigh-ASMR tingles in tracks like "Chimacum Rain." But it's in the title track where Perhacs' penchant for exploratory weirdness truly shines, with sonic details and far-out stylistic shifts set her apart from the rest of the post-Summer-of-Love hippie guitar pluckers. – JT
---
Comus – First Utterance
(1971; Dawn)
While those in the know have always known folk to contain tales of darkness, often being more focused on capturing stories of suffering and sorrow than tales of joy and splendor, Comus took things to a whole other level on First Utterance. For instance, the record is often cited by musicians in the extreme metal world as highly influential, its tales of decay and murder and other more foul acts feeling more often like a high Gothic novel dripping in lurid gore than something dappled in sunshine. Even the cover bespeaks the unholy terror of this record, a black coal and ink scrawl of some brutally withered man. And yet it is not sheerly the evil contained which made it so memorable but the indelibly lush and expansive prog/psych folk backdrop, all shimmer and gleam against the grit and slime and the subject matter. Enter whole, leave with melting head and rotten body. – LH
---
Robyn Hitchcock – I Often Dream of Trains
(1984; Midnight Music)
Robyn Hitchcock's occasional non-electric recordings, intentionally or not (probably not, though I suppose we could ask him), function as resets from the more ornamented electric material that preceded them. Maybe because of their sparse nature, they also feel closer to the epicenter of his immense talent and lyrical obsessions: dreams, applied psychology, reproduction, the bridges between objectivity and empathy, and death. Hitchcock's third solo album was his first to avoid complex machines, recalling the disjointed luster of Syd Barrett's Opal. Hitchcock's irrepressible but even-keeled humor comes through in the sexual manualism ode "Sometimes I Wish I Was a Pretty Girl," the barbershop-quartet Freudianism of "Uncorrected Personality Traits," and the short-circuited country gospel of "Ye Sleeping Knights of Jesus." But he also acquaints himself well with the sentiment only a naturalist can transmit in the halting "Cathedral," the simple and stark "Autumn Is Your Last Chance," and the slowly rolling title track that will undoubtedly anchor the soundtrack to the Oscar-winning Hitchcock biopic due in 2067. – PPe
---
The Microphones – Mount Eerie
(2003; K)
Phil Elverum doesn't just sing about nature—he is a force of nature. Each of his four proper albums with The Microphones channels one of the four elements—air, water, fire, and earth—and sure enough, parts of Mount Eerie sound like the ground breaking open. Staged as a five-act play about death and ascension, The Microphones' grand finale is arguably the most conceptual of Elverum's works under any name. It's certainly the heaviest and most musically ambitious, seesawing between thunderous percussion to brittle acoustic guitars on the monolithic "I. The Sun" and cramming the pseudo-title track to the gills with over a dozen so-called "Precipice Carolers." It's psychedelic folk as The Rite of Spring. – JN
---
Devendra Banhart – Cripple Crow
(2005; XL)
From the moment Devendra Banhart's 2004 album Rejoicing in the Hands became a critical favorite, the term "freak folk" followed, for better or for worse (from the perspective of anyone who's ever been on the other side of it, usually worse). But Banhart's most wildly psychedelic moments wouldn't happen until he upgraded labels, invited in members of Vetiver to back him and created his own creepily ominous homage to both The Beatles and Incredible String Band on the cover of Cripple Crow. It's not just his best album, but his most inventive, opening portals to blistering raga-rock on "Lazy Butterfly," embracing a meditative trip-out on "When They Come" and letting his inner-child's mane grow wild on "Long Haired Child," all while embracing a hippie make-love-not-war outlook throughout. It shouldn't make sense that Banhart's least contained work is also his most focused, but here we are. – JT
---
Espers – II
(2006; Drag City)
This LP embraces playful misdirection: The vinyl and CD tracklists run in different order, the title belies the fact that this was the Philadelphia band's third album, and its crystalline arrangements flirt with both the prog of Genesis ("Mansfield and Cyclops") and the kitchen-sink Krautrock of Can and the earliest Kraftwerk ("Dead Queen," "Widow's Weed"). But it's really the pastoral and mystical vocals of Meg Baird, Brook Sietinsons, and Greg Weeks that helped sell this band's ability to guide Hipster Nation through enchanted forests. – AB
---
Grouper – The Man Who Died in His Boat
(2013; Kranky)
Inspired by an unmanned vessel washed upon the shore of Agate Beach, Oregon, The Man Who Died in His Boat is a neo-gothic classic that epitomizes Liz Harris' crushing ambient work under the Grouper pseudonym. The record drifts in a hypnagogic twilight, straddling an intermediate territory that's patiently detached yet melodically present. Slipping into Harris' solemnity stirs feelings of both warmth and unmistakable desolation, materializing in a visceral sonic palette so intrinsically familiar it's borderline startling. There's a specific déjà vu quality to Boat, which may explain the revision of "Vanishing Point" on this year's Nivhek record. Its spectral quality is the record's most disoriented and exemplary moment of Harris' haunting encounter with that vacant sepulcher many years ago. – PPi
---
Support our Site—Subscribe to Our Patreon: Become one of our monthly patrons and help support an independent media resource while gaining access to exclusive content, shirts, playlists, mixtapes and more.