Deconstruction of Depravity: An interview with Lingua Ignota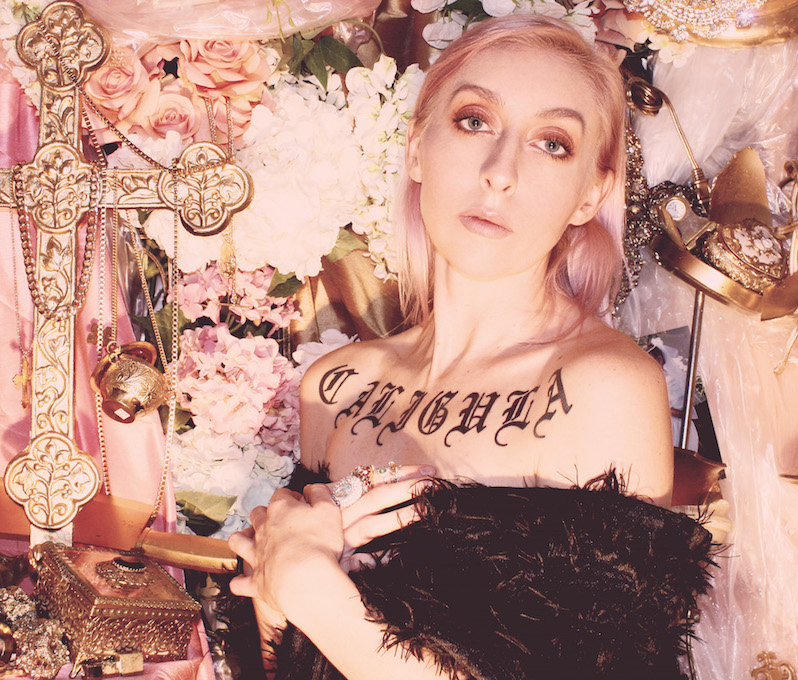 Kristin Hayter is one of the most fascinating voices in contemporary music today, but most probably wouldn't recognize her by her real name. She performs and records under the name Lingua Ignota, which is from the German mystic Hildegard of Bingen, meaning "unknown language." And her work is both fascinating and mind-boggling; from drone to industrial, to doom, classical, and even some gospel-like elements, Hayter explores and combines a vast range of styles into dramatic and grand compositions. Her 2017 LP, All Bitches Die, is a remarkable record that subverts audience ideas towards harsh music genres, while also exploring themes of abuse and violence.
This month, Hayter releases her follow up record, Caligula. And again, the name evokes something specific—for most of us, Caligula may bring to mind the Roman emperor, with a reputation for being horrifically corrupt and violent. For Hayter, however, the record represents a broader exploration of themes pertaining to violence and cruelty.
"The record itself is kind of a big labyrinth," she says, "and I think for me, Caligula took on many meanings. Originally, I was thinking of the term 'Caligula' in regards to madness and depravity—looking at my own madness and depravity suffering from PTSD. I wanted to bring all these recurring issues I was having into this record; [I sort of took this approach toward a] concept of a psychotic fugue I was going through. But eventually, Caligula took on all these other connotations and became less about me, and more about surviving in the world at-large that we live in, as well as under the political climate that we exist."
In embracing these broader themes, Hayter presents a record that is universal in scope. She conveys the horrors of corrupt power, and how it can affect people throughout the world. By taking on these concepts, she offers an ethereal and existential atmosphere, providing a weight of agony both contemporary and felt throughout history.
"[The record explores] depravity in a larger sense," she says, "[such as] the depravity of people in power politically these days; and also the depravity of people in power in our communities and intimate relationships. [Caligula] became like this huge kind of monster and much less about historical Caligula, the Roman emperor. It became this concept of monstrous depravity and loneliness, betrayal and violence."
Given the difficult subject matter of her material, Hayter provides careful analysis of how she embarks on a piece of music, mindful of the tones and emotions she looks to elicit. Her academic mindset to music allows for the material to exude its brilliant and haunting presence; through her blends of genre, unconventional use of sampling, and takes on compositional structure and writing, her process is remarkable. Among the samples used on Caligula, Hayter brings up one that involves a unique history and how she wanted to put her spin on it.
"'The Funeral March For Queen Mary,' originally by Henry Purcell, was recontextualized by Wendy Carlos for Stanley Kubrick's A Clockwork Orange," she says. "So being a death march for a woman, it was recomposed and reinterpreted by a trans woman to express senseless violence and depravity done by men, to later be taken by a few other artists … I take it and give it my own bravado and bombast, so for me the cultural history of that sample is interesting."
Speaking to her process, she explains how her work is not directly working toward catharsis, but how in a sense it can be a byproduct.
"I don't know if [creating a work of catharsis would] be something I would be able to do if I were trying to do it. I think there is a larger kind of processing that is happening in the music, project, and work," she says. "The way I go about making things in this kind of deconstructed, very fragmented way, pulling apart different elements, is my way of pulling apart the pieces of my experiences, and then I put them back together in a way that suits [me]. And that's kind of like a therapeutic process. I am trying to evoke different moods and atmospheres, and elicit different responses with the music. But I don't know if I'm going for exactly a catharsis for myself certainly. "
Caligula embraces the harrowing, and at times enchanting, madness that was found on All Bitches Die. However, Hayter elevates her craft, presenting visceral instrumentation. Along with the record's collection of instrumental components, Hayter brings to the table her broad and expressive vocal range. From the bravado of her voice, exuding ethereal tension and terrifying shrieks, her voice is an instrument all on its own. Hayter explains the vocal direction she wanted throughout Caligula, going into some of the more technical aspects of her vocal preparation.
---
One of the questions that I'm constantly asking myself is 'Why?', and I feel like a lot more artists should ask themselves this question as well
---
"With this record I was specifically wanting to work with a very particular kind of tone," she says. "It was actually one of the biggest challenges for me because I worked very hard to make sure [my voice] did not sound beautiful. Very technically speaking, I keep my larynx very very low throughout the record, and it sounds a little bit squashed, strangulated, very kind of wide and low, and it's a little bit masculine. I wanted to get rid of any kind of breathy, femininity that would have been on previous records."
When she writes, Hayter builds her work out of fragments. "Particularly for this record, I took a really weird approach to the songwriting," she says. "Most of the songs started out [only using my] voice and piano, just to have chord progressions and structure. Sometimes I use no lyrics to establish a vocal line. But then a lot of it [the material] was then taken and totally deconstructed; the record kind of moves moment by moment, as opposed to song by song.
"I think about what the text is at any given moment and what the chord progression is, then how dynamics and any sort of additional texture or harmony will augment that lyric at that moment, and then I build things in almost like a vertical way," she continues. "I'll have this little base structure of like, 'Here's the chord progression, here's the text.' Then I'll have all these different fragments of like, Oh right here I want there to be a piece of melody from this 11th century song that fits exactly with this lyric.' So it's a very deconstructed process putting everything together."
Caligula is a unique record, one of the year's most stylistically compelling. Hayter weaves together her academic fascinations and personal journey into pure, visceral art, unleashing her emotions through intense and powerful compositions. As an artist, Hayter is driven to create work that feels new, that is elaborate and unorthodox, while also being authentic and sincere. She looks to take themes in the cultural zeitgeist and flip them and view them in a different way. But perhaps even more importantly, she is also driven by a single question that pushes her to dig deeper and analyze her material.
"One of the questions that I'm constantly asking myself is 'Why?', and I feel like a lot more artists should ask themselves this question as well," she says. "Because being an artist is ultimately about editing; editing choices and making choices. So everything that I do, every move I make artistically, or everything I put into the work, there's always a reason why. I'm always asking myself, 'Why is that there? Why did I do that?' It can be a little maddening sometimes. But I think that has been one of the things that has really helped me stay on track."
---
Support our Site—Subscribe to Our Patreon: Become one of our monthly patrons and help support an independent media resource while gaining access to exclusive content, shirts, playlists, mixtapes and more.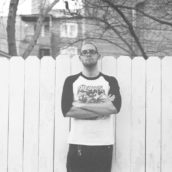 Michael Pementel
A graduate of Columbia College Chicago's Creative Writing Program, Michael Pementel is a published music journalist, specializing in metal and its numerous subgenres. Along with his work for Treble and Bloody Disgusting, he has also written for Consequence of Sound, Metal Injection, Dread Central, Electronic Gaming Monthly and the Funimation blog.