I first became enamored with Maps after hearing a collection of his singles, called Start Something. The appropriateness of that title does not escape me, as I've been `following' Maps ever since. James Chapman is the sole creative force behind the name, a Northampton lad who can now claim a Mercury Prize nomination to his credit. Even with the nomination, and the major label support, Maps hasn't yet broken out of `indie' spheres. In this climate, who's to say whether Chapman ever will, but his latest album, Turning the Mind, is certainly the one that could do it.
Chapman says that Turning the Mind is an album about mental states. While he does admit that drugs can play a part, he says that the album isn't just about mind alteration. Rather, it's about how the mind reacts to different stimuli. That being said, you really don't need any of that information to enjoy this album. After a bit of a `just waking up' sleepy introduction in the title track, the album really begins to shine with second single, "I Dream of Crystal." As opposed to his previously `inward' bedroom recordings, songs such as "I Dream of Crystal" are more gregarious and bombastic. The choruses throughout the track are the electronic equivalent of baroque composition. There are times when this song sounds like an updated "Canon in D," and it is extraordinarily effective.
"Let Go of the Fear" is the initial single release from Turning the Mind, and strikes an altogether different mood and energy, a nice digression from the previous melodrama. The robotically delivered vocals are a bit out of place with the rest of the record, but the song contains some musical bright spots. Perhaps it could have been the lone instrumental track? In effect, it is a bridge between New Order and EBN-OZN. Had you asked me before, I would have been the first to get in line to hear this magical combo, but it ends up to be just a tad disappointing. Luckily, "Valium in the Sunshine" (hammer, here is nail, meet head) is a track much like Chapman's earlier singles, lush whispery vocals and warm keyboard washes.
"Papercuts" nearly cribs from New Order's "Elegia," not that that's a bad song from which to steal, merely obvious. Other tracks that follow on Turning the Mind jump back and forth between particular eras and styles, jumping from classical tropes to club crowd pleasers. Some work and others don't, but you'd be hard pressed to find two people who agree on which those are. For instance, I imagine that "Love Will Come" could be a huge club hit, while others will see it as too simplistic and clumsy. The opposite might hold true for "Everything is Shattering," indie kids finding it a worthy throwback tribute, while others find fault in its repetition and blatant sunny atmosphere. If some songs are bridges between New Order and more recent acts, then "Chemeleon" (still trying to decide whether that spelling is clever or not) is the bridge between Gary Numan and M83. This one works a bit better than "Let Go of the Fear."
Needless to say, I'm slightly disappointed. I've come to love every track from Start Something and was expecting great things from Turning the Mind. The most recent single, "Die Happy, Die Smiling," is one of the most repetitive and tedious of the lot, showing the great distance that Chapman has come since those early singles. It's just too bad it's been in the wrong direction. It's not that Turning the Mind is a bad album, just a bit misguided, making the moniker all the more ironic. Oh Maps, wait, no one loved you like I loved you.
Similar Albums:
M83- Saturdays=Youth
Spiritualized- Lazer Guided Melodies
New Order- Low-Life
Download at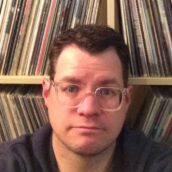 Terrance Terich
Terrance Terich firmly believes that 1985 is the best year for music. He lives near Seattle with his books, movies, and music.