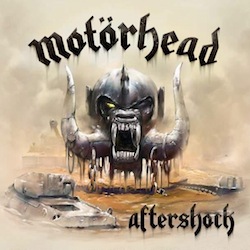 If "Heartbreaker," the opening track on Motörhead's 21st studio LP, Aftershock, was the first Motörhead song of you ever heard, you wouldn't have to mine their discography to figure out what they have been about for all these 35 years. It crashes in with a giant E chord, followed by a nondescript but functional power-chord riff, culminating in a catchy and just-melodic-enough refrain. Lemmy Kilmister's open-throated growl is as distinctive and fresh as it was on their 1977 self-titled debut.
Over the years, Motörhead has maintained a hold on the hard rock throne, and despite the obvious influence they have had on hundreds of speed-metal bands, Lemmy & Co. maintain that they are and have always been a rock and roll band. Their last studio release, 2010's The World is Yours, veered a little more in a classic rock (and not Classic Rock) direction, but the voice, the snarling guitars, and the insistent drums still prevailed. With Aftershock, Motörhead reverts back to what's expected of them, but there are a couple twists.
"Coup de Grace" is another straightforward single-chord rocker, but Phil Campbell gets to wank off a little more than usual with some well-placed solos. The next track manages to show a side of Motörhead that isn't often seen: 12-bar blues. "Lost Woman Blues" has enough clichés to be silly (his woman left him all alone, he's going to buy some highway shoes, etc.), but it's authentic enough to get lost in. "Death Machine" is almost funky, thanks to drummer Mikkey Dee's slightly offbeat verses.
Despite the ironic agelessness of Lemmy's old-man voice, there are some moments where the vocals lag behind the riff, and you wonder if he's trying to catch his breath. At those times, like in the chorus to "Do You Believe," Campbell rescues him with a killer solo. Still, Motörhead justifies their existence and longevity with songs like the familiar-sounding "Queen of the Damned" (you almost want to yell "the ace of spades!" in the chorus) and closing number "Paralyzed," that finds Lemmy reaching for a slightly higher register (and getting there).
When asked why he sings with the microphone over his head, he said that position provides "personal comfort," and opens up his voice. It may come as a shock that a man who sounds like the most famous garbage disposal in the world should be so concerned about his vocal sound, but there's a reason why they've been doing this so long and have earned worldwide respect and admiration. Aftershock, while not the best thing Motörhead ever recorded, is a welcome addition to an esteemed catalog.
Similar Albums:


Judas Priest – British Steel


AC/DC – Back in Black


Red Fang – Whales and Leeches