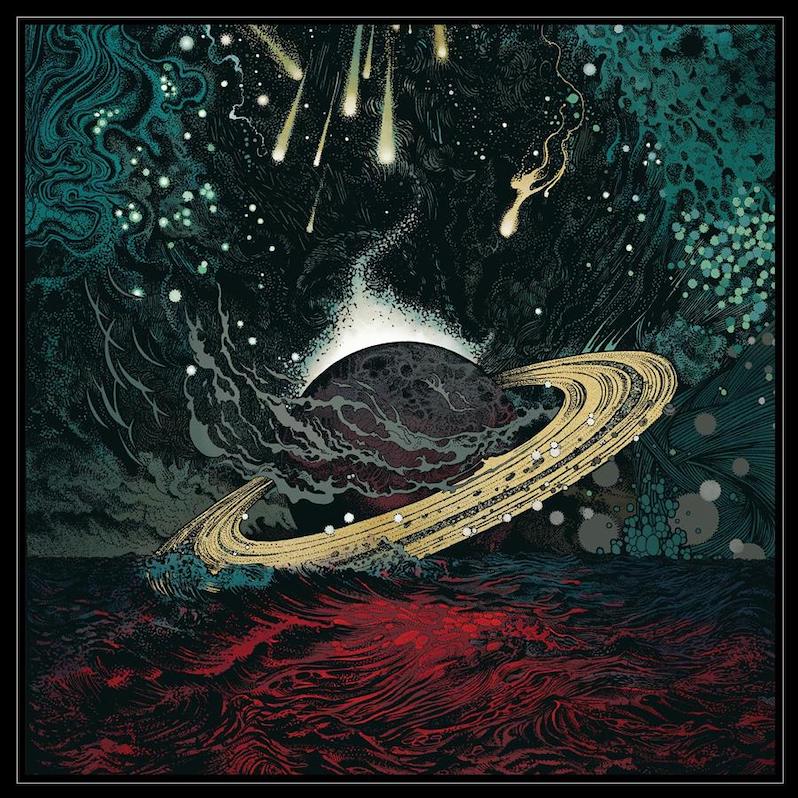 It's not a question of whether Cave In are back. A riffy opening salvo reminds you of who they were and, a few more songs in, we get an image of who they might be going forward. At no point is there the hesitation or confusion that sometimes plagues records from bands reunited after some time apart. Europe, a band once known for producing some of the sweetest sweat-slicked polished heavy metal of 1980s Sweden, reunited in the 2000s to produce what might charitably be called an eye-crossed version of Nickelback. Cave In, meanwhile, took their Zeppelin-style swan song to a beloved lost bandmate and brother in Final Transmission have clearly found a new sense of purpose and identity, one that feels gainfully and productively rooted in the history of this group of players and body of work but which also is unafraid of the future.
This reality wasn't really in question. Stephen Brodsky, an undeniable driving force of any project he's part of, has yet to deliver a project with anything less than full gusto. Even 2 Minutes to Late Night, a semi-parodic metal-themed talk show-turned-cover band driven by show creator Jordan Olds with Mutoid Man as backing band, launched into every seemingly gimmick-driven cover like they were the world's last band of rockers playing down Earth at the twilight of the apocalypse. Likewise, the band itself has been wisely a bit capricious with their returns in the past, in turn making each feel meaningful rather than cheap cash-ins; Planets of Old and White Silence, their EP/LP combo recorded after their first hiatus, features some of the strongest material of the group to date from both their aggro side and their spacier and more atmospheric side, while Final Transmission, originally intended to be the seeds of a new studio record, instead became a loving tribute. This keen-eyed aversal to overexposure, instead tilting creative efforts into other projects, has kept the Cave In name unsullied. 
What's curious, then, is precisely what they chose as this new path. The lead singles, it turns out, are somewhat misleading; rather than the hefty sludgy swagger shown on those tracks, the stiff-armed Hetfield style metallic chug, we instead get something a bit closer to new bassist Nate Newton's metallic hard rock side project Doomriders. Granted, this is exactly the kind of energy he helped pull out of his boys in primary band Converge anyway, a band that it should be noted Brodsky himself not only was in once upon a time but also played with on last year's superlative (sorry, haters) Bloodmoon: I. Likewise, the fact that Heavy Pendulum shows licks of the more atmospheric and arranged guitarwork present on Droneflower, Brodsky's collaborative album with Marissa Nadler, as well as the more frantic melted-brain heavy psych-prog of Mutoid Man feel like obvious ingredients to toss in the pot. The result is something closer to grunge than we might initially have expected; real grunge, mind you, that primal post-sludge metal fusion of hardcore, alt rock, doom metal, thrash and the Beatles, not the deformed radio santized amalgamation that would later kill rock radio.
This development also shouldn't surprise us. If Converge have fashioned themselves over time into less a metalcore band and more an arthouse heavy rock project, one that can pivot on a dime song-to-song or record-to-record to dial in specific ideas, then Cave In is the opposite, the locus, the heart of the star of Brodsky's larger body of work. It feels more and more as time goes on that this group represents the totality of his ear, his heart, his playing, where other projects are a more focused and pure distillation of specific elements. This is arrived at, of course, through the near-telepathy of his bandmates; Cave In is a band and not a solo project, after all, and that sense of years of familiarity, even with (technically) newcomer Newton on bass, is shown in how suddenly all the colors can come out together. The obvious comparison is between the metallic bruiser of an opener "New Reality" and Led Zeppelin epic-style closer "Wavering Angel," but the meat of the record likewise covers a span that feels at times like Jane's Addiction, at others like Alice in Chains' more maudlin and melodic moments, on to the metalcore and psych-prog the group is known for.
If there's a drawback to Heavy Pendulum, it's one of girth. This is their return to being a proper band in a proper studio, and so their excitement at writing again is understandable and infectious. Still, there is fat that could be trimmed here or at the very least reordered, producing two lobes or perhaps an LP/EP set. As it stands however it's hard not to get cross-eyed in the middle of this record, a situation that is no fault of the material itself. Taken out of context, tracks like "Nightmare Eyes" and "Waiting for Love" are full of the same care and emotional heft of the rest of this record. Brodsky and company never skimp on the why of a song, the sense that it was written to express or crystallize a certain emotion or feeling, even if it's abstract. It's still hard not to fantasize about a record that has slightly more interior architecture than just song after song after song, one which paid as much diligent care in that sector as the songwriting, playing and production do on the songs themselves. (Kurt Ballou once more produced a killer rock record sonically; quelle surprise.) Still, this is a good problem to have, one easily rectified in the hands of listeners willing to let the record roll over on repeat until the 70-plus minutes begins to sink in or the more sacrilegious take a scalpel to the running order. The sidereal benefit of records with this much bulk is the plurality of equally viable smaller records potential in the hands for those willing to assemble them; certainly a better condition than half-baked material.
More importantly: Cave In is back. The side benefit of their return comprising a surplus of a good thing, given its righteous vitality, is that there's almost certainly more on the way.
---
Label: Relapse
Year: 2022
---
Similar Albums:
Langdon Hickman
Langdon Hickman is listening to progressive rock and death metal. He currently resides in Virginia with his partner and their two pets.