Niki and the Dove : Instinct
It seemed like a good idea at the time when, in 1993, Kate Bush and Prince teamed up on The Red Shoes highlight "Why Should I Love You?" In retrospect, it seems like an even better idea. Though each artist had somewhat strayed a bit from their respective best work to date by the early '90s, there's no underestimating the level of talent being put to work, which likely never will again. But a good idea is worth revisiting, especially one that never took on much mileage to begin with. As it turns out, there's a lot of space to explore in the space between Bush's heroic balladry and Prince's lascivious art-funk, and Sweden's Niki and the Dove are leading the expedition.
Niki and the Dove, a Swedish duo comprising Gustaf Karlöf and charismatic vocalist Malin Dahlströhm — neither of whom answers to Niki or the Dove, as far as I can tell — certainly aren't the first artists that have taken inspiration from eccentric pop geniuses of the '80s. Just the past few years, in particular, has seen the erections of a smorgasbord of altars to Lady Kate, some of them over the top (Florence and the Machine), some of them ethereally abstract (Glasser), and some of them spooky and romantic (Bat for Lashes). As fervently as the duo chases hounds of love through purple rain and under cherry moons on debut album Instinct, however, pastiche is far too pedestrian for a team this talented.
Big drums and equally monolithic synthesizers drive the sound of Instinct, and scant few moments sound like anything less than primetime stadium grandeur. No surprise, then, that the duo has released five singles from the album prior to its Sub Pop release, and could just as easily siphon off seven more. They're largely cut from the same cloth —emotionally charged electro jams, big on drama and even bigger on choruses — but they allow for liberal variation between textures and moods, be it through the gothic cello samples on "The Fox," the booming Pagan celebration of "Under the Bridges," or the haunting disco buzz of "DJ, Ease My Mind." And yet, the album's deeper cuts reveal both subtler pleasures (the sultry "Last Night") and more bombastic highlights (the more explicitly Prince-informed "Somebody").
Productions this big require a voice to match, and Dahlströhm's got the kind of pipes that make every verse sound like a life or death matter, whether she's musing on witchy fairy tale fodder or taxicab confessions. That kind of "every night could be our last" earnestness can be an awfully trying exercise, particularly given how much of it seems to have oddly percolated into the Billboard charts of late, but Dahlströhm sticks the landing every time. She starts off strong with standout "Tomorrow," gently and calmly cooing through her verses only to open up her lungs during the chorus, belting a romantic bit of nihilism: "If tomorrow comes/ I wanna waste my love on you." Her flesh and bone turns to powerful machines on "The Drummer," as she declares "The pounding of my heart/ I'm a drum, I'm a drum/ It's what makes me human." Though, it's not always so straightforward; a song like "DJ, Ease My Mind," essentially a simple salvation-through-song single, harbors "runaway horses" and a "restless stout heart in a vision."
For how elaborate and soaring Niki and the Dove's take on pop is, tackling Instinct doesn't even begin to cover the band's visual aesthetic or live shows, which feature as many as three drummers in addition to a pair of dancers that flank the stage. The drama runs high, but where a lesser band would let the flash speak for itself, Karlöf and Dahlströhm have the songs to back it up. And taken at face value, the elements that go into Instinct seem familiar, though what comes out the other end is dazzling to say the least. Anyone can plug in a Casio and wear a headdress, but it takes a pair of genuine talents like Niki and the Dove to make it work.
Similar Albums:
Bat For Lashes – Two Suns
Fever Ray – Fever Ray
Twin Shadow – Confess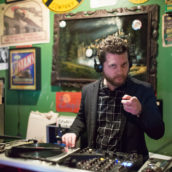 Jeff Terich
Jeff Terich is the founder and editor of Treble. He's been writing about music for 20 years and has been published at American Songwriter, Bandcamp Daily, Reverb, Spin, Stereogum, uDiscoverMusic, VinylMePlease and some others that he's forgetting right now. He's still not tired of it.