Oathbreaker : Eros|Anteros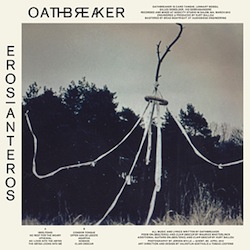 Belgium has had its share of heavy bands wreaking havoc across Europe's fertile metal scene, from grindcore blasters Leng T'che to death metal outfit Aborted, but Oathbreaker packs a special punch. Oathbreaker's newest album Eros|Anteros is a refreshing and frightening combination of sludge-metal and hardcore-punk. Breakdowns, headache inducing amounts of double-bass, and cheesy fonts for band names have become the archetype for a lot of metal acts worldwide, but there's nothing typical about the lady and gentlemen behind Oathbreaker. Deriving their name from a Neurosis lyric, the group presents a mixture of melodies and vicious noise on their sophomore album, and the line separating calm from chaos is visible through the pair of sibling tracks, "As I Look Into The Abyss" and "As The Abyss Looks Into Me," just as the album's title derives from the siblings and Greek gods; Eros the god of love and Anteros the avenger of unrequited love.
"As I Look Into The Abyss" is a haunting picture painted quickly in two minutes by a cataclysmic d-beat and shrilling vocals. "The Abyss Looks Into Me" begins with bits of melody and builds to a baneful climax. As for the album as a whole, any softness in the vocals is just foreshadowing a post-metal monster to jump out of the chasm more malevolent than before. Even though "The Abyss Looks Into Me" is probably the strongest song on the album, "Agartha" is right behind it, similarly demonstrating their balance of calm and chaos but with a psychedelic guitar texture drifting throughout the two.
The metal influences touched upon throughout Eros|Anteros run the gamut from the doom-metal structure of "Nomads" to the 11-minute shoegazing closer "Clair Obscure." Labelmates and experimental metal counterparts Deafheaven have found a way to mesh this post-rock shoegaze gracefully with screaming, but Oathbreaker put their own spin on it in their final song, solely using soft vocals instead. Their debut with Deathwish Inc. in Maelstrom showcased their talent as an obliterating metallic force, and their follow-up shows their experimental tendencies also demand attention.
Oathbreaker commands way too much evil to be a hardcore band and comes across as far too experimental to be strictly a metal band, but bridging the two with dark emotions makes their middle ground a captivating listen. Guitar riffs running amok with high-pitched screaming and tiny bits of ominous vocal melodies along the way result in an authentically original creation. Oathbreaker has stumbled onto the right path to become post-metal kingpins, and with Eros|Anteros their journey has taken a turn for the eerie and mystifying.
Similar Albums:


Deafheaven – Sunbather


Isis – Wavering Radiant


KEN Mode – Entrench