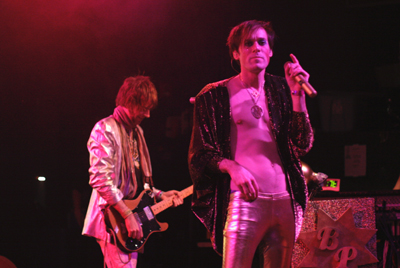 When I was told that Of Montreal's sound check took something like 6 hours, and that they intentionally tour with DJs and bands with minimal gear to avoid excess encroachment upon their elaborate sets, I knew I was in for something unique. When it comes to Of Montreal shows, anything goes—costume changes, video screens, props, elaborate lighting, and in the case of a recent `adults only' Vegas show, full-frontal nudity (for the kiddies' sake I hope this isn't a trend at all ages shows). No matter what, it's going to be a memorable affair. That in mind, their performance at the El Rey in Los Angeles meant having to wait through a really obnoxious and boring DJ set by Frankie Chan to get there. First, dude breaks the most important rule of a continuous mix: never repeat an artist. Two Daft Punk songs don't make up for DJ Kool and Fergie. Not to mention Mr. Chan was flanked by an emcee who didn't rap, dance or really do much of anything other than act as a hypeman, and one who could learn a thing or two from Flavor Flav.
Next up was Ariel Pink's Haunted Graffiti, a strange group whose unusual concoction of sounds could best be described as `freak-goth.' I personally enjoyed their spastic take on post-punk, and their songs were actually quite catchy. However, not everyone in the crowd was as amused, some becoming downright hostile. Perhaps it was the odd visual, Pink looking like a madman, pacing back and forth onstage with an unstable look in his face, or the fact that there was little interaction with audience so much as a band playing amongst themselves while people just happened to be watching. In any case, the band was pretty good, whether or not people wanted to admit so.
Around 11:30, Of Montreal finally took the stage, each band member doing a shadow-dance behind screens before taking their place. Finally, frontman Kevin Barnes is birthed from a giant, plush, three-headed monster. His presence is both quirky and captivating, dressed in tight silver pants and a feathery jacket, his bare chest exposed and glittery. After strutting around the stage during a brief introduction, the band breaks into the funkified "Faberge Falls For Shuggie" from Hissing Fauna, Are You the Destroyer?, their latest masterpiece. From there, the band unleashes a relentless assault of rocked-out versions of songs from Hissing Fauna, The Sunlandic Twins and Satanic Panic in the Attic. For those who preferred the whimsical antics of their earlier albums, there were no vintage OM songs to speak of. That said, the musical terrain upon which they are currently treading is an exciting and adventurous place.
For the initial phase of the show, drum machines backed the group, propelling a disco-tastic assault with "A Sentence of Sorts in Kongsvinger," "So Begins Our Alabee" and "Disconnect the Dots." The group quickly transformed into rock band mode, adding live drums for "Forecast Fascist Future and "Will You Come and Fetch Me." Several costume changes ensued, Barnes shedding his silvery pants for nylon stockings and hot pants, even a one-piece, puffy leotard of sorts at one point, looking like a gender-bending William Shakespeare from another planet. The highlight of the evening, hands down, was Barnes' ascent up a ladder to don a ten foot dress with accompanying bird's nest headdress during "Bunny Ain't No Kind of Rider." Though his movement was stifled somewhat, the visual was jaw-dropping, this giant, dress-clad man towering over the audience.
Shortly thereafter, the band breaks into a cover, a standard part of the set on this tour, which has included rotations of songs by David Bowie, The Fiery Furnaces and even Elephant Six peers The Olivia Tremor Control. This time around, the band attempted a slow and jangly take on Neil Young's "Harvest Moon," which was lovely and understated. Closing out the set was "Rapture Rapes the Muses," which most certainly rocked. A few minutes, the band returns, Barnes once again in a new outfit, this time a kimono, to launch through three more tracks, including "The Party's Crashing Us" and the awesome, grooving "Oslo In the Summertime" from Satanic Panic. The first show I've been to in 2007, Of Montreal is going to be hard to beat in terms of the best show I'll see all year. A word of warning to puritanical show-goers, if a man in flamboyant and revealing outfits offends you, it might be best to steer clear. That disclaimer aside, anyone who hasn't seen the band yet is depriving themselves of one of the best live experiences anyone could possibly endure.