Pink Mountaintops : Get Back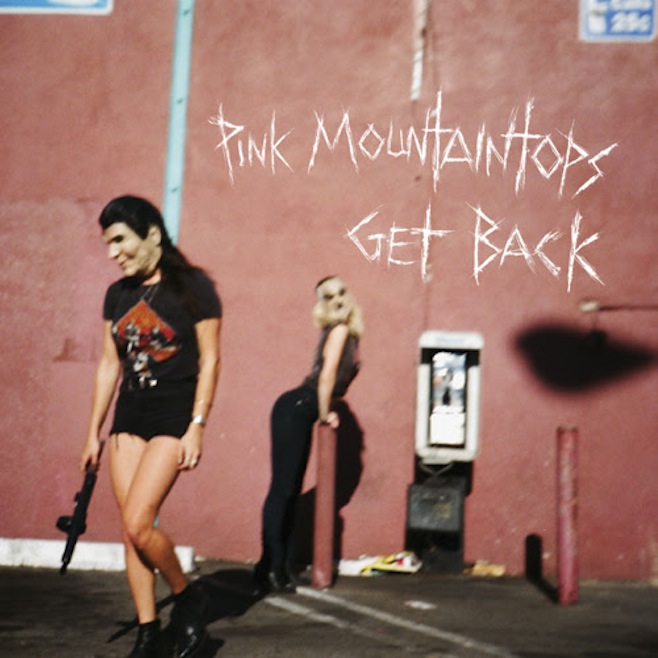 When your band can count among its alumni a whopping 37 past members, then it prompts the question: Where's the focus? It's been five years since the world heard from Stephen McBean's side project, Pink Mountaintops, but now that the Canadian musician has ended that silence with Get Back, those five years clearly don't seem like long enough. McBean's main project, Black Mountain, is a vastly better psychedelic rock band, and, for what it is worth, I'd rather listen to any of their three albums (Black Mountain, In The Future and Wilderness Heart) than Pink Mountaintops' mess of a fourth full-length album.
Now, for Get Back, those 37 past members — including Sophie Trudeau (Godspeed You! Black Emperor), Phil Wandscher (Whisleytown), Rachel Fannan (Sleppy Sun), and Jesse Sykes — seem to have disappeared, only to be replaced by Gregg Foreman, Daniel Allaire, Stephen Kille, Rob Barbato and even J Mascis, of all people. Despite this deep lineup of musicians and the mixing of Randal Dunn (Earth, Sunn0))), Marissa Nadler), Get Back is too far gone to be saved. McBean has said that the influences for Get Back were "alleys, curbs, walls, and cigarette-stained gig flyers. An island on the Pacific coast. Fake British towns. Slayer posters. The beauty of youth. It's about listening to 'Driver's Seat' and 'Guns of Brixton' and hotboxing The Duster." Sounds like complete chaos, doesn't it? There's no telling how much weed McBean and company must have smoked to make this album, and, telling by some of the songs, they may have been really fucked up. At least they were having fun.
As Get Back skitters along, the music becomes more and more repetitive; a similar simple drum beat is used on a handful of tracks, and a guitar solo or horn part is used when most expected. The drums bash all over this album, and that would have been fine if the drummer (McBean?) was a little more creative with his beats. As a whole, Get Back suffers from a lack of imagination, recycling psychedelic rock clichés from the last 40 years, chugging as much as it can down, and then vomiting it all over the streets of North Hollywood.
While we're cruising NoHo, it just so happens that the worst track on Get Back is "North Hollywood Microwaves," thanks to Giant Drag's Annie Hardy rhyming about cocks, pussy, jizz, gooey cum, crack, AIDS and "Rod Stewart and me at the hospital getting our tummies pumped because we're both full, so full of cum, yeah, we had to get us some." The girl on this track, backed by that simple drum beat (it's back again!) and squealing horns, calls herself a slut, and she's "so horny" that she "wants all the cum," not caring if it's "bear cum" or "cum in a glove." Mr. McBean, I am severely appalled. "North Hollywood Microwaves" doesn't just cross the line of bad taste, it sets up camp and gets way too comfortable on the other side.
At 42 minutes, Get Back is 37 minutes too long; first track "Ambulance City" is a nice ripper of a track complete with a sequence of drum fills and McBean's throat shredding ("Station to station!"). But the remainder of Get Back is more than enough of a reason for McBean to put his focus back onto Black Mountain. On the last track of Get Back, "The Last Dance," McBean sings, "darling, save the last dance for me." I'm not sure anyone's going to be willing to do him such a favor after hearing this.
Similar albums:


Warlocks – Surgery


Pink Mountaintops – Outside Love


David Bowie – Station to Station